Want to know more about the artwork on the covers of the prospectus? We've spoken to some of the students involved and asked them to share the processes and concepts behind their work.
Across the 107 pieces of student work on the covers of our 21/22 prospectus, we've shared a behind the scenes look from 6 students studying at each of our 6 Colleges. With a range of subject areas and study levels featured, we hope this gives you some further insight into studying a creative subject and what it means to be a student at UAL.
Ella Caton, BA (Hons) Textile Design, Chelsea College of Arts
"I wanted to challenge the current retail model of sizing. Most high fashion clothing is made for slimmer people and when clothes are made specifically for people of a larger size, they are often dull and unflattering. This model is faulty as is it not universal and often garments don't fit people as we are all so different. I wanted to make fun, colourful clothing that celebrates the parts of our bodies that are normally hidden away."
Find out more about Chelsea College of Arts
Helena Cartledge, BA (Hons) Illustration, Camberwell College of Arts
"Themes of exploring the old in the new are consistent within my illustration practice. I feel a comfort towards the crafts of objects/places of antiquity. Additionally I find I have a strong intrigue into antiques and their value in the modern day. This work is based on place in particular, inspired by the surroundings and atmosphere of the timeless V&A, a museum where I spend a lot of my time for new bursts of creativity."
Find out more about Camberwell College of Arts
Katie Sorrell, BA (Hons) Fashion Design Technology: Menswear, London College of Fashion
"My work is influenced by the functionality and the mobility of the human body. The structure and silhouette is inspired by the combined research of electron micrographs, x-rays and human organs. These prints and structures are referenced within my pre-collection, where I use digital print and boning manipulation to create garments with vast movement and texture."
Find out more about London College of Fashion
Laura-Jane Logue, BA (Hons) Technical Arts for Theatre and Performance, Wimbledon College of Arts
"The piece asks the audience to observe the perception of another whilst posing questions on how we perceive others.The figure was sculpted in wet clay, using photographic reference and measurements. A mould was made with a silicone skin and jesmonite jacket. Two casts were taken from the mould: one in pre-coloured microcrystalline wax, and another in translucent fibre-glass resin, with inlaid golden fibres."
Find out more about Wimbledon College of Arts
Daad Edris, BA (Hons) Illustration and Visual Media, London College of Communication
"I wanted to rebrand an existing product within the 'Bioeffects' skincare line, the 'EGF Serum'. I shifted the brand personality and rebranded the product, creating a new look to target this generation. I looked at the current packaging challenges, brand personality and imagery, and researched skincare packaging from 2019. I started to sketch out my model keeping in mind all the research and chose to incorporate the Icelandic landscape of mountains, the barley leaf ingredient and the wonders of the serum."
Find out more about London College of Communication
Zeynep Agirbas, BA (Hons) Textile Design, Central Saint Martins
"My topic was the nomadic lifestyle and I've particularly concentrated on this Turkish nomadic tribe which I visited during summer. I believe that I really discovered how to tell a story through these textile techniques which has been my biggest achievement in this project. Another vital element of this project was the exhibition, at the end of the 2 months of 'Design and Make' we got the chance to exhibit our work within the University. This experience has been really enriching as we have shared our work and ideas with others."
Find out more about Central Saint Martins
Discover more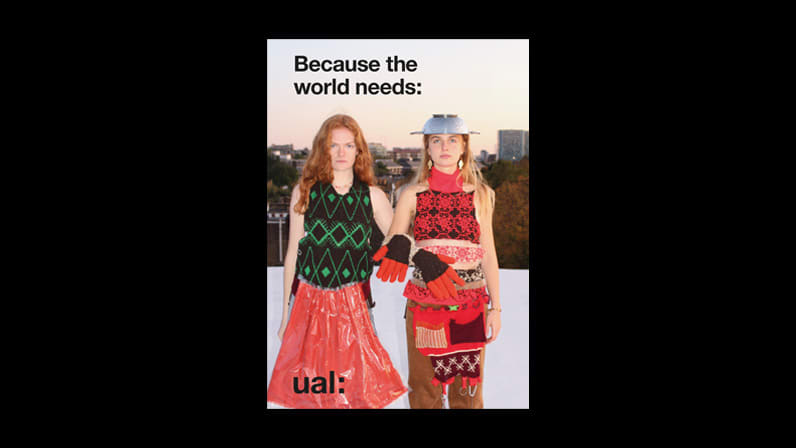 If you're living in the UK you can order a copy of our 21/22 Prospectus.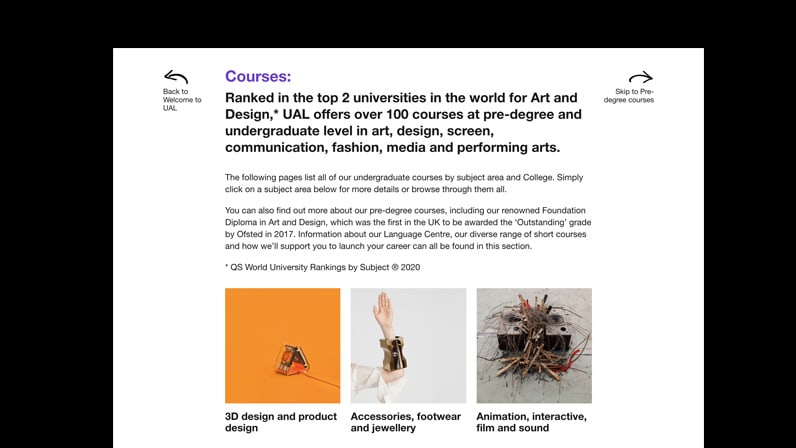 Explore our online prospectus where you can discover courses, read student features and learn more about life at UAL.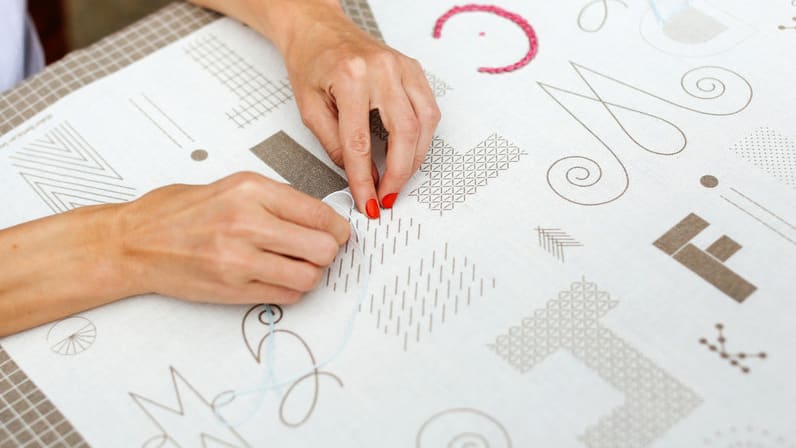 We offer courses in 19 subject levels across pre-degree, undergraduate and postgraduate level.