Ellie Niblock, MA Fine Art graduate at Central Saint Martins has been selected for the AER residency Yorkshire Sculpture Park.
Set up by Professor Lucy Orta UAL Chair of Art for the Environment - Centre for Sustainable Fashion in 2015, The Art for the Environment International Artist Residency Programme (AER) provides UAL graduates with the exceptional opportunity to apply for short residencies at one of our internationally renowned host institutions, to explore concerns that define the 21st century – biodiversity, environmental sustainability, social economy, and human rights.
---
Read Ellie's successful proposal:
As a multidisciplinary artist who works primarily with sculpture and digital technologies, I am interested in exploring the possibilities of how materiality and technologies can alter our perception of experiences. I create highly decorative and tactile objects and manipulate them through various software, which in turn investigates the relationship between the physical and the digital worlds and how they co-exist. My practice seeps into the curiosity of unknowable places that border the line between fantasy and reality.
I am currently working on a project with The Arab British Council and The British Council, focused on connecting artists between GCC countries and the UK, to create links through digital technologies. We are exploring placemaking between Saudi Arabia and the UK, through collecting and sharing found objects from the terrain of our countries, creating sculptures from them and then 3D scanning to share on an interactive website, to an international audience. There they can view the 3D objects at 360-degree angles. Manipulating the objects through software such as 'Trnio', 'Maya' and 'Rhino' will allow us to explore topography, by creating contours on each 3D object.
Exploring the combination of the natural and the artificial is an important part of my practice, as I work with synthetic materials to create obscure objects and alternate worlds. In 2018, my site-specific work titled 'Growth' was selected to exhibit in an outdoor gallery in Northern Ireland. I created a foreign object using polyurethane foam and pigment. It lurked in between the plants and flowers, catching the viewer's eye, becoming unsure if the object was a natural growth from a distance. I considered various elements when making this piece, for example the weather and scale; It needed to be waterproof and large enough to withstand the elements and not get entirely lost in the garden. I have 3 years' experience creating installations for festival 'Electric Picnic'. I was awarded the artist in residence commission in 2017, which provided me with funding to create a large-scale outdoor installation. I have been invited back in 2018 and 2019 to create work for the festival, with an audience of 55,000. These projects helped me gain experience in managing an installation team and an assistant. The experience helped me grow as an artist and allowed me to think about my practice differently, which I am always open to.
In 2016, I was the first artist to be awarded an art residency to India by The Arts Council of Northern Ireland and The British Council. This opportunity provided me with funding to travel to India for one month and explore the new environment. I embraced my new surroundings, worked with artists and created a public art piece for the centre. The work titled 'Connections' was fabricated using iron which was found on site and clay sculpture. I was curious about the debris on the side of the roads and wanted to make work that re-used natural materials and combined with the artificial. Having experience of working site-specifically, I feel that I would be suitable for this residency. Since then, my practice continues to re-use old work, collect found objects, change up my working surroundings and explore new landscapes. Working this way allows me to combine and associate different spaces with others, thus creating a hybrid, surreal setting. I have an ability to work independently and collaborate in new surroundings. I have an upcoming residency in Harwich in August which will also prepare me for the future of art residencies, through using masks and social distancing.
The project I wish to investigate if I was successful in winning this residency opportunity will demonstrate how human activity is detrimental to the wellbeing of our planet. Through my continued process of building on old objects, re-cycling materials and collecting found objects, I will consider the issue of waste in the art world and repurpose old works. I will transform them into an everlasting digital artwork through photogrammetry. This work will exist in the physical world temporarily, but infinitely online.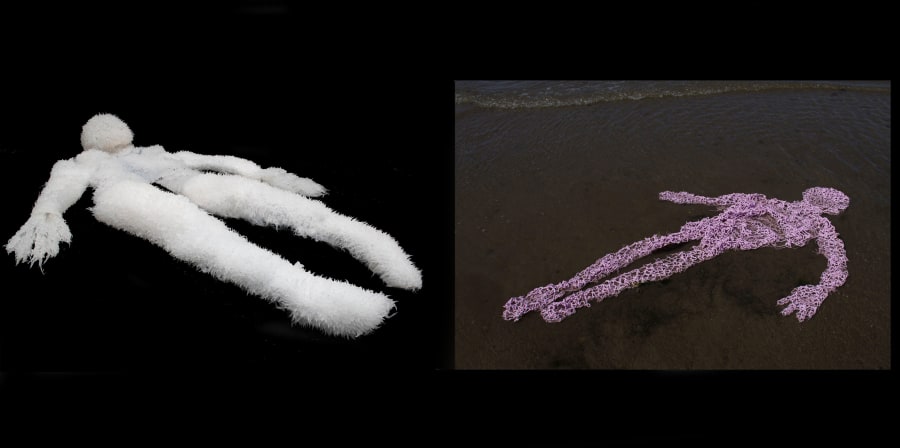 This work focuses on the particle pollution fed by the Anthropocene, a geological issue, in a human influenced age. The current atmosphere is being altered by humans, which is both a beautiful and grotesque idea simultaneously. To see the particles with the naked eye would be a beautiful experience, but this is in fact a serious issue that is affecting our planet.
In response to the grounds of the Yorkshire Sculpture Park, using the metal and wood workshop space, I will create a series of small-scale sculptures, utilising the remains in my environment, with the combination of my intuitive, material processes. Using 3D scanning apps and the process of photogrammetry, I will digitise the objects, in order to construct microscopic versions, translating the air polluted emissions through sculpture.
I will experiment with augmented reality and produce an augmented reality video that explores a walkthrough of the park grounds. Whimsical objects will float around the atmosphere, generating an ethereal ambience. I will utilise software 'Vuforia' and 'Unity' to build the simulation, creating a new, engaging gallery experience for the visitors.
With references from artists such Yayoi Kusama and Pipilotti Rist, I will create a vibrant work that excites the senses. The combination of physical sculpture and digital technology will allow me to visualize the invisible, making something intangible become tangible. This project will take inspiration from the modern and contemporary artwork situated in the Yorkshire Sculpture Park environment, exploring how the combination of the organic and the man-made can interact with one another and develop an understanding of how this may contribute to particle pollution.
The Yorkshire Sculpture Park Residency would enable me to develop my practice after graduating from MA Fine Art, Central Saint Martins. It would provide me with the opportunity to make work in new surroundings, with time to focus on this project, opening new possibilities for my practice. It will allow me to avail of my making and my applied digital skills, through challenging myself to build on existing objects, influenced by the new environment. It offers me the chance to spend time working on an augmented reality video which I have wanted to make for a long time. Being selected for this residency would offer me mentoring which I feel is extremely beneficial as an emerging artist to get feedback at this crucial time. It will be a great learning experience and will allow me to develop my communication skills when discussing my projects and in turn will build on my confidence.
Related Links: