Written by the event organiser Farnaz Bradley, PhD Student at LCC's Creative Research into Sound Arts Practice Research Centre (CRiSAP)
---
Seeing the documentary Tony Conrad: Completely in the Present, I realised just how the life of self-taught artist, film maker and activist Tony Conrad is exemplary. He began as a trained musician and moved into experimental music and performance, playing and performing with Velvet Underground in the early days.
The documentary about his life and work Tony Conrad: Completely in the Present had such an impact on me that when in the Q&A the producer Paul Williams said "the film took 20 years to make and we think Tony would want it to take just as long to release it, so we want to screen it at schools and universities first", I decided to bring both the film and the producer to UAL.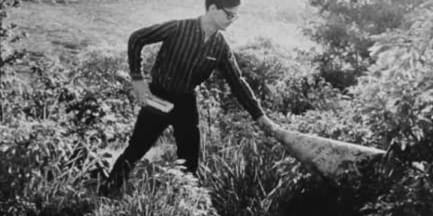 This was partly because sometimes circulating UAL, and even LCC, I would meet people who were not even aware that we had a Sound Arts department, let alone such a world-renowned one. I saw the film screening was a perfect opportunity to reach out across UAL, and the college, and show what the Sound Arts department can bring to other courses in terms of learning much broader skills through sound. As a result of support from both the Arts SU Student Initiative Fund and the Post-Grad Community Project Fund, and encouragement from the Sound Arts Visiting Practitioner Series organisers, I managed to bring the as-yet unreleased film to UAL, as well as a pre-screening of The Girl Chewing Gum (1976), an iconic film by the legendary John Smith, widely acknowledged as one of the most important avant-garde films of the 20th century.
I saw these two films as linked, and the film maker's approaches to deconstructing cinema as much part of the their lives as their influence on us as both learners and educators.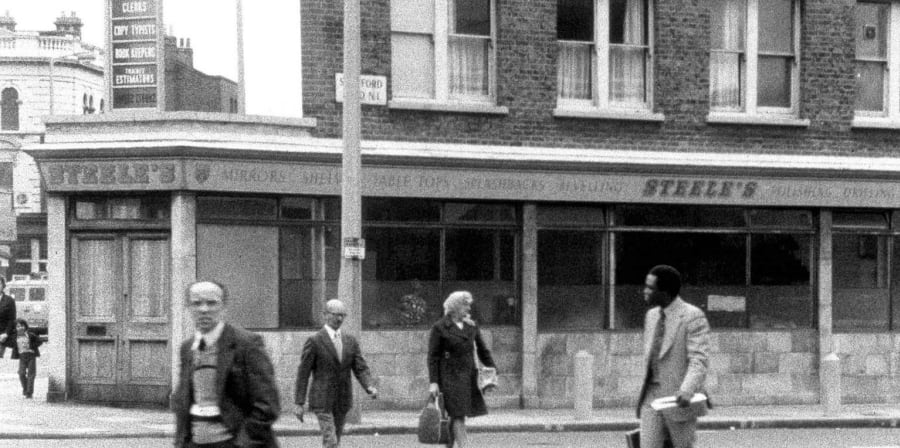 Present were the film maker John Smith. and Conrad's documentary producer Paul Williams for a Q&A that was led by LCC MA Lifestyle and Journalism students. I worked with Lucia Vodanovic Senior Lecturer, Course Leader MA Lifestyle and Journalism, LCC to find the students to run the Q&A session and also with organiser of the Sound Arts Visiting Practitioner Series, LCC, Annie Goh, to set the event up.
Conrad's approach to his life and work was so empirical and non-conformist that he became a pioneer in not just sound and music but also in film making, as a fine artist, as a broadcaster, an activist and as a university professor.
Originally from Velvet Underground Conrad was trained in conventional music but leaned towards minimalism and sound art, then film then fine art and activism and even later TV, through experimentation. The film shows how he lived in poverty to make his art happen, dodging convention and made uniquely new roads in sound, film and TV broadcasting, his life is exemplary and if film can be at all didactic, this is how it works!
Luckily we got the posters done just in time and I was able to put them up all over CSM, Granary Square and the Student Union bar in Holborn as well as the LCC building in Elephant and Castle. It was so exciting for me to see not only my college but also my department represented at CSM that I took many pictures of the posters once they were up. My colleague Maya Finkelstein helped me. We have been meeting at CSM for different PhD courses and sessions for the entire academic year, I have never seen anything about LCC up in the communal spaces and most of the CSM students I have talked to are not aware there is a Sound Arts department in LCC as part of UAL.
This event was funded through the UAL Post-Grad Community Project Fund under the theme 'Communities of Resilience' and also received support by the Arts Student Union Student Initiative Fund.
The Post-Grad Community Project Fund makes funds available to UAL postgraduate students to organise events, projects and cultural interventions that bring together postgraduate students from different disciplines, courses and colleges.
Proposals are encouraged to respond to one of UAL's 4 identified research themes, enabling students to become active participants in UAL's research culture.
---
Related Links: