Mariama Wurie, Post Grad Community Ambassador studying MA Media, Communications and Critical Practice at LCC, shares her thoughts and motivations behind the screening of 'The Burial of Kojo' an event she organised for the Post-Grad Community at UAL.
Blitz the Ambassador, The Burial of Kojo, and the Importance of Self-Authored Media
How does one come into their purpose?
My father once told me that you can have anything and everything you want in this world, but if you don't have a purpose-driven and purpose-filled life, then you are just living- yet never truly alive.
This was around the same time I heard that one of my favourite independent rappers, Blitz the Ambassador, had just released his first feature film, The Burial of Kojo. During my first term at UAL, the film had screened in Accra, Sao Paulo, Johannesburg, New York and London (without my knowledge). It had won several film festival awards and received several stellar reviews from from the New York Times, the Los Angeles Times and the BBC. It would later go on to be streamed on Netflix and Emirates in flight entertainment service. This magnificent feat was achieved by an independent filmmaker from Ghana who first struggled to have his film script commissioned. Blitz, whose government name is Samuel Bazawule, funded his film from his pocket at having raised close to $80,000 by crowdfunding. The film was shot in Ghana by an entirely Ghanaian cast and crew. When no one else believed in his purpose to tell his stories the way he knew how- Blitz knew it was his purpose and he persevered. Beyond making the film Blitz wanted to invest in the Ghanaian film industry. He invested in a cast and crew that would have otherwise not been able to access such an opportunity. Few Hollywood films have been shot in Ghana. Of the ones that have, casts and crews fly in, set up shop, film and leave without working with local actors or crew members nor giving anything back to the community.
Questions from the audience
I had yet to watch the film, but I knew I would love it. When listening to Blitz's rap music, I heard something in every song. I heard purpose. Blitz had made it his personal mission to tell stories about Ghana and the wider Black diaspora from the horses mouth- he had always made music as himself, for anyone who might relate to him and his socio-economic life trajectory. This meant his purpose to twofold: firstly to inadvertently expose anyone from a different background to his to an authentic perspective of his life, he would not let anyone write his narrative for him. Second, he would always let people similar to him know that they were not alone, he understood them, and he would always be around to entertain and validate them in world that often exploited or ignored them. I recognised something else here- in Blitz accomplishing his mission, I saw that me living my purpose was possible.
Since pursuing higher education in London, I have been quite disappointed in the lack of cultural diversity within the curricula. UAL offers 32 undergraduate and post-graduate courses in the fields of animation, interactive, film and sound such as BA Film Practice, BA (Hons) Film and Screen Studies, MA Film, MA Television, MA Screen writing, and 27 others across all 6 colleges. Students in these courses learn about art and motion pictures from the UK and the globe, in order to develop their own style of storytelling for their final major project/dissertation as well as their careers. However their course syllabi do not cover classical nor contemporary African film that has been instrumental to global film industries. Can you imagine being a film student and never knowing who Ousmane Sembene is?
This thought started to build on my purpose. Along with creating my own media, it would forever be part of my life purpose to curate spaces and events where people from all over the world could be exposed to multimedia that is progressive, groundbreaking and revolutionary, but is also often pushed to the margins in order to keep the status quo and reinforce dominant narratives.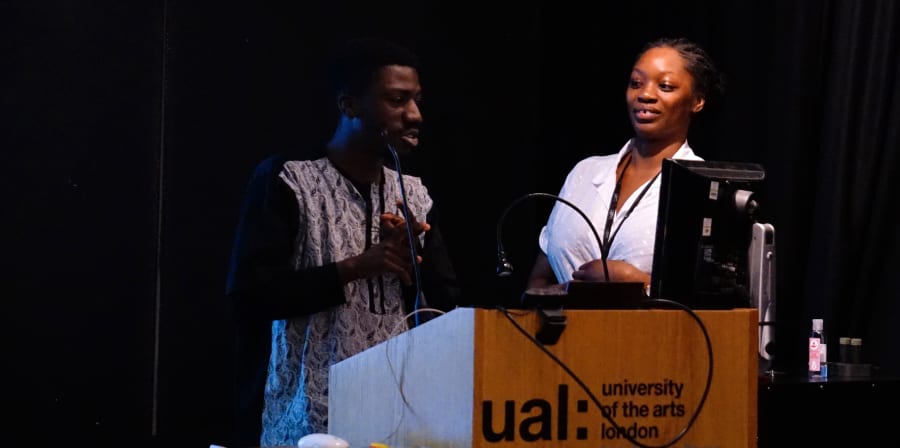 As one of the six post-graduate student ambassadors at UAL, I decided to organise an event that would encompass a film screening of The Burial of Kojo, a live Skype Q&A with Blitz the Ambassador and a cocktail hour.
On the night of the event I was very nervous about the crowd turnout. A rainy Friday night for a free event, meant that only a quarter of those who purchased free tickets on Eventbrite were able to attend the event. I was unable to breathe through the entire event, until the Q&A session, when the room lit up. It was then that the truly loving and curious fans of art and film reaffirmed the importance of having access to varying kinds of films. With every question asked, and every answer returned from Blitz, I began to realise that the entire audience was mesmerised by a simple story of family feuds, trauma and spirituality. It didn't matter where in the world the characters were from, everyone had experienced these basic life events, and the style in which Blitz had told the story (traditional West African folklore) served its purpose. It did the same thing our grandmothers did to us when they told us bedtime stories- it left us with several questions, wanting to know more and more. The questions didn't stop coming. Blitz's answers didn't stop teaching, re-affirming and spreading power and love to the audience. The space was booming and overflowing with mental expansion and the personal growth and healing of everyone in the room. The Q&A session ended with everyone still wanting to discuss many of the themes in the film. And so these curious conversations spilled over into the cocktail hour.
Only Blitz could've made that film, because only Blitz had had the life experiences that brought him to write a completely original piece of fiction like The Burial of Kojo. Furthermore, the stories in the film were typical of occurrences in West African homes, and so as much as the whole world could relate to the morals and humour of the film, the film also did something else quite special- it allowed West Africans the opportunity to see themselves on the global silver screen.
In my closing remarks to the room, I mentioned that I had career-hopped quite a bit in my short yet sweet twenties. I mentioned how I came to UAL thinking I would study advertising. But within my first few weeks here I realised that I'm here to be she who makes stories about from whence she came.
So how do you live your purpose, like my father advised?
Well, my mother always says, "if you don't know where you're going, know where you come from".
---
Post-Grad Community provides access to cross-college and cross-disciplinary opportunities, events and networking for postgraduate taught and research students at UAL.
Our Post-Grad Community Ambassadors are a point of contact at your college. They organise their own events, open to all postgraduate students across UAL and help us to deliver and write about other Post-Grad Community activity.