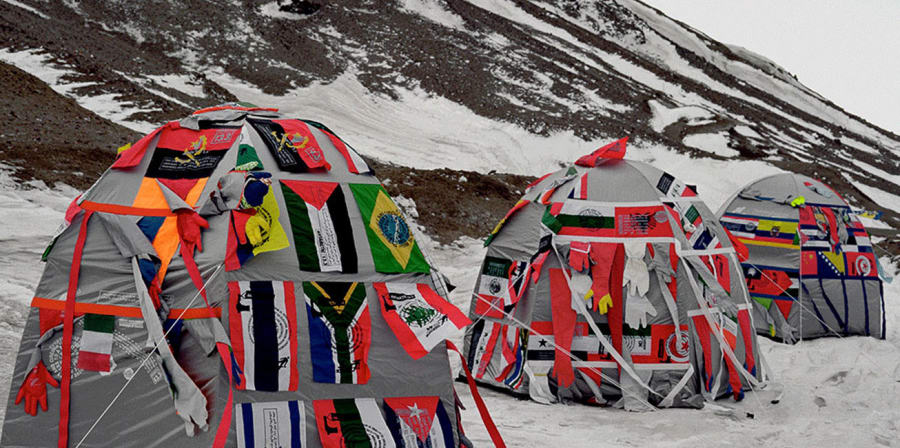 Traces aims to interrogate dialogues about a cross-disciplinary subject whilst addressing issues surrounding the act of migration. It is led by Professor Lucy Orta, Chair of Art in the Environment and developed in collaboration with Camilla Palestra, Associate Curator Centre for Sustainable Fashionand Jo Reynolds at Making for Change, LCF.
Traces explores the experiences of communities affected by migration and the memories accumulated as people journey from one place to another. It considers the trajectory as a state of being that amasses signifiers in the form of layers, which punctuate a state of transition; from one place to another, from a period in life to another, to new languages, cultures and convictions, as well as physical marks left across geological times as humans progress through life.
Traces aims to expose fundamental conditions, such as a sense of place or belonging as well as the search for protection and shelter; to encounter diverse cultural, social and religious experiences; to hear and visualise personal narratives. The multi-interpretations offer broad and poetic engagement with the subject.
This interest group is articulated through engaging with first, second or third generation immigrant women across the East-End. Working in community groups and accompanied by a programme of textile-craft workshops, participants are invited to recall and recount a trajectory, reflecting and identifying significant milestones, to draw out stories that recount past and present heritage, and particularly, overlooked women's histories. The outcomes will be individual and collective textile-based artefacts represent uniting the memories and experiences of different East-End communities in both physical and virtual formats to be showcased in exhibitions local and national exhibitions.
To join the mailing list email pgcommunity@arts.ac.uk
UAL's Post-Grad Community Programme supports a growing number of issue-specific, cross-disciplinary interest groups led by postgraduate students and academics.
​These groups connect creatives with shared research/practice interests across different specialisms and subject areas.
PhD students have launched interest groups in the past to coincide with exhibitions and symposiums that they have organised under the same theme. Students have also used Interest Groups as a working group towards research or a standalone event or series.
Interest Groups are a great way to build new networks at UAL for MA and PhD students with shared interests. A useful tool for finding cross-disciplinary MA students to work with on planned projects/activities, creating new audiences and ways to formally promote your practice.
Related Stories
Reporting on Session Two of Passagens: PG Reading Group

Passagens Interest Group session on Migration and Environmental Change. As in the previous session, the aim was to gather different postgraduate creatives from UAL colleges for an open a discussion around migration, refugees and how art can