Gaurab Thakali - storytelling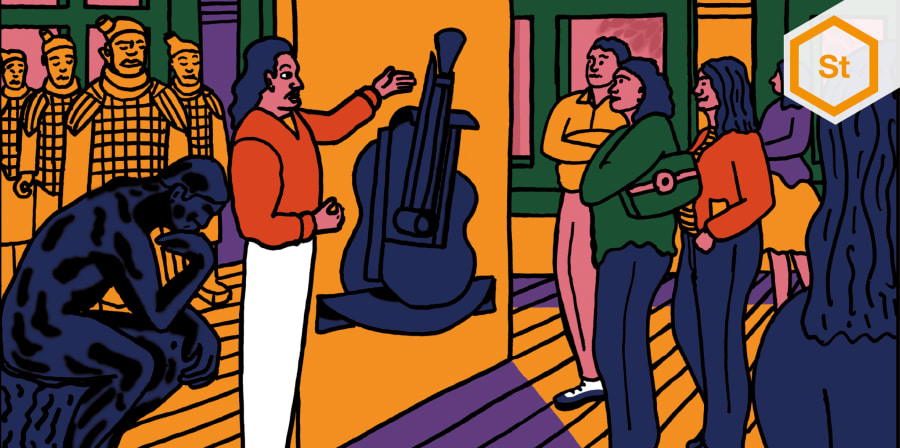 London-based illustrator printmaker, Gaurab Thakali studied on the Foundation Diploma in Art and Design and the BA Illustration at Camberwell College of Arts. He discusses how effective storytelling has helped him to meet more helpful people in the industry, and to gain more experience and confidence in his work.
Make yourself visible
Fortunately or unfortunately, the creative industry can kind of revolve around who you know, but making yourself visible, both online and off, entering competitions and submitting work to publication for review can be helpful in helping potential clients understand who you are and what you offer.
Being able to tell your story is important in so many different ways. It's a way of gaining new contacts and potential future work. For example, if you're at a networking event it's important to listen to potential clients, to make good conversation, be polite, leave a lasting impression on them and don't forget to mention who you are and what you do. Once you're past that point they are more likely to look you up on the internet to find out more.
Keep conversations going
About a year and a half ago I applied for a project called 'Young and Laced' which was a programme to help and nurture up-and-coming artists, musicians and filmmakers. After an interview, I was accepted into the programme.
Fortunately, the programme had a lot of interesting people on it, some like me who were starting up their careers, and established mentors who had experience working in the creative industry and who helped us to create our own projects. Just by being there I got to meet new people who helped me land very good work opportunities. It's very important to maintain relationships, as it can work in the favour of both parties. For example, I still work on new projects with a couple of people I met on the programme, and it has led me to reach out to even wider audiences, which would not have been possible without creating the relationship.
Consider your story on different platforms
This leads to the second point. Your story is not just told by you in person, it's also online on social media such as Instagram, your blog and website.
All are very important in making yourself visible to the outside world. But you have to be putting yourself out there too - cold-calling or emailing art directors and designers to show them your portfolio is another way of connecting with new people.
Taking a proactive approach to storytelling is incredibly important – it can be important to enter different competitions and send work to as many online publications as possible for review. If it works out then it can instantly land you a lot of commissions or sales of prints or original paintings. It helped me lay the foundation to start my career as an artist. It mentally drives you to work harder or reach out to clients that you would like to work with; it can be very positive.