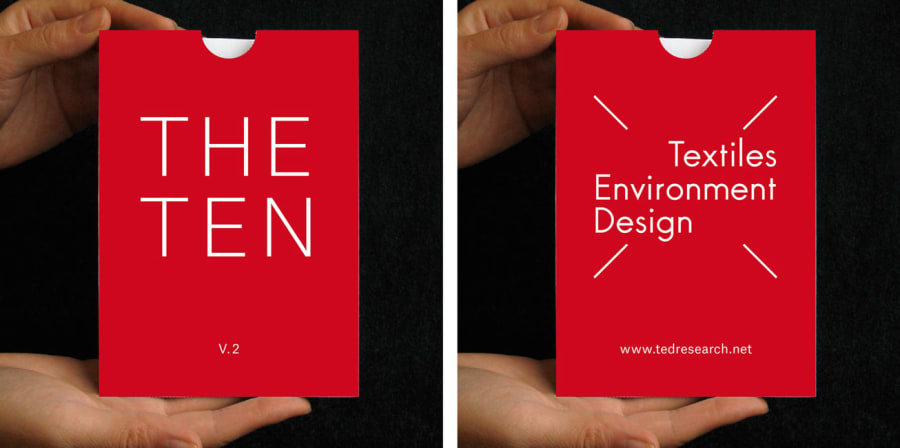 The Textile Environment Design (TED) research group at Chelsea was established in 1996 and is a unique collective of practising designers and educators, now part of the University's Textiles Futures Research Centre.
About this group
The group builds the Sustainable Strategy platform within the Research Centre, with the main aim of developing the role that the designer can play in reducing impact on the environment and providing tools for design-centred solutions.
TED developed THE TEN – a set of sustainable design strategies in response to the increasingly harsh environmental impacts of the textile industry and using this concern as a provocation for action.
'Eighty percent of a product's environmental and economic costs (are) committed by the final design stage before production begins' (Graedel et al, 1995:17)
THE TEN strategies
Since 1996, TED has used its portfolio of international workshops and lectures to create a 'cradle to cradle' approach to sustainability in the textiles and fashion industry, but increasingly applied to wide range of industries, including interior, architecture, and product design. The strategies were developed in order to apply new research findings from TED workshops, which include elements of strategic design thinking about the lifecycle and aesthetic issues of a product.
THE TEN strategies also function as a framework for large-scale companies and small-to-medium-size enterprises (SME's) who wish to be pro-active and create real change in design and production. Through TED's TEN design-thinking workshops, the strategies can be a catalyst for companies and individuals to apply sustainable thinking to decisions, which drive innovation and new ways of doing business. Recent consultancies include Stanhope Plc, PPR Home (now Kering), H&M, The Continuity Company (TCC Global), Sloggi, Puma, VF Corporation and Gucci.