Visual Communication for Fashion (Online)
Learn the art of creating impactful fashion presentations that will give you a competitive edge in the fashion world.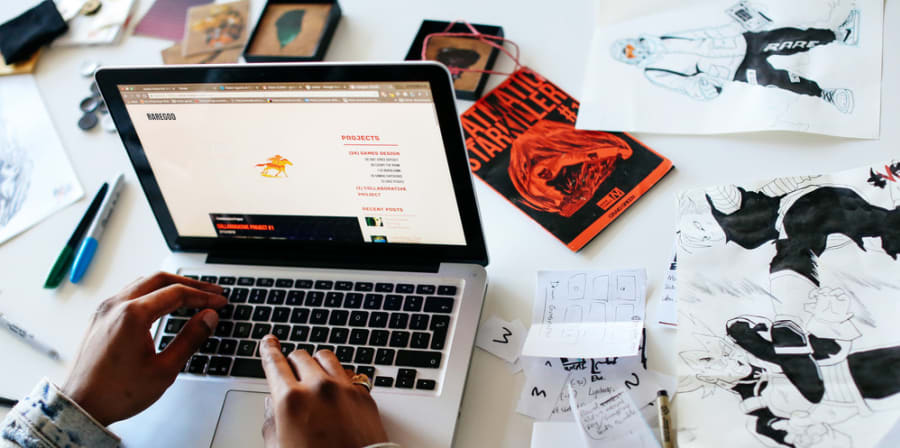 Compiling impactful presentations is an acquired skill that can greatly influence the creative process and give a competitive edge when communicating or pitching an idea. If you want to learn creative and powerful ways communicate your ideas visually, this is the course ideal.
Tutor: Ana Stankovic-Fitzgerald
This unit is aimed at fashion design, communications or business students or individuals involved within these areas.
The mood board is a recognised tool with which to express, explain, excite, and/or sell an approach, new product or personal skill. A well-constructed visual board can be a powerful driving or supporting tool and is an impactful non-verbal form of communication used at all levels across the fashion and creative industry.
In this unit you will learn the principals behind creating mood boards and examine situations where they can be used effectively. This will include exploring typography, imagery, colour, texture, layout, composition, style and basic graphic design.
You will be working both physically and digitally combining traditional image making techniques such as collage and sketching with digital media resources. Combining found images and your own photography will be a key element with an emphasis on learning effective ways of using a camera.
As a vital communication tool, photography is used across the fashion industry, often on mood boards and social media. It is an effective way of introducing self-generated content into a presentation to communicate your own unique vision.
There is a photography element within this unit, which will investigate a range of technical and creative approaches, including composition, perspective, light, colour, depth of field, movement, capturing the moment, and expressing a mood.
The need for image gathering, idea development and practice using a camera / smart phone are reflected in the self-directed study element in this unit.

You will be guided through a series of creative projects which you will complete in your own environment out if teaching hours.
Completed projects will presented online.
Course Content
Examine and develop the use of visual literacy in creative visual communication
Moodboard/visual board/collage/animation development and presentation
Create and present visuals in a physical and digital form, combining traditional image making techniques with digital media resources
Research typography, imagery, colour, texture, layout, composition, style and basic graphic design
Identify, evaluate and categorise images for a maximum visual impact
Individual project
How will I Study
You will study on the University's VLE system, developed specifically for the teaching and learning of creative practices, online.
Lectures and discussions
Group work
Guided creative projects
Individual tutorials
Project work and Presentations
You will be assessed on your contribution to classes and project work.
How UAL Online Courses Work
All online courses have the benefit to be a part of the University of the Arts London Virtual Learning Environment (VLE), and have been developed specifically for the teaching and learning of Art and Design practices, online.
This Virtual Learning Environment uses the latest technologies to provide the participants direct access to lessons, assignments, portfolio space and live classes from most devices enabled to access the internet, including smartphones and tablets.
UAL Study Abroad Online courses are a mix of live classes and self-study time. Students will be required to attend live classes at a given time every week and work on the weekly assignment between classes.
Every week, the tutor and student will meet in the virtual classroom and participate as a class, which is set at a recurrent day and time (set in the United Kingdom, times GMT or BST and dates are subject to UK national holidays).
For convenience, the classes and course content are archived and made available for review for up to three months after the course finishes. The platform also enables each participant to manage their own content, including the submission of their work for assessment by the tutor.
Live course sessions:
Courses have 2 live contact hours per week, for 15 weeks in a row. The weekly session consists of 1.5 hours of lectures/seminars/talks and 0.5 hour is dedicated to tutorials. Lessons are scheduled between 3:30 pm and 5:30 pm UK time. All sessions are recorded and available to view until the through the duration of the course.
Materials and equipment needed for the course:
Laptop/Computer
Good internet connection
Digital camera or smart phone
Flash drive
You will also need to buy magazines, take and print photographs, collect other visual references such as colour swatches, fabric swatches, patterns, graphics, illustrations, fonts, etc as a part of your Visual Journal.
Ana Stankovic-Fitzgerald has been teaching on a variety of drawing, illustration and creative visual communication courses on different programmes at London College of Fashion since 2003. Ana has pioneered the delivery of practical fashion drawing and illustration courses via an online medium at LCF as well as teaching face-to-face courses.
Originally, she studied drawing, painting, print-making and sculpture at the Faculty of Fine Arts at the University of Arts in Belgrade, specialising in painting. Ana is a member of Association of Illustrators and over the years she's had freelance commissions published online, in magazines, books, as advertisements and in corporate literature. Her work was selected for the 'Best of British Illustration' in 2001 and exhibited at numerous venues abroad and in the UK including the Royal College of Art.
Ana has the unique experience of teaching drawing in all its stages and across different platforms; from the initial visual research and sketching stages to design development drawing, fashion drawing, fashion illustration, and CAD technical drawing and illustration line-ups, towards final portfolio realisation and presentation. She has a vast knowledge and expertise in utilising & experimenting with various media including pencils, charcoal, ink, watercolours, collage, markers, pastels, acrylics, oils, Adobe Photoshop, Adobe Illustrator, Lectra Kaledo Style and various iPad applications for portable devices, including Adobe illustrator Draw and Adobe Photoshop Sketch.
Over the years, Ana has created and delivered numerous drawing, illustration, and creative visual communication analogue and digital courses and workshops for various institutions, museums and galleries in UK and abroad, including Victoria & Albert Museum, Design Museum, Royal Collection, Fashion Space Gallery, Clerkenwell Design Week, Sichuan Fine Art Institute, Chengdu College of Arts and Sciences, Sichuan University and Hubei Institute of Fine Arts.
Instagram: @ana.stankovicfitzgerald
This course is perfect for you if you are a communications or design student who wants to find a way to communicate your ideas. It is also idea for students from business, science humanities subjects who want to present their work in more creative, expressive ways.
Level of study
UAL Online Study Abroad courses are for undergraduate, graduate and independent students from around the world. Minimum age is 18. Minimum GPA requirement for US students is 3.0. Non-US students should submit academic qualifications and achievements instead of GPA.
Level of English
The equivalent IELTS score of 6.0 or above is required. If you are interested in IELTS preparation courses, please visit UAL's Language Centre website for further information.
Credits
Each course is 30 contact hours and 30 self-directed study hours (suggested credit value of 3 US credits). Students receive a Record of Study on completion of the course along with a suggested credit value. Credit is awarded by the home institution.