"How about we celebrate student work with over 100 different front covers?"
When designers The Studio of Williamson Curran suggested this concept at their prospectus pitch meeting in October 2019, we knew right away that they were onto a winner. It felt like the perfect way to show how our students' work embodies the creativity at the heart of UAL.
Many months on, we look back on a journey that took us from blue-sky thinking to a finished product. The final result is a testament to the joint effort of students, designers, photographers, printers and the UAL Marketing and Content team.
As an arts university, we're practically tripping over creative work.
One of the most important things for us was to get our current students involved in the prospectus, helping them to showcase their work and demonstrate what makes UAL unique. With that in mind, we asked UAL students to send us images of their work they'd like to see featured, which is how we came across some of our first front covers.
We also invited students to come along to a couple of photoshoots at a studio in east London, where professional photographer Ben Turner worked with them to capture creative and unusual shots of their work.
Tea Galastri (covers 59 and 89) took part in one of the photoshoots. "I'm constantly looking for opportunities to showcase my own creations," she told us. "I know my jewellery's capabilities – they capture a scene, and that's why I had to give them the chance to bring their magic on set. It was great working with Ben and the UAL Content team – the photoshoot was one of a kind!"
Sourcing the content was one challenge, but making sure the print process went smoothly was something that could make or break the prospectus. In the end, we chose to work with CPI Colour, a carbon-neutral printing company based in Croydon.
Terry Hopkins, Accounts Director at CPI, explains some of the printing challenges posed by this prospectus and how they used technology to overcome them. "Having 107 variations of cover artwork was very unusual – we've never produced a job with so many covers that were completely different. But we always love working on projects that push the boundaries of what we can offer.
Our HP Indigo press was perfect for the cover artwork. Digital print allows you to incorporate variable data – like the covers of the prospectus – without incurring considerable costs for the number of printing plates that would normally be required. For the cover paper stock, we used Colorplan from GF Smith. GF Smith offer a range of embossed finishes, and we opted for one called Sandgrain after carrying out various print tests earlier on.
We're a carbon neutral printing company here at CPI, with responsible production at the core of what we do. We worked with UAL to carbon balance the paper stock inside the prospectus and the cover was FSC accredited. We were delighted to be chosen to work on such a well-known and beautifully designed prospectus. As a case study, this is a project which we are very proud of."
We completely agree – it's been a great collaborative project and we're excited to share our new prospectus with future UAL students and the cover artists who made it happen.
In search of student work
Discover more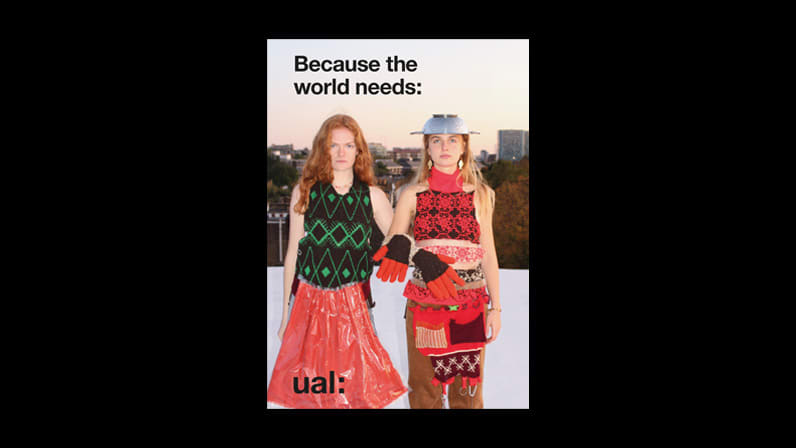 If you're based in the UK, you can order a copy of our pre-degree and undergraduate prospectus straight to your door.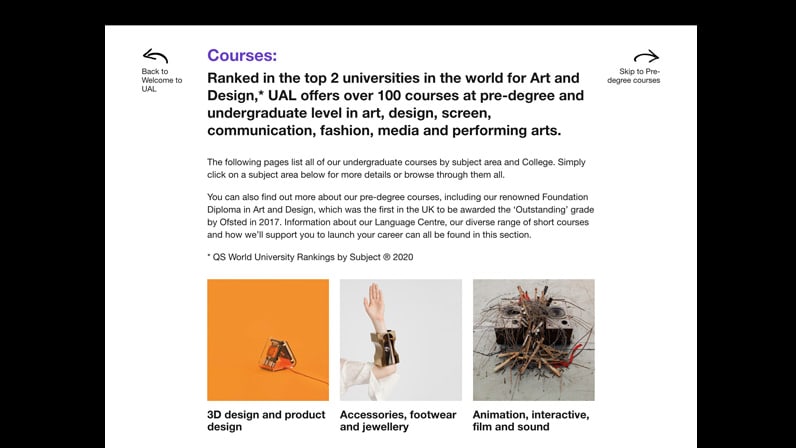 Explore our online prospectus to discover our courses, read about our students and learn all about life at UAL.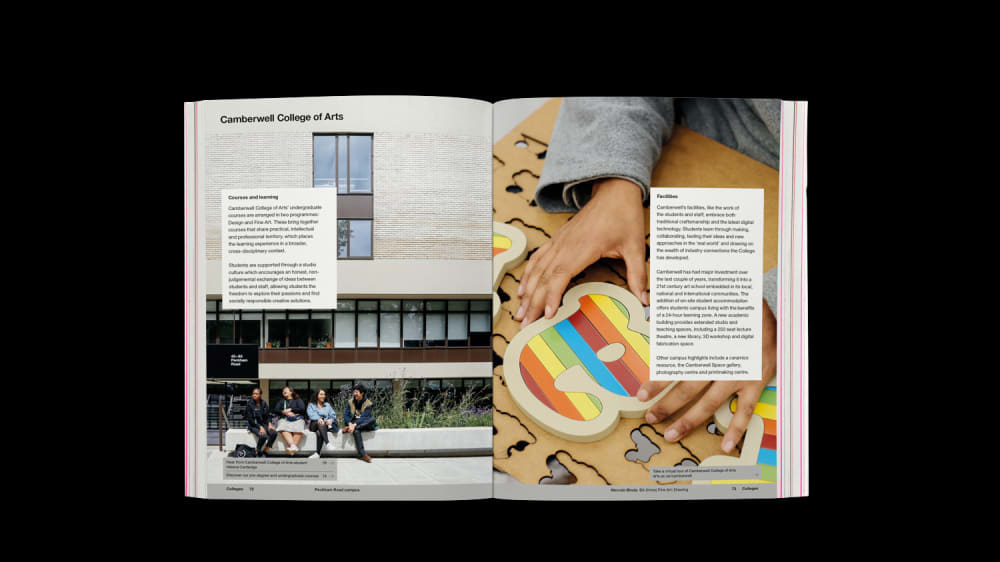 We speak to The Studio of Williamson Curran, the creative brains behind the prospectus concept.