To create our new Undergraduate and Pre-Degree Prospectus, UAL partnered with The Studio of Williamson Curran (TSOWC), a London-based creative design studio established by Geoff Williamson and Chris Curran. Both Central Saint Martins graduates, Geoff and Chris met while working at the multi-disciplinary design studio Why Not Associates, before coming together to found TSOWC.
As designers, they've worked across a range of media, helping brands to create visual identities, books, exhibition catalogues, films, tv promos, exhibition graphics and more, with their clients including world-famous brands such as Tate, the Victoria and Albert Museum and Nike.
We asked TSOWC's Chris Curran to explore the ideas behind the prospectus concept and give us some insight into the creative process involved in designing for print.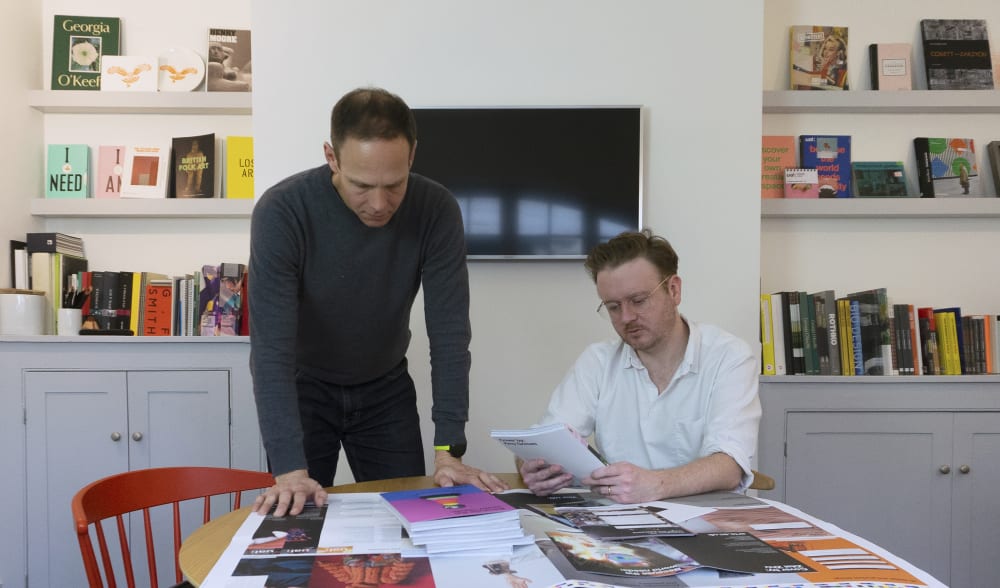 As UAL graduates yourselves, could you give us a brief history of TSOWC and tell us a bit about how you ended up founding your own studio after graduating?
"After gaining our postgraduate degrees from UAL and the Royal College of Art we both worked for the design studio Why Not Associates, which was an amazing place to continue our learning. Over the course of 8 years this experience eventually gave us the tools and knowledge to start our own studio.
There's no set path to starting up on your own, but if you can find people that challenge you and you can take on the world with, then that's certainly a good start!
You've been involved with working on the UAL Prospectus for a good few years now. What is it that keeps you coming back for more?
As former students, we really enjoy the process of finding new ways to celebrate the creativity that UAL produces. Since graduating from CSM in 2001 we've both had an ongoing relationship with UAL: collaborating with tutors and graduates, designing for individual colleges and attending degree shows and lectures.
These experiences over the past 20 years have given us a strong understanding of UAL's 6 Colleges, getting a feel for their own unique personalities and seeing how they educate and produce leaders in the creative world.
It's also a joy seeing the inspirational work that students are producing across all subject areas and finding new ways to champion this.
Could you tell us a bit about the concept behind the prospectus and the decisions behind your chosen design language within the prospectus?
We wanted to build on the ideas that informed the previous years' prospectuses by illustrating UAL's fundamental message of why the world needs creativity. With this at the forefront of our thinking, we created a front cover framework that could be populated with as much student work as possible.
Sounds like quite a task! The prospectus ended up having 107 unique front covers showcasing student work - as designers, what's your approach towards a job like this?
When we first started to discuss our approach for this year's prospectus campaign, what really interested us was learning about students and the work they were creating. We loved hearing the stories behind these projects and seeing the incredible work being produced.
We wanted to find a highly visible way to show this breadth and diversity of creativity, so we started to explore the possibilities of printing multiple different front covers. This allowed us to celebrate individual students while also putting their work front and centre within the design.
Once we had mapped out the logistics and worked out that we could fully realise this concept, we ran with it. This visually-focused approach continued inside the prospectus, influencing how images were handled full bleed to sit alongside the text.
The first few pages of the prospectus look into some topical conversations surrounding sustainability, well-being and social justice. What are your thoughts on how creativity impacts these areas?
We need creative thinkers to challenge convention, enhance our culture and arrive at new possibilities. In the current political climate this outward-looking approach to creativity is absolutely essential in creating change and impacting the world in a positive way.
The concept behind the prospectus demonstrates this point: creativity drives the world and can create a better place for people."
Discover more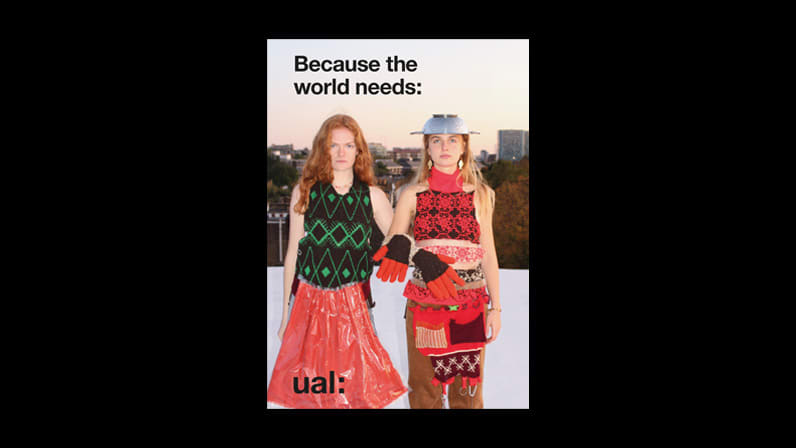 If you're based in the UK, you can order a copy of our pre-degree and undergraduate prospectus straight to your door.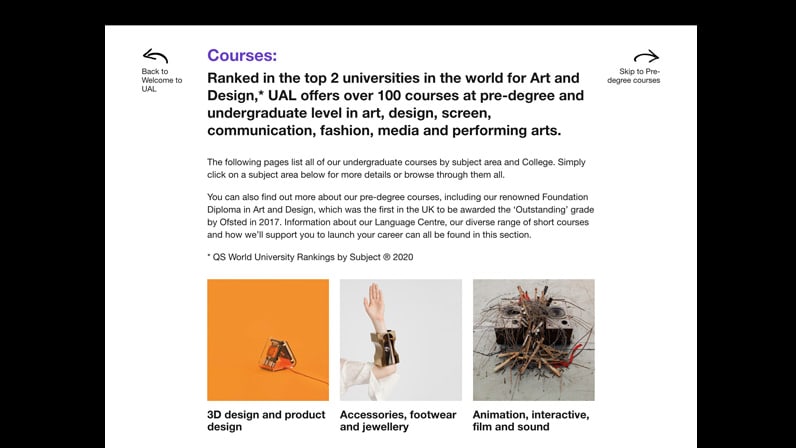 Explore our online prospectus to discover our courses, read about our students and learn all about life at UAL.
Hear from some of the students featured on our prospectus front covers and discover the stories behind their work.