The British Council has announced that artist Sonia Boyce OBE RA will represent Great Britain at the 59th International Art Exhibition of La Biennale di Venezia, presenting a major solo exhibition of new work, running May to November 2021.
Sonia Boyce came to prominence as a key figure in the burgeoning Black-British art scene of the early 1980s. She was one of the youngest artists of her generation to have her work acquired by Tate, featuring deeply personal reflections on race, class and gender in Britain.
Sonia is known for her highly innovative and experimental approach to art-making, using performance, drawing, print, photography, and audio-visual elements in her work. Since the 1990s, her practice has become increasingly improvisational and collaborative, inviting a broad cross-section of participants to come together and speak, sing or move in relation to the past and the present. At the heart of her work is an empowering exploration of gestures and events, with an underlying focus on the personal and political subjectivities behind them.
A professor at University of the Arts London (UAL), Sonia is the inaugural Chair in Black Art and Design. The University celebrates a long history with Sonia. She completed an AHRC Research Fellowship on the ephemeral nature of collaborative practice in art at Wimbledon College of Arts, UAL (2008-11) and previously taught at Central Saint Martins, UAL where she was Associate Lecturer in Fine Art. A member of UAL's Research Centre for Transnational Art, Identity and Nation (TrAIN), Sonia recently led the landmark 'Black Artists and Modernism' project jointly conducted by UAL and Middlesex University (2015-2018) - a 3 year research project funded by the Arts and Humanities Research Council, examining how artists of African and Asian descent in Britain feature in the story of twentieth century art.
On accepting the British Council commission, Sonia Boyce commented:
You could have knocked me down with a feather when I got the call to tell me I had been chosen to represent Britain at the Venice Biennale 2021 - it was like a bolt out of the blue. Obviously, I'm extremely honoured, excited – and nervous. I'm eager to start this creative journey, exploring the experience with others who agree to work with me along the way.
UAL Vice-Chancellor Nigel Carrington said:
UAL is privileged to work with Sonia and it is with great pride that we congratulate her at this pivotal moment in her career. We eagerly look forward to her realisation of this project and to what will be the next chapter in her contribution to the story of British art.
Sonia has taken part in numerous solo and group exhibitions, both internationally and in the UK. Notable recent exhibitions have included solo shows at Manchester Art Gallery (2018), The Institute of Contemporary Arts (ICA), London (2017), Villa Arson, Nice (2016), and group exhibitions including Prospect 4, New Orleans (2017), and All the World's Futures, 56th International Art Exhibition – La Biennale di Venezia, Venice (2015). Her current solo exhibition, In the Castle of My Skin, at Eastside Projects, Birmingham will travel to Middlesbrough Institute of Modern Art later this year. 2020 will also see the completion of a major public art commission by Sonia for the Elizabeth Line, Crossrail project, London.
In 2016, Sonia was elected a Royal Academician, and in the same year received a Paul Hamlyn Artist Award. In 2019, she received an OBE for Services to Art in the Queen's New Year Honours List, as well as an Honorary Doctorate from the Royal College of Art.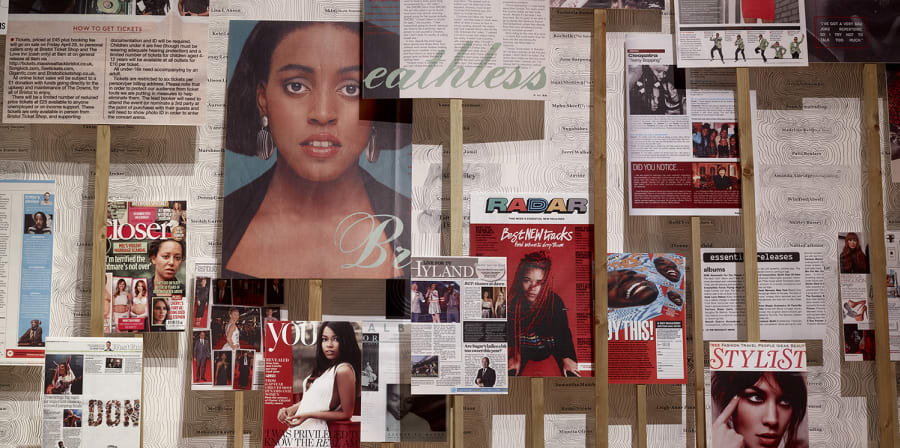 A panel of visual art specialists from across the UK selected the artist for Biennale Arte 2021. The committee members included:
Emma Dexter, British Council Director Visual Arts, Commissioner of the British Pavilion and Chair of the British Pavilion Selection Committee:
The British Council is thrilled to announce that Sonia Boyce has been commissioned to represent the UK at the Biennale Arte 2021. We are eagerly anticipating her exhibition, where collaboration, improvisation and dialogue will undoubtedly play a key role. Boyce's work raises important questions about the nature of creativity, questioning who makes art, how ideas are formed, and the nature of authorship. At such a pivotal moment in the UK's history, the Committee has chosen an artist whose work embodies inclusiveness, generosity, experimentation and the importance of working together.
Mary Cremin, Director, Void Gallery, Derry, Northern Ireland:
Sonia Boyce's work is reactive, collaborative and experimental, her interest in social practice as a means to expand critical debate is central to her work and it will be exciting to see how she activates the British Pavilion. As a key figure in British contemporary art the panel agreed it was important to recognise her contribution and legacy to the development of artistic practice both nationally and internationally.
Hammad Nasar, Senior Research Fellow, Paul Mellon Centre for Studies in British Art, Co-curator, British Art Show 9:
In her drawings, multimedia installations and performances, Sonia Boyce has consistently probed one of society's big questions: how do we live with difference? In times of polarisation and division, the committee felt that Boyce's improvisatory, collaborative and participatory practice offers the potential to inject the 2021 exhibition with surprise and hopefulness.
Beth Bate, Director, Dundee Contemporary Arts:
Throughout her career, Sonia Boyce has consistently broken-down barriers, producing a vital and dynamic body of work that demands we pay attention to how we relate to our pasts, to each other, and how we might move forward. I am hugely excited to see what Boyce will create for the British Pavilion.
Nicholas Thornton, Head of Fine Art, Amgueddfa Cymru - National Museum Wales:
Sonia Boyce is an artist who has built her career outside of the established 'centres' of the art world, and places collaboration and a participatory way of working at the centre of her practice. It will be particularly exciting to see how this open-ended approach will activate the historic spaces of the British Pavilion and connect with audiences in Venice in new ways.
The British Council has been responsible for the British Pavilion at La Biennale di Venezia since 1937, showcasing the best of the UK's artists, architects, designers and curators. These exhibitions, and the British Council's Venice Fellowships initiative introduced in 2016, help make the British Pavilion a major platform for discussion about contemporary art and architecture.
Later this year, the British Council will appoint an Associate Curator to work alongside Sonia Boyce and the British Council team to develop the exhibition. This post will be generously supported by Shane Akeroyd and offers mid-career curators a unique professional opportunity to work with a leading British artist on a global platform.
Artists previously commissioned to represent Britain have included: Henry Moore, Barbara Hepworth, Francis Bacon, Lucian Freud, Ben Nicholson, Anthony Caro, Bridget Riley, Richard Long, Frank Auerbach, Barry Flanagan, Howard Hodgkin, Tony Cragg, Anish Kapoor, Richard Hamilton, Leon Kossoff, Rachel Whiteread, Gary Hume, Mark Wallinger, Chris Ofili, Gilbert & George, Tracey Emin, Steve McQueen, Mike Nelson, Jeremy Deller, Sarah Lucas, Phyllida Barlow and Cathy Wilkes.
Exhibition details
The 59th International Art Exhibition – La Biennale di Venezia, May – November 2021
The British Pavilion is commissioned and managed by British Council Visual Arts.
Commissioner: Emma Dexter, Director of Visual Arts at British Council
For latest news on the British Council commission:
visualarts.britishcouncil.org/
---
Top image: In the Castle of My Skin 1, 2020 with Anna Barham, Lindiwe Matshikiza, Harold Offeh, Flora Parrott, Luc Pheles, Alberta Whittle - and (MIMA Collection) Francis Alÿs, Lynn Chadwick, Lucy Harvey, Andrew Logan, Jacqueline Poncelet, Bridget Riley, Martin Smith Plywood structure, wallpapers, objects, videos, drawings and prints © Sonia Boyce. All Rights Reserved, DACS/Artimage 2020. Photo: Stuart Whipps