Textiles Folio Online Short Course
Course description
The Textiles Portfolio has been carefully designed to enable students to develop their textiles practice and create a rich and successful portfolio. Whether you are hoping to go onto further study or professional practice, the course will help you achieve your ambitions. Underpinned by a philosophy of experimentation, visual research and conceptual thinking, the programme will allow you to explore and expand your textiles practice while building a portfolio of work.
You will be encouraged to explore diverse areas related to textiles, fashion, costume making, or surface and jewellery design. In addition, you will be given advice on portfolio presentation and best practice for your chosen pathway throughout the course while you engage with exciting projects that will enhance your skills.
The course places an emphasis on design thinking. Students will be encouraged to make their own tools and equipment, which will develop their creative resilience and entrepreneurial skills.
During the course students will specialise in one of the following subject areas:
Costume for Film or Theatre
Fashion Accessories
Fashion Knit
Fashion Print
Fine Art
Jewellery
Surface Design
Textiles
Who should attend?
Past students who have completed Textiles Portfolio have successfully progressed to the BA Textile Design course at Central Saint Martins, Fashion & Textiles, Jewellery and elsewhere.
In addition to benefiting professional practitioners and students with applications to future employment; the Textile Portfolio course can also help prepare students for application to the following University of the Arts London programmers, and elsewhere.
BA (Hons) Costume Design
BA (Hons) Fashion Knit
BA (Hons) Fashion Print
BA (Hons) Fine Art
BA (Hons) Jewellery
BA (Hons) Performance Design and Practice
BA (Hons) Surface Design
BA (Hons) Textile Design
MA Design Jewellery
MA Material Futures
MA Textile Design
Students must complete an application before booking onto the course. For details please read the 'Making your application' section below.

Course outcomes
To provide a broad diagnostic experience in textiles design
To encourage students to explore their potential within a wide range of art and design disciplines
To expand students design skills, personal practice and challenge their design ideas
To encourage experimentation, research and work at a fast pace
To enable students to discover and develop their individual style
To inspire students to develop confidence in their practice
To deliver high quality teaching to small class sizes, taught by staff from a variety of CSM subject areas
All our online short courses include:
Live online lessons with the same tutors
Lesson recordings, for review, so you never have to miss a class
Access to the virtual learning environment with course content
Forums for support
2 weeks online access to the recordings of the live classroom session
Activities will be scheduled between the hours of 09:00 15:00 (UK Time), 3 days a week and will include a mixture of live classes, one to one tutorials, crits, peer learning and independent study.


Entry requirements
This course is open to students aged 18 years and older
As a guideline, non-native English speakers should be at IELTS level 6.0 in English language, for more information please visit UAL's English Language Requirements webpage
To support your application you should have the beginning of a portfolio of 15-20 examples of your work, for more information please visit UAL's Portfolio Preparation webpage.
Making your application
To apply for this course please check that you meet the entry requirements and then click here to complete the application form.
All applications will be reviewed in 7 – 14 days. An email will be sent to notify you of the outcome along with information about the next steps.
Contact
Available dates
If no dates are showing then please sign up to our mailing list to find out about upcoming dates and new course developments.
Details
Course structure
Term 1
Will provide students with a broad overview of textile design and an opportunity to explore the fundamental elements and creative methods of textiles, while developing an individual approach to the subject. Through an exciting mix of workshops and guest lectures delivered by CSM Textiles staff, alumni and professionals, students will experiment with knit, print and weave, new materials and 3D design. Projects and workshops are designed to develop students existing skills while nurturing individual creative styles. Students can expect to work through a diverse range of briefs, broadening the range of work in their portfolios.
Students do not require any specialist machinery for any of the disciplines, we encourage them to develop and create their own techniques and tools using their thinking hands. This could be anything from creating a new type of weaving frame, hand printing ideas or even bio design. No student will be at a disadvantage if you don't have equipment.
Term 2
This will provide a focus for their portfolio to support their application to further study or future employment.
Students will focus on their specialist pathways and concentrate on finalising concepts and narratives for their final major projects. There will be more 1-2-1 tutorials and group tutorials where students will observe peer development. Throughout term 2, students will work on an independent Final Major Project allowing them to develop personalised techniques to a high standard for creating and building individual bespoke portfolios with more depth and substance.
Frequently Asked Questions
How much time should I commit to the course?
Online contact time with tutors will be scheduled across 3 days of the week, between the hours of 09:00 – 15:00 (UK Time) and will include a mixture of live classes, one to one tutorials, crits, peer learning and independent study.
To get the most out of the experience it's highly recommended that students approach this as a full time course. Self-directed practice and research between online contact time is essential.
Will I have a Portfolio Review?
Towards the end of term 2 there will be more Intense portfolio surgeries and preparation interview advice for students whether they are making future applications to BA, MA or requiring professional practice guidance. Invaluable specialist advice will be provided for professionals looking to establish themselves in their chosen field. Interview practice for future study and employment will help to shape each students agenda.
What do I need to do to prepare for an application to a BA or MA?
Students making an application to a BA or MA, are strongly advised to familiarise with the specific course entry requirements and application deadline. For UAL courses this information can be clearly found on each course page.
Do I need to provide proof of my English Language?
No, we do not need you to provide proof to study Textiles Folio. However; as a guideline, non-native English speakers should be at IELTS level 6.0.
If you are progressing to a full time course at UAL after completing your programme, you are still required to meet these conditions. These will be listed on the relevant course page. For more information you can check the UAL English Language requirements webpage.
Materials
In order to get the most out of this course you should bring the following materials to your first session:
A1, A2, A3 white cartridge paper (can be loose sheets or a book)
A selection of coloured papers - can be 2nd hand
Note book or A5 sketch book
Pencils - a selection of drawing pencils
Pencils - a selection of coloured ones
Fine line marker pens - Black
Glue
Water colours – selection
Acrylic paints – a selection
Yarns - a selection of yarns, wools, strings, thin, thick, colours, cream
Newspapers
Plastic bags
Selection of wires - colours
Scissors - paper and fabric
Craft Knife
Knitting needles - 6mm
Crochet hook - 6mm
Sewing needles and threads
For some of the specialist workshops, students will require additional materials, which tutors will advise you of in advance
For some of the specialist workshops, students will require additional materials, which tutors will advise you of in advance.
The tech requirements:
A recent computer with a recent operating system
An up-to-date web browser. (It would be advisable to ensure you
Access to two separate web browsers, we recommend Safari and Google Chrome
A headset with microphone/headphones is recommended
Headphones – so you don't annoy the neighbours
Webcam (We won't force you to use this, but you might decide you would like to say hello)
The Textiles Portfolio provides students with a thorough grounding in the different areas of textile design: Knit, Print and Weave. Underpinned by a philosophy of experimentation, visual research and conceptual thinking.
Pay by:

Contact us:
Central Saint Martins
Telephone

+44 (0)20 7514 7015

Address

1 Granary Square King's Cross London N1C 4AA

college: Central Saint Martins

Make an enquiry
You may also like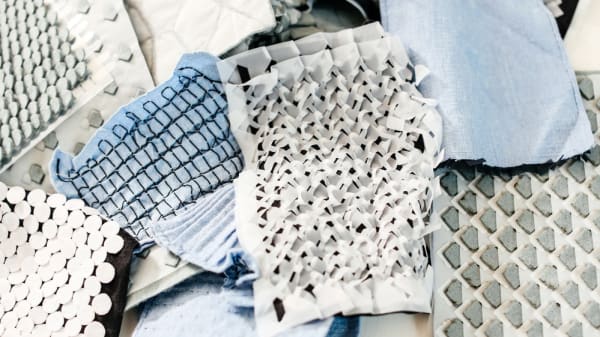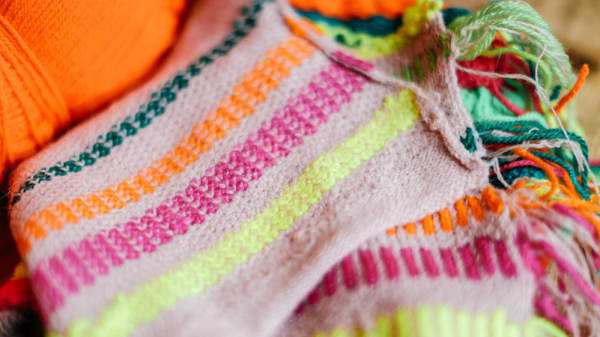 Contact

Central Saint Martins

Short Courses
Address
1 Granary Square
King's Cross
London
N1C 4AA