Your creative future starts here:
Elizabeth at Chelsea College of Arts
Published date
01 Jan 2019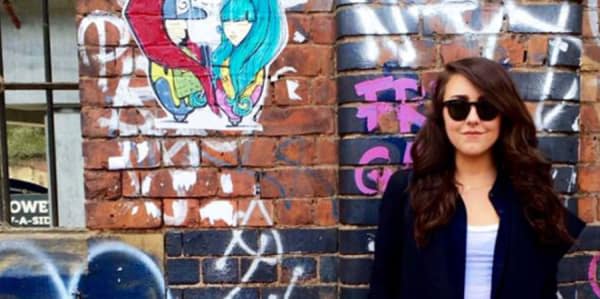 Elizabeth joined the London Design Programme: Interior and Spatial Design pathway at Chelsea College of Arts for the spring semester from her home institution, Scripps College, California, United States of America.
What was the best thing about studying at Chelsea?
The best thing about studying at Chelsea was the sense of independence that was entrusted in us as students. An incredible amount of freedom comes with being a student at Chelsea. A huge portion of learning and your experience takes place outside of the classroom. Living in a foreign city for the first time can seem daunting, but the resources and support given to you at Chelsea help you find your path and place amongst the beautiful chaos of London.
My favourite part of my programme was by far the module taught by George Rome-Innes. This was the best and the most unconventional art history course I have ever ever taken. Except for our final critique, our class never met inside a classroom. Every Wednesday, George would give us his own personal walking tour of London. It was an amazing experience to walk into places like the Victoria and Albert Museum armed with someone who held so much knowledge about art, design and culture.
How was the learning style different?
The learning style at Chelsea was vastly different to that of my home institution. As a neuroscience major, I spend an overwhelming majority of my time either in lectures or in the lab. Except by appointment, I don't interact with my professors at my home institution on a regular basis. The learning environment at Chelsea was the exact opposite. The tutors worked with me throughout the entirety of my projects, often on a one to one basis. They always encouraged students to engage with each others' work and ideas.
In addition, I am incredibly grateful to Chelsea for accepting me onto the Interior and Spatial Design programme, despite not being a design major at my home institution. In retrospect, everyone in the programme brought something unique with them, whether it be where they were from, their educational background, or their creative abilities. One of the greatest aspects of Chelsea is its' ability to unite a myriad of different types of people through the common thread of a passion for art and design.
What opportunities did you have at Chelsea?
Chelsea afforded me the opportunity to be a part of an interior and spatial design programme, which is not available at my home institution. I found a passion for spatial design half way through my time at my home institution by participating in an internship programme at the Harvard Graduate School of Design during the summer after my sophomore year.
Perplexed as to what the best academic decision would be for my future, I headed back to my home institution to complete my degree in neuroscience and art. I didn't want to transfer from Scripps and waste all of the hard work I had done up until that point in my collegiate career. However, I knew my career path was now steering in a new direction, towards architecture.
I came across the Chelsea programme through the study abroad office and immediately knew it was for me. The independent and collaborative learning methods at Chelsea taught me an immeasurable amount about what I am capable of as a student and about the remarkable built environment of London. I am so grateful to Chelsea for allowing me to pursue the programme, despite coming in without a collegiate design background.
The European Art History module was yet another opportunity I never would have had at my home institution. Over the Easter holiday, I travelled to Berlin with five other Chelsea students. With an extensive itinerary planned, we hit the ground running as soon as we touched down. We saw more art and went to more museums in those 3 days than I had managed in a year back at my home university.
What advice would you give to other students thinking about studying abroad at Chelsea?
Studying abroad at Chelsea is an irreplaceable, transformative experience and I could not recommend it more.
My advice to an incoming student would be don't be afraid to get lost. One of the most overwhelming obstacles you'll have to face while abroad is being in an entirely new environment filled with the unfamiliar. Instead of being fearful of the unknown, think of every new thing, place, and person you encounter as a new opportunity and immerse yourself in all that London has to offer.
What makes Chelsea such a unique place is its exceedingly talented and creative student body. You feel it as soon as you walk into the building. It's truly a privilege to get to experience such a thriving community. The benefits of studying abroad at Chelsea far outweigh the apprehensions you may have about living in a new place.
What was your living environment like?
I lived in Will Wyatt Court, the UAL halls in Shoreditch. You simply cannot beat the location of Will Wyatt. Only a 10 minute walk from Old Street tube station you are able to get into central London in under 30 minutes. The social life in Shoreditch is lively, which made the weekends really enjoyable.
I also adored my flatmates. My flat was comprised of all study abroad students, which made the rocky first couple weeks of adjustment a little bit easier. It was nice to know that there would be people hanging out in our kitchen when you got back from classes. We got along so well we actually started a potluck tradition where every other Sunday we would each cook a dish then we would all eat dinner together! That's by far one of my favourite memories of my time in London.
What was the best thing about living in London?
The best thing about living in London was that there was always somewhere new to explore. On the interior and spatial design programme, we would constantly learn about the London's elaborate urban history. It was an incredible opportunity to learn about something, whether it be a beautiful cathedral or small Georgian home, then actually get to go and see it.
London is a city that is so incredibly alive, its energy is contagious. Some of my favourite afternoons in London were spent wandering Brick Lane, Box Park, or the South Bank. There is so much to see and experience in London. Overall, the best thing about living in London was, for four months, I got to call one of the greatest cities in the world my home!