Growing up in Enfield, Tanikha has lived in London her whole life. At first she thought about moving elsewhere to study, but when she found out more about her course she realised it was perfect for her. She was excited by the possibilities for students in a city like London, and the skills she has gained at UAL have gone far beyond theatre to encompass all kinds of creative expression.
I study BA (Hons) Theatre Design at Wimbledon College of Arts. The induction event was a key time for getting to know new people from other courses at Wimbledon and across UAL. There are lots of events and exhibitions going on which are open to students and are great places to meet people.
Some of my favourite spots around Wimbledon include Dundonald Park. I walk through it every day to get to the campus and it always makes me feel relaxed. I also love the facilities available at Wimbledon.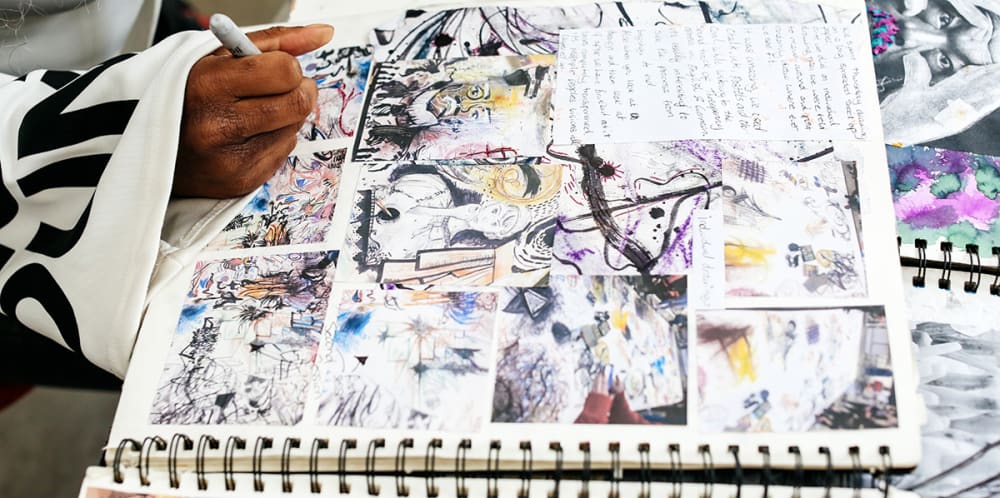 London is one of the best places to study because you have everything at your fingertips.
The best thing about studying in a place like UAL is that you're free to work in your own way – whatever that might be for you. But there's also so much support in place to help students with their studies, as well as events and socials that have made my university experience special.
Being able to see different shows and having the opportunity to go to museums and exhibitions seeing all the things that artists from London have been able to create is very inspiring.
London is diverse there is something out there for everyone. Seeing all the opportunities there are for you and the connections you can make, just from studying in the city.
From the most exclusive fashion shows to the secret art exhibitions and after parties. Everywhere you go there is something that's inspirational.
There are loads of different sports that you can take part in, along with other societies you can join or set up yourself. Just make the most of everything on offer – keep asking questions and you'll always find answers.