Article by Deborah de Mello, MA Fashion Futures, London College of Fashion
After a few weeks of constant sunshine, London has finally returned to its normality and it started to rain again. Which at first seemed like it would ruin the plans for the first Post-Grad Mixer of the year. I was a little worried that people would decided not to show up because of the poor weather. However, it surprised me that the new post graduate students already know the most important rule about living in London:
"Do not let the bad weather keep you at home, just get yourself a good umbrella."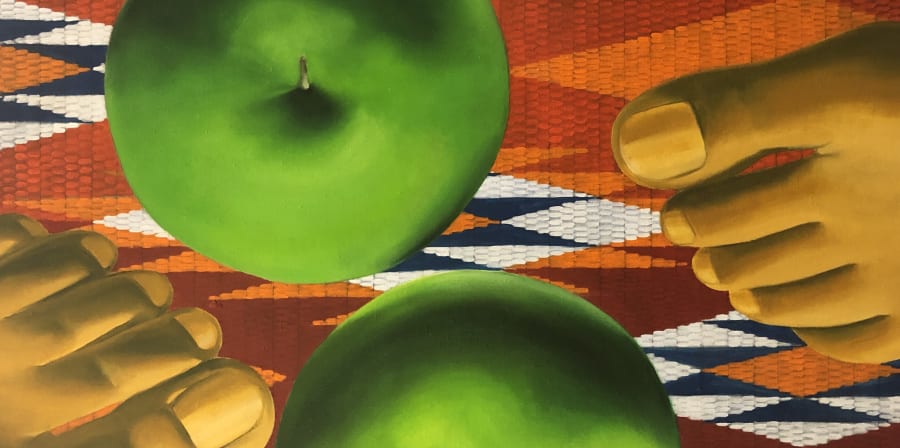 When I arrived at the Serpentine Sackler Gallery, there were already a lot of students talking and getting to know each other. Everyone was really energetic and excited to meet new people. Once the event officially started, Rachael and Abbi, who run the Post Grad Community, introduced us to the community, and told us more about what they do, and what the community is about.
"Basically is all about bringing students together to foster collaborations and friendships, which is exactly what we, Post Grad students, need."
Once we were in the gallery, we had a lovely introduction to the exhibition by Joseph Constable who is the Assistant Exhibitions Curator. The exhibition is called "I Live I Die I Will Be Reborn" which is Luchita Hurtado's first solo exhibition in a public institution. He gave us a short introduction about the artist, who was born in Venezuela in 1920, and emigrated to United States in 1928. He told us that her life's work had various different stages, and that she explores ecological activism and that she likes to captures the energy of nature.
He also told us a story about Luchita's mom who wanted her to be a seamstress. But Luchita studied fine art in secret instead, and her mother only found out when she was almost done with her studies. I think as art students, most of us can relate to this story, as a lot of our parents initially were not very keen on the idea of art school.
As I started to wander around the gallery, I saw many interesting works, but the ones that captured my attention the most were some paintings that she had sewed drawings together to create different patterns, it looked almost like a patchwork. I couldn't help but wonder if using this technique is somehow connected to the fact that her mom wanted her to be a seamstress. And I don't know if her mom had seen her work or not, but if she did, I bet that those would be her favorite ones. They sure were mine.
It was a long journey for me to arrive at the mixer. As soon as I entered the bus, I realized I had forgotten my wallet so I had to get back. After that, I got stuck on the bus because it was raining and the traffic was terrible. I got off at the wrong tube station and I arrived at the wrong gallery. I was expecting the day to be a disaster, but it was quite the opposite. The exhibition was really nice, but most important, I got to see some old friends and meet some new ones.
On my way home, I had completely forgotten about my crazy journey to get to the event, and I was just very happy that I had attended. And to me this proves that the mixer was a great success.