We caught up with artist and freelance designer, Vicky Hughes. Alumni of the Graduate Diploma course specialising in Illustration at Camberwell College of Arts.
I'm a freelance illustrator, currently trying out the van-life thing and travelling the UK with my fiancé. The world I create is full of people with big bobble heads (a reflection of my own massive noggin). Check out my shop for tees, pillows, totes and more, decorated with playful people!
— Vicky Hughes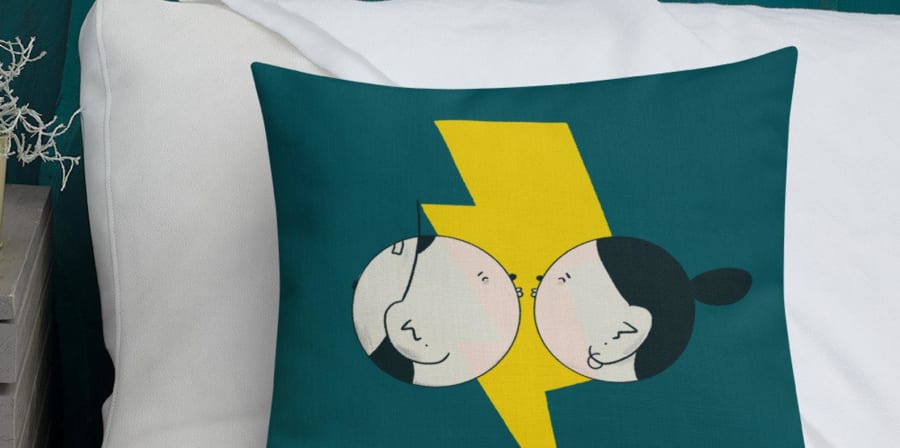 When did you graduate from Camberwell, and where were you before?
I graduated this year, 2020, from the Graduate Diploma at Camberwell. Before that I was working as a data scientist. I moved to London in 2014 after my first degree which was in Maths... so it's been a big change! I can't believe how different the uni experience was between the two. I hadn't really done anything artistic since I was a teenager, but started painting in the evenings when my job was stressing me out. I realised I just wanted to do that all the time, and the more I found out about the world of illustration the more I loved it. Before the degree I did quite a few short courses at City Lit, House of Illustration and one at Central Saint Martin's, to learn technical skills and get my portfolio ready to apply.
What were your initial plans for the first 6 months after graduating and have your plans changed?
I set my expectations quite high and was planning to email tons of art directors and get into editorial illustration and be working as a full-time illustrator. But of course, nothing's gone as planned this year! And with hindsight that was pretty ambitious for a graduate. I still work part-time at my old job at the moment, and earn about 25% of my income from freelance illustration work. I also ended up moving out of London because the price of rent felt pointless with lockdown restrictions - I had planned to move in the next few years but this was a little sooner than expected.
On your website you state that you are a freelance illustrator travelling the UK with your fiancé in our converted van. Does this inspire your practice?
Yes! So, this was another way my plans changed. We had talked about getting a van for years but the pandemic made us want to seize the day. We have travelled a bit this year and it's helped so much with the burnout I had from the combination of finishing my course and lockdown. Being in the van means the scenery is always changing and I can spend more time hiking and doing other things I enjoy. I'm working on a personal project at the moment about the newfound love of walking that both I and so many other people have got this year.
Do you work from your van or do you have a studio?
I work from the van so I've had to make my practice take up as little space as possible. I now work almost entirely with my iPad but I also have a small sketchbook and a few essential materials that I take with me in the van and out for walks. I keep the rest at my parents' house so I can experiment with paints etc. when I visit them!
What kind of freelance work have you been doing?
Mostly illustrations for websites, social media and branding for start-ups. I've also had a few editorial jobs, and illustrated a children's story for an app. I also recently opened an online shop.
How have you found the freelance work? i.e. online applications, through contacts etc
Most of my work has come through contacts. I used to work for a start-up and have done a lot of illustration for them, my other main client came through a recommendation from a friend who ran their marketing team. I also had an editorial client who was a journalism student that I worked with on a brief during my course. Also, a few jobs came from 'cold emails' to art directors at magazines. It's been a really great first year as a freelancer, and next year I'm going to send more emails out to magazines and other clients I'd like to work with, particularly around the outdoors and wellbeing.
How do you stay connected with other creatives?
Staying in touch with other creatives has helped so much this year; we've all been struggling in different ways and it's been good to feel less isolated. I'm in a few Facebook groups for illustrators, the most active of which are ones which I paid for e.g. as part of group coaching or an online course. I'm also in an incredible Slack group run by Anorak magazine which was really active during the first lockdown and has such a good community. I also like to go to events, online these days, e.g. ones with the AOI, Creative Mornings, or the House of Illustration. Of course there's also Instagram but I find there's not much genuine conversation going on there.
Do you still keep in touch with UAL? How do you do this?
I've been in touch with the post-grad community as I illustrated the Christmas Market catalogue and took part myself. I also have a few friends from my course who went on to do the MA and I still catch up with them now and then. And I keep an eye on the Careers and Employability events as they're still useful as a new graduate, and still available to me.
What tips would you have for those graduating soon?
Don't put too much pressure on yourself, you don't need to burnout to be successful. It all happens slowly and one day you'll pause and realise you've got what you wished you had a few years ago.
A thriving online magazine of our postgraduate student voices sharing thought-provoking experiences, practices, thoughts and articles about what matters to them.
Want to write an article? Get in touch with the Post-Grad Community team PGCommunity@arts.ac.uk