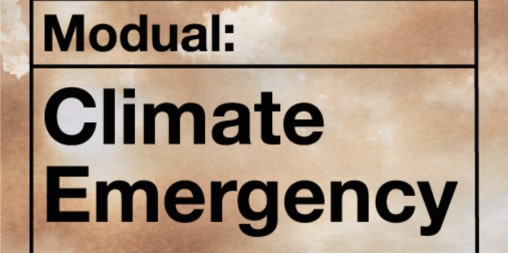 For the first time ever, we're going to be broadcasting Modual: live on modual.org/tv so that anyone can join in and watch the workshop from the comfort of their own home.
Unlike a traditional MOOC, learning will take place in real time. There'll also be opportunities to engage with and support our project teams as they design and develop their projects in response to the climate emergency.
We started planning for the broadcast back in January, before COVID-19 had reared its ugly head (here in the UK at least!) but, as we began our Modual: Catalyst workshop for UAL staff we started to appreciate the value of providing a creative space during this period of unprecedented disruption and change. We hope that the Modual: Climate Emergency workshop will continue to build this supportive community of creatives, and allow us to direct our skills and energy in a productive way, working together to respond to some of the most pressing issues of our time.

Modual: Climate Emergency is being delivered in partnership with Extinction Rebellion, The Ellen MacArthur Foundation and Thomas Matthews.

You'll be able to drop into the workshop and stream live from Modual: between 10am and 5pm from Monday 30 March - Thursday 9 April.
Register for email updates and schedules at modual.org/tv.

One of the joys of working online means that we have increased capacity for people who are able to commit to attending the full duration of the workshop, 10am - 5pm Monday to Friday. If you're interested in joining the core group, sign up at modual.org/register.
---
A thriving online magazine of our postgraduate student voices sharing thought-provoking experiences, practices and articles about what matters to them.
Want to write an article? Get in touch with the Post-Grad Community team PGCommunity@arts.ac.uk