Article by Rayvenn Shaleigha D'Clark, exploring the shifting viewpoints of race online, Black + White = Grey is a brand new installation of 3D lenticular prints.
picture how you
look at things
catch a glimpse
with your hooked
line of thought
I stand by your
riverbank, baiting
pin pointed views
fishing, for a new
perspective
– TheWrytr
Hooked. written by Efe Nakpodia
'Information, from afar possessed knowledge which gives it authority even without verification…' In its relationship to questions of power, hierarchy and undoubtedly race, this includes imagery directly related to or depicting black-brown bodies and the presumed (digital) dimensionality of 'blackness' in its direct relationship to 'whiteness, I ask, when will the black body truly escape [from] the guise of the white imagination?'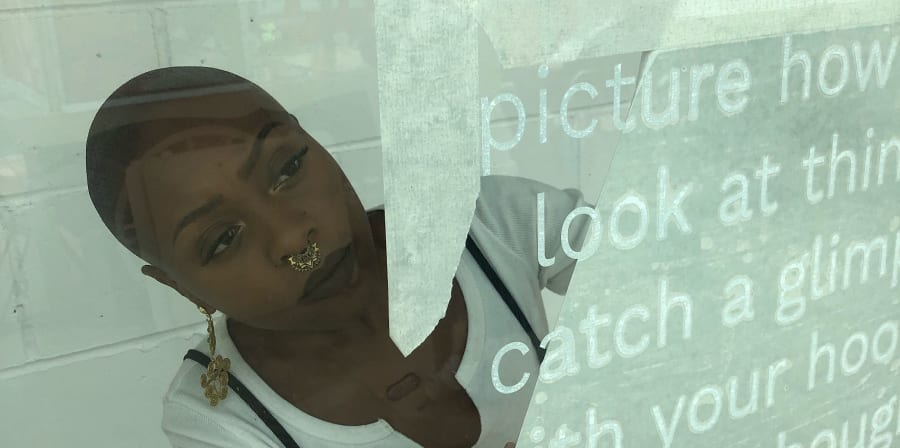 A lenticular. What is a lenticular? It is a 'copy', a copy of a 'copy', a redefinition of an 'non-object', a simulation (de)constructed into several digital spaces. They are and exist within their own fictions, absolutely and completely self sustaining within a digital space that is filled with similar self-sustaining fictions which often exemplifies similar fictions surrounding black bodies which can easily been seen in heavy contrast to the everyday 'collective' experience of black people(s); a very nuance which is seldom discussed.
Perhaps the unique challenge of putting on a solo show is the pressure to maintain the narrative progression of an entire show solely by way of your artwork. I have participated in many group shows in the past few years and I am sure that most young artists will always express how the dream – a marker of emerging success – is to have a solo show. That sense of pride that an organisation/establishment believes in the clarity of your work enough to give you the space to explore your work in isolation for any number of weeks. This year seems to be my time in the spotlight. Daniel Curtis from Picnic gallery approached me during my final show on my Masters at Chelsea College of Arts (UAL) back in September 2018; a curatorial collaboration between Alice Bonnot and Curtis who give artists the opportunity to develop new ideas in a unique environment, occupying a long window in the Aylesham Centre in Peckham, South London - scheduled in a private consultation to see my work and expressed his fascination with the interactive nature of my sculptures which are bound up in pushing boundaries concerning modes of installation as much as the aesthetics of the sculpture itself – the offer of participating in a show was on the table. Picnic Gallery is a curatorial project space house in Peckham where I grew up – I must admit that the prospect of exhibiting in an area I have a great affinity with was an enticing prospect – and we spoke in length about the motivations behind my work and how well placed it would be within the geography of the area. Post-university practice however requires a completely different way of working. Removed from the institution and easy access to a number of facilities that helped me to consistently make work, it has been very difficult to consider my practice post-graduation. However, with the offer of a solo show I needed to put my best foot forward and push new boundaries within my practice in order to capitalise on this opportunity. Imbued by the urgency of having to curate my first solo show in my hometown - in what felt like a very short space of time when contrasted against the other commitments I have in my life - let's just say that any hesitation and anxieties regarding how to continue to make my work for this project completely left my mind.
An unexpected surprise was the collaboration with poet TheWrytr. who really helped to reinforce the narrative of the show; his minimalistic poem titled 'hooked.' formed a vital strand of the narrative within the show; written in the style of the 'Imagist' it is intended to capture a moment in time; to draw the reader's attention introspectively. The undertone of the poem - much like my own practice - explores shifting viewpoints of race (online), this poem felt well placed within the thematic investigation of the show. To flesh it out a bit more: the notion of the body politić (bodies considered collectively) remains a key research interest within my body of work; the way images and cultural nuances related to black bodies survive - thrive almost - in the online digital realm. Thus working on this (sculptural) format, I wanted to reframe the way people interact and perpetuate images of black peoples (memes for example which contain a specific dimensionality around the black bodies (blackness) they depict, often for comical effect) in a more positive way, especially in its relationship to whiteness and the way that white viewers (non-black peoples) perceive that very particular nuance of that body IRL. In my opinion, the way that the internet continues to be a 'white' space - carved out on the spirit of the white imagination - this artwork performs as an artefact/example of (online) 'autonomy' against the proliferation of images of black bodies online. Similarly, it is a discussion of the presumed 'factual' nature of digital artefacts despite the 'non-status' of its creator as they emerge upload artefacts into the digital realm. They belong to no one, and yet the culture that they often depict remains very necessary and relevant to someone from that particular culture.
How then does 'fictionalisation' relate to how blackness as seen in a digital world? To what degree are we given simulacra's and fictions of black bodies - and what does that do to a black person's experience of life?
Having to juggle working part-time, forms a near-constant challenge in terms of momentum in your creative practice. It becomes the niggling thorn in your side where you working commitments take you away from the act of making and existing within that creative mindset. However, in this same spirit, working on the side has taught me the importance of time management, scheduling, and most importantly patience – with the understanding that there is time to do everything, and the need to do it well. Alongside economically and psychologically transitioning into my 'non-student' status, curating this show has admittedly been very difficult; because it required me to have to take on a huge weight of responsibility in terms of continuing to make and promote my work in the public domain unsupported by the institution. So, whilst the road has been long and filled with anxieties as to the direction of my practice, this show has been so beneficial in building my confidence and allowing me consider the direction of my practice as I move towards becoming a professionally practicing artist. I hindsight, I would have allocated more time to psychologically prepare for the show, now understanding how long it takes to pull various threads together in order to fully realise a show. This undoubtedly includes my own personal-emotional preparedness to bring new work into the public domain. I have learnt the importance of preparation; of firmly laying the groundwork in order to ensure the smooth running of the event, from conception through to launch. Opportunities for growth would undoubtedly be to in the future go bigger and better as now I move forward understanding that my work has something to offer in the public domain and that is something to be treasured
---