Written by

Post-Grad Community

Published date

10 May 2021
Share story

Written by Zula Rabikowska, MA Photojournalism and Documentary Photography, London College of Communication (alumni 2020).
---
Re-examining family history through photography and fashion
It feels like yesterday when I finished my MA in Photojournalism and Documentary Photography at London College of Communication (LCC) in December 2019. After an incredible 15 months of exhibitions, workshops and rethinking my photographic practice, I was feeling ready and excited to enter the professional world of photography and flex my creative skills. Then the pandemic started, and like everyone else I had to adapt.
I did the MA at LCC to change my career, I previously tried my hand at a number of industries, including finance, teaching and operations and customer service at various start-ups. One of the most valuable things I learnt whilst on the MA course is how to develop my ideas, and use what might initially seem like irrelevant sources of information to fuel my practice. Apart from academic reading and looking at photography projects by other people, I watched films, went to the theatre (well now on Zoom or open-air), but more importantly I have learnt to find inspiration through observing my immediate environment and conversations with people around me.
I moved to the UK from Poland with my mum and sister when I was a child, and this move really impacted me. In a way, I think I am always searching for a sense of home and belonging, and this quest is what shapes my photographic practice. Due to an unforeseeable series of life events, at the start of 2021 I found myself living back at home in London with my mum in my small childhood bedroom. This was the first time in a long-time that I was living at home, and even though this was often a source of frustration and irritation, this turned out to also be a place of inspiration, which helped me develop my newest project 'Becoming Herstory'.
Becoming Herstory is a personal project which explores the idea of home, belonging and migration. Using self-portraiture, I wear my ancestors' clothes, connect with my family heritage, and highlight the war-torn complexity of Eastern Europe. I tap into the physical and cultural rupture with my family and Polish society, which started 20 years ago when I left Poland.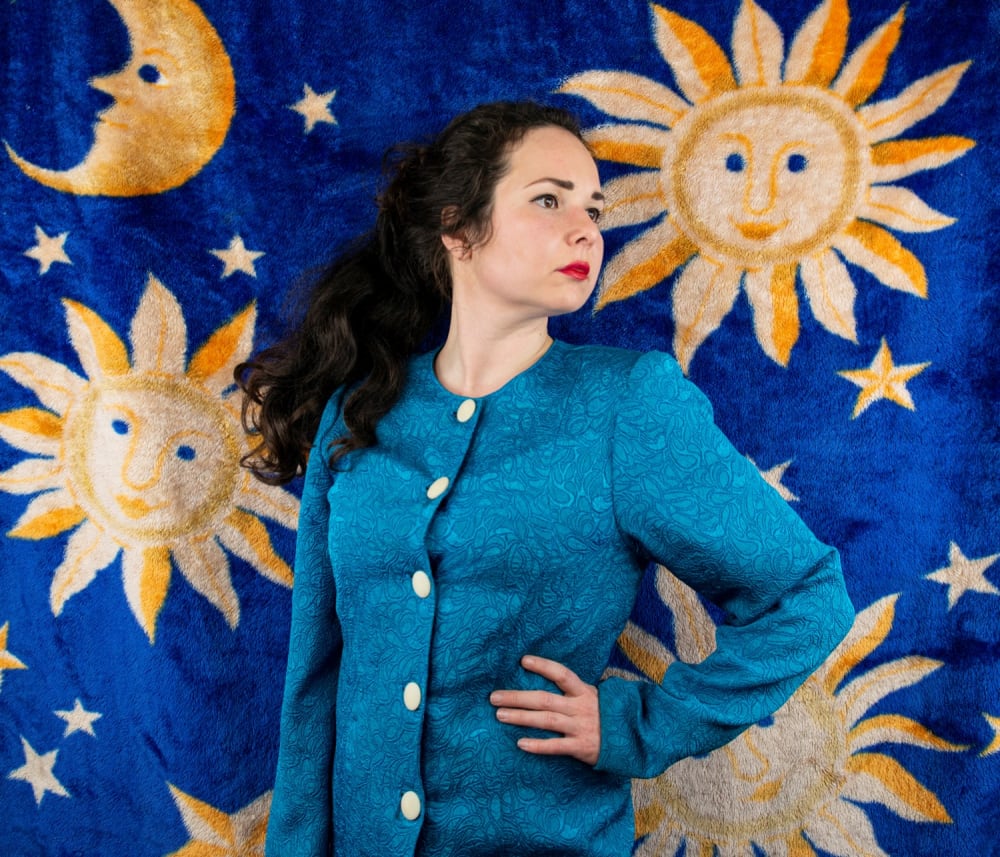 Since everything was shut in London due to the pandemic, I became my own creative director, stylist, assistant, model and photographer. I bought a lighting studio kit and built a studio at home, and set it up in my mum's office set up a temporary studio for 5 weeks. She used the space during the day for work, so the only time I could shoot was at 6am-9am and then after work and during the weekend, which created quite a strict shooting schedule for me. During the day I was looking at old family photos for inspiration, and sorting and compiling outfits from bags of clothes I found in the basement and the loft. My bedroom pretty much transformed into a dressing room full of clothes, makeup and wigs.
The images were inspired by conversations with my mum and family photographs. My mum spent years bringing clothes and glassware from Poland to the UK, as these enabled her to maintain a physical bond with Polish culture. Keeping them facilitated a connection with the past and helped us cultivate the feeling of home, something that we struggled to achieve whilst living in the UK. Amongst many others, I include my mum's first kitchen curtains, a handmade sheep coat, Coca Cola towels won in a radio competition, a New Years' Eve party collar smuggled from Thailand, and my mother's dowry, all of which my mum has kept in our house over the years.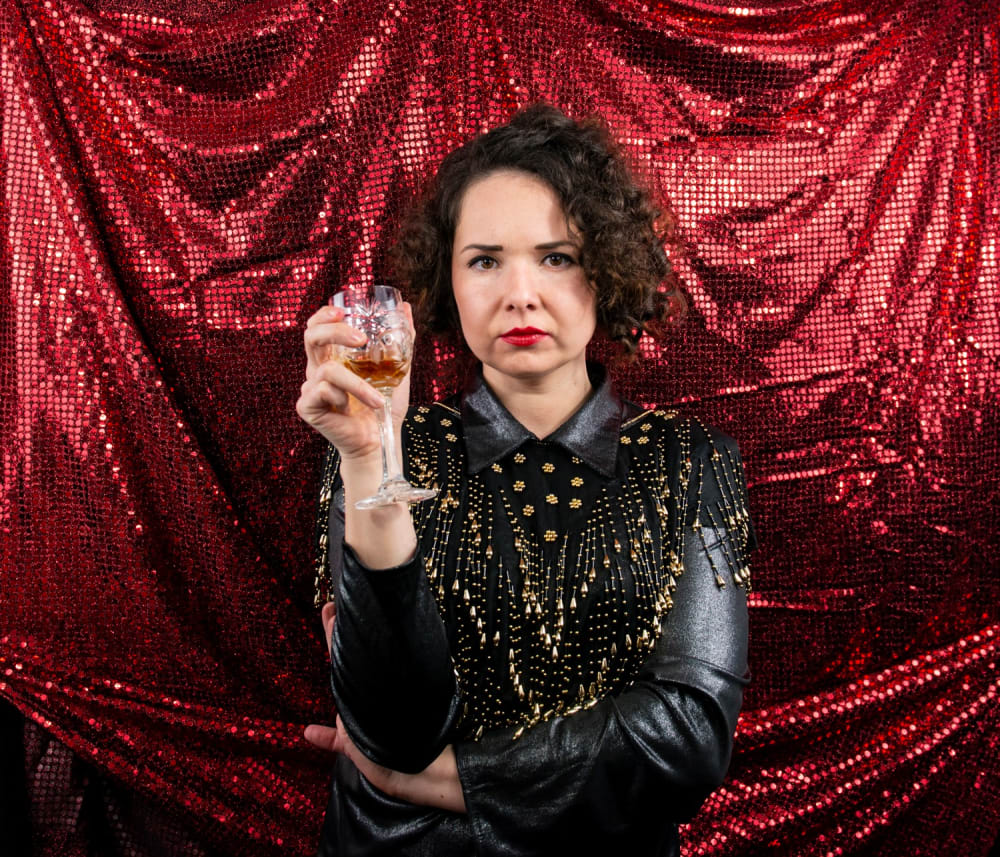 Through this process, I revisit and examine my family history and reflect on how the memories and experiences of women in my family have shaped my identity. Clothes contain unique archival information and become carriers of collective and public memory, they function as reminders of past moments, and allow the memories of the deceased to exist within the present. These self-portraits function as multidimensional spaces, combining voices of women in my family, reflecting on how the past influences the present, and enabling the idea of "home" to be something I am able to carry with me.
I "wear" and "perform" my family history, challenge the idea of a single origin, and show the multiplicity of traditions and cultures that are fused together to create our own sense of self. The items I wear and the backdrops I use are all products of migration journeys and contribute to the larger historical tapestry of Eastern Europe.
The physical action of wearing these outfits, has enabled me to temporarily inhabit my mum's, grandmothers', aunts' or other family members' lives. This action has allowed me not to be just a spectator of their lives, but also a fleeting participant, thinking about the challenges they faced and victories they celebrated. These moments of staging history were particularly important for me as they helped me to momentarily partake in a semi-fictional life in Poland which I never had. These images are a personal contemplative journey, which I approach as "herstory." I focus on the experience of women in my family and reconnect with my own identity as an immigrant in the UK.
Upcoming Exhibiton
Zula's work Becoming Herstory is to be part of the Voyage of Absurdity group exhibition 18 to 23 May 2021at Craft Central in Island Gardens, Canary Wharf, London.
Related Links:
---
UAL is home to more than 2,400 postgraduate students working across the fields of art, design, screen, communication, fashion, media and performance. Within our six world-renowned colleges, we aim to form a creative network of artists, designers and innovators.
Post-Grad Community is an inclusive platform for UAL postgraduate students to share work, find opportunities and connect with other creatives within the University and beyond.
A thriving online magazine of our postgraduate student voices sharing thought-provoking experiences, practices, thoughts and articles about what matters to them.
Download the PDF Guide to writing articles for Post-Grad Stories
Want to write an article? Get in touch with the Post-Grad Community team PGCommunity@arts.ac.uk