Article by Ranura Edirisinghe, AER artist in residence at Mahler & LeWitt Studios, Spoleto, Italy April 2019.
The Mahler & Lewitt studios is a residency in the Italian town of Spoleto. The studios occupy the former working and living spaces of the conceptual artist Sol Le Witt and the sculptor Anna Mahler. The residency enabled me both to engage sustainably with local traditions of textile manufacture and experience the exchange of ideas within a diverse, international community of practising artists.
The town is known for its opera and arts festival which draws a international crowed and has a long history of collaborating with artists. Henry Moore, Cy Tombly, Beverly Pepper, Alexander Calder, Buckminster Fuller, Anish Kappor all pervious collaborators of the town and festival, their work is doted around the town to see even today. I was able to share my time in Spoleto with Aliki Panagiotopoulou a visual artist from Athens who works across a variety of media, such as drawing, photography and ceramics. Her time in Spoleto accumulated to the creation of a series of interventions and arrangements across the living and working spaces of the Mahler and Lewitt Studios, in collaboration with curator Helena Papadpolous (Radio Athènes) and writer Quinn Latimer.
Conductor in residence, Brian O. Kepher used his time in Spoelto to complete his first symphonic work. In his native Kenya, Kepher works with the El Sistema programme hoping to use music and a tool for social change.
I spent my first week visiting textile-based practitioners and factories, Spoleto is located in the province of Umbria which has a rich history for knitwear production and cashmere. I visited the Borzzetti, a weaving work- shop and museum, located in the gothic church of San Franceso Delle Donne which is the first Fransician settlement in Perugia. Now in its fourth generation the tradition is continued by Marta and her apprentice, who showed me around her workshop which makes woven fabrics close to the traditional Perugian designs.
Visiting textile-based practitioners in Spoleto
What was special to see was the nineteen century jacquard frames that the weaving is done on, I had never seen jacquard weaving done by hand and the process it entails such as the metal punch cards which are placed on a rotating cylinder with each hole corresponds to the pattern and fabric design.
Scenes of flowers, bees, leaves and mythological animals intertwined with the traditional blue and white colours of Perugia table clothes are woven in linen, cotton, silk and cashmere. Textiles from scenes painted by Giotto to Da Vinci are adapted and re-worked to be made into updated woven designs.
The Italian fashion industry certainly has the power to support these small-scale artists, but the high taxation rate in Italy gives the business very little room to expand and there should be more support for these artisans. The workshop mainly relies on bespoke commissions but it produces a small number of textiles to be sold to tourists at accessible prices, such as cushions.
As Martha explained more about the business and the troubles that workshops like hers face, I was thinking about how the fashion house Chanel has acquired a wealth of similar workshops in Paris and throughout France, small scale ateliers known as the savoire-faire specialising in long standing traditions and highly specialised techniques such as, feather work crafted by Lemarié which was established in 1880 or pleating by Les Ateliers Lognon) and embroidery.
The acquisition by Chanel allows these ateliers to continue without any financial worry and to operate even operate at a financial loss as the costs are absorbed by Chanel. It made me think of how perhaps Italy should have a similar networking considering the wealth of Italian fashion brands such as Gucci or Prada.
I also visited a knitwear factory near Spoleto, which specialises in fine gauge knitwear since the 1950's and has a strong commitment to sustainability. The factory produces knitwear for luxury fashion brands such as Celine and Victoria Beckham.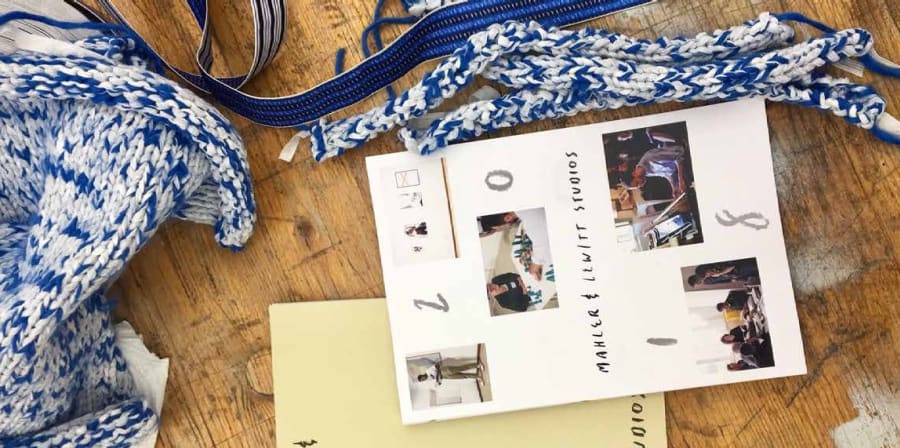 Throughout the tour of the factory I could see the owners, whose father founded the factory, passion and comment to introduce more sustainable ways of working, the majority of the factory is run on solar power. He explained about how green credentials are becoming more and more important for luxury fashion brands and conglomerates, such as Kering which is the company that own brands such as Gucci, Alexander McQueen and Saint Laurent, are demanding higher and more stringent green practises that factories like this one are rising to the challenge on a scale that as not seen as niche but can be tangibly applied to a large high end manufacturing process.
In particular the use of a rain water system that is being implemented to wash knitwear with and using natural products such as citric acid and vinegar to in the washing process to hugely minimise any chemicals. To be able to see this done in a high-grade factory was great and to see simple techniques that I have used for my own university work used on an industrial scale was really motivating. I was struck by how the factory has had a long-standing awareness of the environment and sustainability, I could see how this has been passed on through the generations, from the founder of the factory and now his son who is the director the commitment to what they do felt incredibly authentic.
A visit to a knitting factory
Further visits to a large-scale weaving specialist, Pradi once again a family business now owned by the founders children. The Pardi family have been for over sixty years specialising in the weaving of linens, table clothes, towels and other homewears I was shown around by Augusta Pardi, whose father and uncles founded the com- pany in 1949 and explained for family history. I had never seen such industrial scale weaving looms, the sound of them all operating inside the factory was intense such a contrast from the Borzzetti. These industrial machines had a beauty of their own and some could hold unto twenty thousand stands of yarn for some designs.
I also had the chance to attend Salone de Mobile and after a 5-hour train journey from Spoleto I was in Milan for Design week. I had wanted to visit Salone de Mobile for a long time and was very grateful for the opportunity. Highlights would be the dining experience created by Samsung Home Appliances and acclaimed food designer Lila Gohar, I have been a fan of Gohar's work for a while and never thought that i would be able to experience one of her curated food spectacles. She once closed down a steet so that a crane could lift in a 1.5 ton mortadella through a window of a Parisian department store, for a party she was hosting, I was very excited! I was so happy that I got to try her edible creations such as a butter like spread moulded into surrealist sculptures and a tomato flavoured paper.
The basket weaving installation by Loewe collaborating with 11 artists and craftspersons such as Jiro Yonezawa and Hafu Matsumoto and through weaving Loewe leather to create a collection of bags, decorative objects and accessories. I also wanted to see many of the sustainable material innovations presented during the event, I found the installation by the architect Arthur Mamou-Mani for the fashion brand COS, really striking as its location in the 16th century Palazzo Isimbardi contrasted really well with the geometric 3D printed compostable bio-plastic sculptures. Also, London based design studio Forma-fantasma's collection of tiles made with a glaze of volcanic ash from Mt. Etna in Sicily showcased the potential of a rarely used natural material.
Visits to the nearby towns of Assisi and Todi where a great insight into learning more about the art history of the local area. The Basilica of Saint Francis, regarded for its use of blue which was really pioneering at the time and would later inspire Yes Klien who had visited in the 50's. I was really stuck by the use of intensity and the shades of the the blue used and it really informed the textiles I created during my residency.
Back in Spoleto I was visiting markets selling clothes both new and second hand, the local recycling centre and trying to gather scraps or waste from the factories that I had visited in order to find materials to work with. I came to Giorgio's 'mercato usato' a wear-house filled to the brim with furniture, ceramics, books, clothes , shoes any sort of second hand object imaginable. I was interested in the clothes and textiles, vintage silk pyjamas, and knitted jumper which appeared to be sourced from travels though South America, a section of hand crocheted scarves, five euros each. There was a piles and piles of textile old curtains, tablecloths, bedsheets, blankets, I was fascinated by their previous lives, who they belonged to and how they ended up in Girogios hands.
These were my materials I worked with, I wasn't too concerned about the material compositions of what I working with, the context in which each textiles previous life was enough. I wanted to repurpose these textiles into knitwear, applying treatments on top of the knitwear through various materials to create differ- ent effects. I wanted to use the process and a chance to perhaps create knitwear that eventually could be made into tangible clothing. In some ways the interdisciplinary nature of my work had sometimes been rather uncomfortable for me, I feel that there has always been a conflicting sense of wanting to make textile-based sculpture which between fine art and then could be applied to fashion. I have always felt a disconnect in a wider cultural hierarchy between fashion and fine art. I have always pitted the two against each other, my time in Spoleto was really a chance to really look into tangible ways of purposing old textiles into a contemporary fashion context.
These textile samples, still a work in progress, I presented as photographs in varying sizes and arrangements through the open studios which were held at the end of my residency. I didn't want to show the actual knitwear samples, it was important to remove any sense of 'making' or 'craftiness' in them. I wanted to create a distance between what I made and what was actually presented to emphasise and elevate each sample and the production time and value that had gone into making them.
There was a sense of ambiguity in what was shown, not being able to touch and hold each piece, or to really understand what was made or how it was made, to reduce everything into a flat photograph and in a way leaving each sample unable to communicate the tactile surfaces or textures it has, was a deliberate decision looking into the role of art and craft, and the assumptions that two the denote.
Find out more about the AER 2019 Programme