University of the Arts London (UAL) launched its first ever Future Women+ Leaders project in February, to inspire and empower women+ to break through the glass ceiling and become the creative leaders of the future. Led by Creative Shift who champion diversity in the creative industries, the programme was created in response to research showing that only 33% of Managers and 17% of Creative Directors in the cultural industries are women.
The 9 week project takes 10 students through a series of workshops led by JM Learning & Skills and includes a live brief from leading publishing company Raconteur.
UAL graduate Lizzie Reid has written a week by week break-down on what we've learnt about leadership so far...
Week 1
Just weeks into Creative Shift's Women+ in Leadership project and we've already learnt so much!
Insightful and interactive workshops led by Consultant Trainer and Director of JM Learning, Jannett Morgan leads the students on a educational journey of self-discovery and awareness.
In week 1 we engaged with each other in ways many of us didn't expect. We delved beneath the surface to discover our most random connections, shared and established our core values for the project and challenged our confidence levels.
To gain awareness of what it is to be a leader, we learnt the difference between management and leadership and questioned our futures within the creative sector where women are systematically underrepresented and undervalued.
Griot Chinyere got us on our feet for her storytelling workshop where we recalled the power of our names through music and began bonding through trust exercises. Her expressive and meditative activities were extremely grounding and much louder than your everyday lecture.
What a great way to start the project.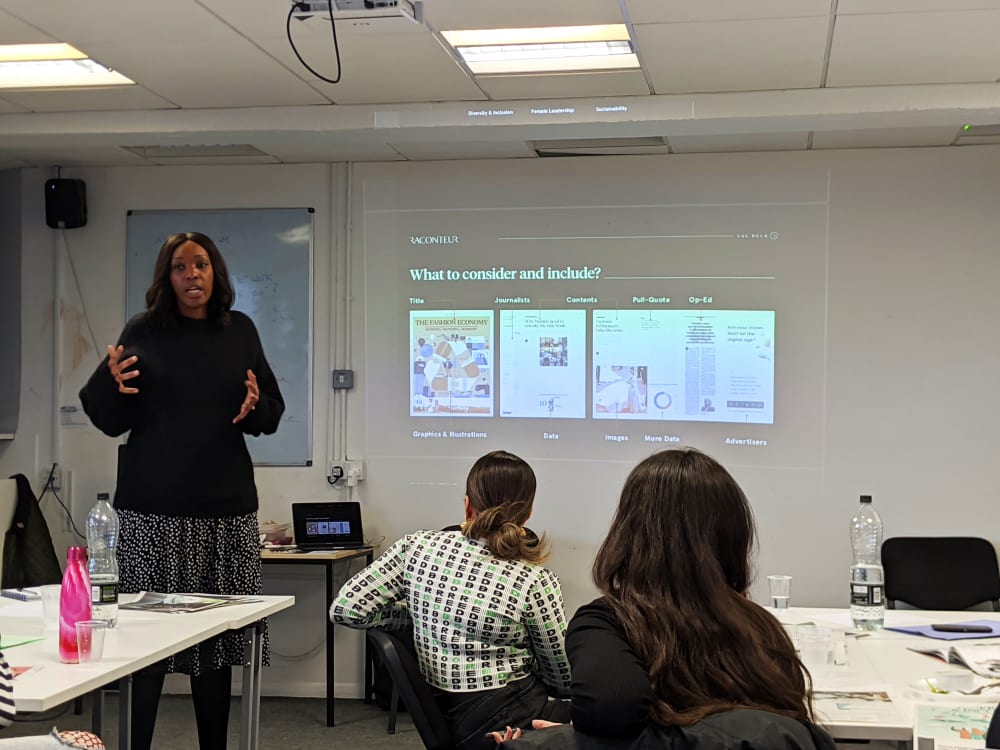 Week 2
Week 2 meant it was time to introduce Raconteur led by Sagina Shabaya, their Head of Talent & Inclusion. We got to hear Sagina's career story, learn about Raconteur's values and of course, the live brief!
Raconteur are a Business to Business (B-B) content publishing house, who produce thought leadership reports for the Times and Sunday times. Over the next 7 weeks, our students will apply their creative skills and lessons learnt with Jannett Morgan, to produce collaborative special reports to submit to Raconteur.
To break any tension in the room, Sagina opened up the conversation about the expectations of Raconteur and encouraged the student's to mix in their own personalities when meeting the brief. As we got our hands on a selection of published reports, concepts and imaginations began to flow and job roles began to surface.
Handing over the roles of report editors, researchers, commissioners and designers to our class of photographers, journalists, fashion marketers, jewellery designers, graphic designers, illustrators and 3D product designers.
The second half of the session was led by Roxanne Peters, UAL's IP Lecturer who explained how embedded our value is as people within the value of our creative intellectual properties.
So excited to see the growth of our students' recognition of their own potential as individuals and as a group.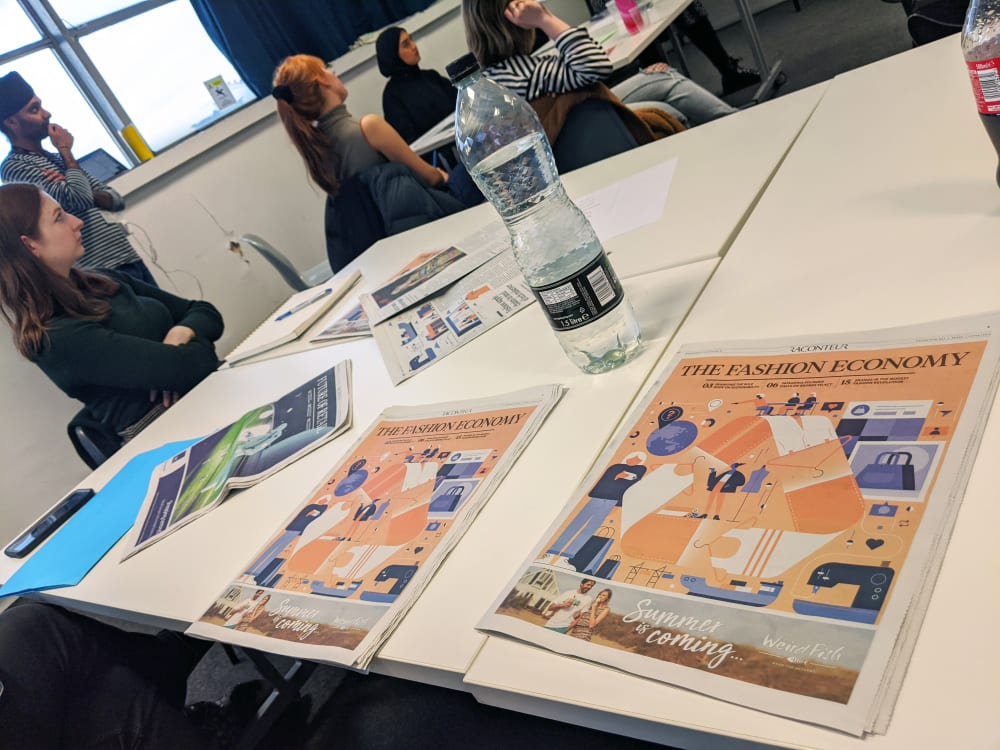 Week 3
The shift was clear last week! Our students began taking leadership positions as spaghetti tower architects and 3-minute presenters.
Jannett Morgan began the class asking everyone to share how they honestly felt about taking on this course mid-year, their answers were almost a perfect spectrum of emotions from overwhelm to excitement.
Entering into a peer-mentoring-like session, everyone shared specific fears to which everyone offered solutions and practical advice to manage and overcome.
It was a great reminder that we are all in this together, no fear left to battle alone or unique to another's.
Finding that place of reassurance and motivation they took on the challenge of making spaghetti towers with tape and a piece of string (and sure enough new fears arose). Trading roles of head architect the task was for the students to think about how they led and worked as a team, where they delegated and where they could have been better if...
Using each other's skills to add value and reach a collective goal led smoothly into learning the difference between being part of a group vs a team
and Belbin's 9 key roles in a team (1981).
Lastly, the students presented their takes and understanding of their live brief introduced to them by Sagina from Raconteur the week before. Practicing conciseness and clarity, it gave everyone the opportunity to ask questions about each other's projects and refine their idea of their own.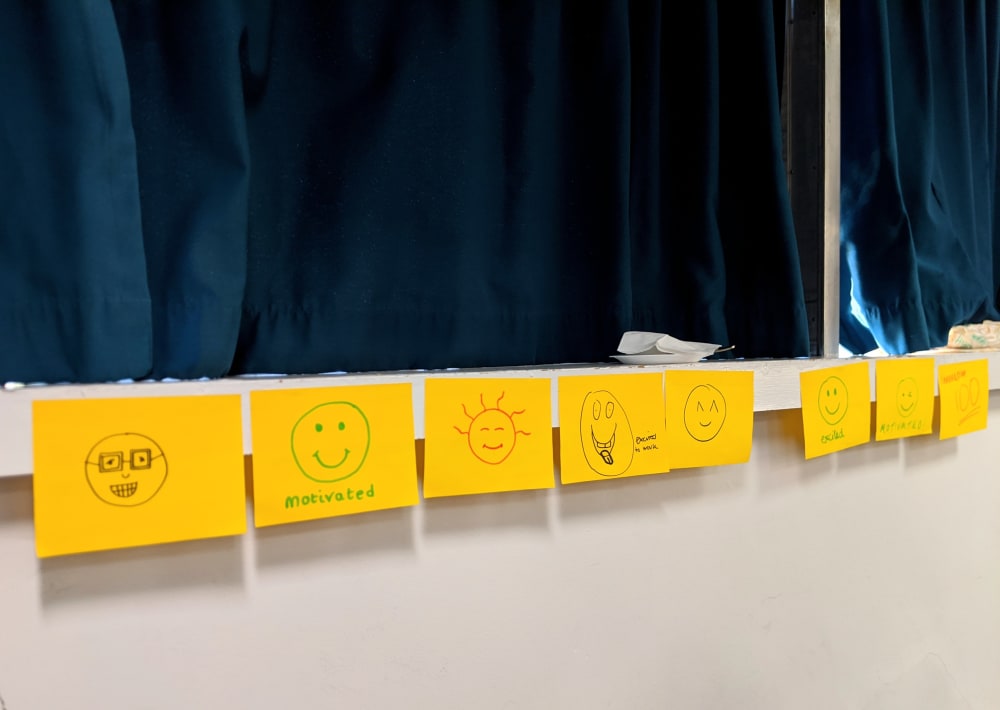 Week 4
What a transformation! The power of being open and honest within a trustworthy space enabled by Creative Shift and Jannett Morgan and shaped by the students has been incredible to be a part of.
Checking in is a powerful process we should all be doing on a daily basis individually and in relation to our surroundings to celebrate the good, address the crucibles and develop solutions to move forward.
Leadership Crucibles: "Difficult events that transform leaders into authentic leaders".
Networking was the major topic of the day. As everyone got comfortable introducing themselves to each other, it didn't take long for the conversations to start flowing around found connections between their practice, values or themes of work. Even more impressively there was an acceptance that each conversation would be different; some more organic, some practice focused, some lifestyle focused.
Jannett's top tips were:
Never apologise for where you're at. Celebrate who and where you are and what you're looking forward to.
Find one good thing that you are proud of and talk about it.
People will connect with you over the potential they see in you and the values you adhere to as well as your work.
Find the connections between your interests/work/personalities and embrace the natural conversation.
No one is the finished article of themselves.
People can tell when you're pretending, so be yourself.
Raconteur visited to advise the students on the brief and answer questions.
Hannah, the Publishing manager (Raconteur's first graduate employee), promoted passion pitching and confidence.
Whilst Callum from the Design Department gave everyone the finer details of Raconteur's aesthetic, the purpose of beginning with a 'visual entrance' for the reader and using layout to create a legible flow.
Nathan, the Head of Special Reports, encouraged the idea that there is room for Raconteur to go from 80 to 100 published reports a year so to be creative and grab their attention by asking throughout the process "why would a CEO read this article".
Going on to give tips about speaking to CEOs:
Remember they are always thinking about work, so if you can let their mind's drift into envisioning the future and solves their challenges on a peer-peer level (not pandering to them) you will get further.
They can tell when you're faking it.
Your time is just as precious as theirs.
Mirror their personality in a way that is yourself, for example, if they are bubbly let that side of you out show, if they are stern get straight to the point.
Leaving the class "motivated, excited, supported and clearer", week four's key takeaways for the students to apply in this "stretch zone" they're in are passion, genuinity and to always choose to be yourself.
Written by Illustrator, Designer and Poet Lizzie Reid. Photography by Lizzie Reid.