Smell the Colour of the Rainbow
Published date
25 Jul 2018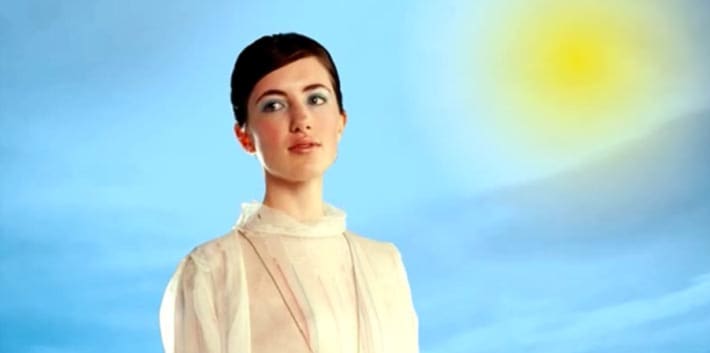 Sensory systems for wearable product technologies to reduce stress and sleep disorders.
College: Central Saint Martins
The aim of this Knowledge Transfer Fellowship (KTF) was to improve on the design of the eScent technology Dr Jenny Tillotson developed in collaboration with Professor Andreas Manz (funded by an AHRC Innovation Award), for the benefit of the fashion, health, fitness and the ecological consumer market, through collaboration with Philips. 'eScent®' is an example of a design-led wearable wireless technology: a user-worn delivery device that is tailored to fit your mood by dispensing sensory effects in response to a stimulus (i.e. timer, biometric sensor or switch).
'Smell The Colour Of The Rainbow' stemmed from research on Scentsory Design® by Dr Jenny Tillotson. Over the course of 18 months, Dr Tillotson's team engaged in an active Knowledge Transfer programme to explore opportunities resulting from her patented work on 'eScent®' and Smart Second Skin in areas of interest to Philips Research. The aim of the fellowship was to advance ways of improving the quality of care in the wider community; to reduce stress and improve sleep, using fragrances in wearable technologies and product design, and demonstrate the effectiveness of prototypes that react to the physiological response of the wearer (e.g. to reflect mood).
Significant knowledge transfer took place during the fellowship benefiting Philips and Dr Tillotson's 'Quantified Self' research on mood and sleep disorders which she presented at the first European Quantified Self Conference in November 2011.
The identified application has primarily been within Philips Lighting for stress/sleep businesses (therapy/'mood'/SAD lamps) and 'Philips AVENT' (mother/child), which included concepts such as 'InnoSCENT', a wearable wireless wellness monitor for mother and baby.
The findings centre on evidence-based essential oils as the basis for wearable stress and sleep management product ideas using joint expertise in design, fragrance, colour therapy and technology. These elements were introduced into the world of health and wellbeing, using mood-enhancement as the route.
Essential oils such as sweet orange and lavender were validated and correlated with colour, to create a personalised 'therapeutic rainbow' pendulum, ranging across de-stress/relief-calm/peaceful/relax-super-energise. Besides Philips, the KTF impacted on the fragrance/wellbeing and fashion industries, mental health community, complementary and alternative medicine and scent marketing industries.
The KT Fellowship was also awarded to benefit Dr Tillotson's company Sensory Design & Technology, a spinout company from Central Saint Martins.
"The Philips mission statement '[to] improve the quality of people's lives through timely introduction of meaningful innovations' is very well reflected in the work Dr Tillotson and her team have carried out as part of the Knowledge Transfer Fellowship.
Dr Tillotson has successfully brought together an expert team in the area of scent and smell; in particular the contributions of Professor Tim Jacob and Kim Lahiri are noteworthy.
Philips is satisfied that a significant knowledge transfer (and in fact, knowledge exchange) has taken place due to the KTF, ultimately benefiting both Philips and Dr Tillotson. It was clearly demonstrated that there is a benefit in including scent delivery as part of 'emotional' products, with the KTF work showing scientific evidence for links between scent, colour and emotional state in a number of examples." - Dr Steffen Reymann, Senior Scientist, Philips Research, April 2012.
Outputs
Outputs realised from the research project
Partners
KTF partners
Other partners