Published date
25 Jul 2018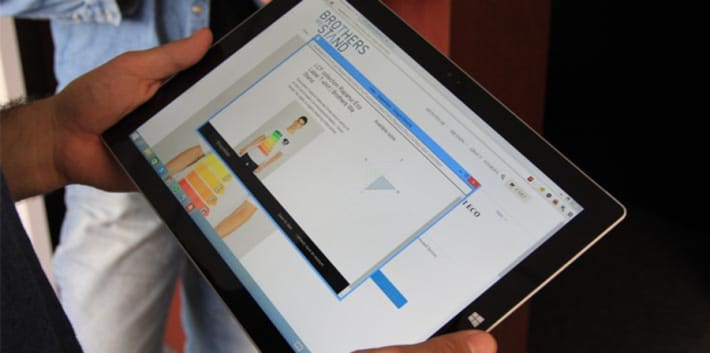 How can online retailers utilise innovative technology to give consumers the ability to match their size and find the perfect fitting garment?
eSize is a research project assessing how software aimed at capturing consumer body measurements and providing accurate size recommendations can benefit the retail industry by improving the online shopping experience, increasing fashion garments' online sales, and reducing product return rates due to poor fit.
Principal Investigator: Dr Alessandra Vecchi
Co-Investigators: Mouhannad Al-Sayegh (LCF) and Fanke Peng (University of Canberra)
College: London College of Fashion
Despite the dramatic growth of online shopping, a lack of available garment information, combined with inconsistent sizing standards among brands and retailers, makes clothes shopping a challenge for many consumers who struggle to find clothing that fits them when shopping online. The eSize project is exploring how new technology can provide accurate size matching that will ultimately enhance customers' satisfaction by improving their online shopping experience on the retailer's website and by therefore reducing returns due to poor fit.
Rather than focusing on expensive ad hoc technology such as dedicated body-scanners, this project capitalises on the emergence of new innovative software applications, powered by algorithms, to help consumers find the correct garment size with just a few pieces of information: age, height and weight. By virtue of these novel software applications consumers are more likely to better match their shape and measurements to garment data, therefore increasing their satisfaction with the online shopping experience and by thus reducing returns.
More specifically, this project will focus on user experience testing by integrating feedback from customers into sizing information, garment data and guidance on how to improve the online shopping experience. The keys to this are the quality and accuracy of the measurements, overall user satisfaction with the online experience and effectively matching body and garment measurements so the consumer can find the best fitting clothing size.
The main objectives of the research are as follows:
To further develop existing software applications aimed at producing accurate body measurements.
To enhance the retailer's customer satisfaction by improving the quality of the online shopping experience.
To focus on user experience testing to contribute to the development of the user experience, in close collaboration with Brothers We Stand, an online fashion retail partner.
To critically evaluate the opportunities and the challenges that are associated with the deployment and implementation of sizing software applications, for the retailer and for the broader fashion industry.
To contribute to the reduction of the economic and environmental impact associated with garments' returns due to their poor fit.
Outputs
Outputs realised from the research project
2016
Vecchi, Alessandra and Peng, Fanke and Al-Sayegh, Mouhannad (2016) Enhancing online fashion retail - the quest for the perfect fit. In: Technological Challenges & Management: Matching Human & Business Needs. CRC Press/Taylor & Francis Group. ISBN 9781482261011.
Peng, Fanke and Vecchi, Alessandra and Al-Sayegh, Mouhannad (2016) How to use digital technology and fashion metadata to improve the user experience for online fashion retail. In: Handbook of Research on Fashion Management and Merchandising. Advances in Logistics, Operations, and Management Science . IGI Global
2015
Vecchi, Alessandra and Peng, Fanke and Al-Sayegh, Mouhannad (2015) Looking for the perfect fit? Online fashion retail - opportunities and challenges. Conference Proceedings: The Business & Management Review. ISSN 2047-2854
2014
Vecchi, Alessandra and Peng, Fanke and Al-Sayegh, Mouhannad (2014) The e-Size project – Intelligent integration of a sizing framework into online fashion retail. In: Oxford Retail Futures Conference: Innovation in Retail and Distribution, 8-9 December 2014, Saïd Business School, University of Oxford.
Vecchi, Alessandra and Peng, Fanke and Al-Sayegh, Mouhannad (2014) Assessing the applicability of a sizing framework into online fashion retail. International Journal of Advanced Information Science and Technology, 29 (1). pp. 102-108. ISSN 2319 - 2682