Digital Performance Making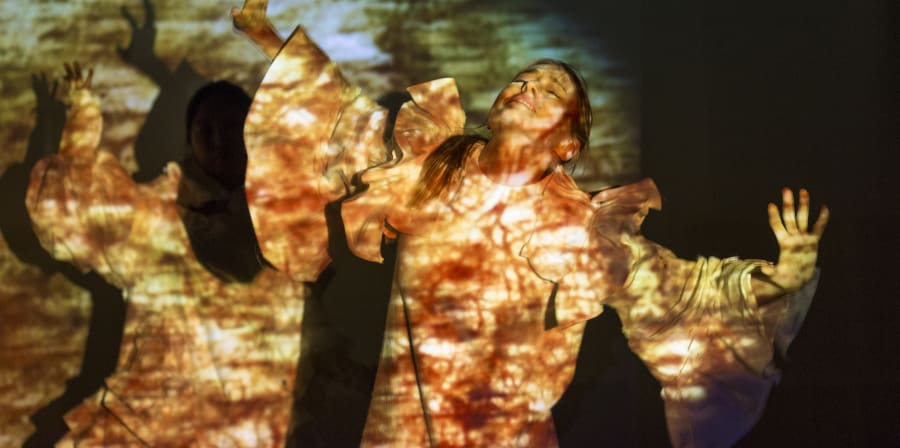 This one-day workshop aims to introduce participants to a range of digital technologies in a fast-paced, play-based, hands-on session, covering the basics of projection mapping, live-feed projection and audio-visual production for performance making.
Through repurposing every day and lo-fi technologies and exploring modes of rapid prototyping, this workshop aims to inspire and encourage participants to explore digital tools beyond their usual uses and consider how they could be applied in their practice and teaching, without using costly and inaccessible resources.
We will explore the performative possibilities afforded by smart phone technologies and discuss alternative strategies for devising, creating and developing new ideas in the studio using digital tools. This CPD session aims to open up new doors for teachers who want to integrate digital technologies into their teaching and find ways to support students in their own digital performance making.
To finish the day, we will discuss how digital tools can be utilised for documentation and evaluation processes in performing arts and identify some creative solutions to developing digital portfolios.
Learning outcomes
Identify ways to integrate digital technologies into your curriculum.
Explore the performative possibilities of everyday technologies.
Develop interdisciplinary skills.
Develop strategies to support student exploration of digital performance.
Develop strategies to prototype exciting new ideas.
Connect with other like-minded teachers and develop your own practice.
Who should attend?
Ideal for those who teach performing arts and art and design qualifications at the following levels:
GCSE.
AS Level.
A Level.
UAL Awarding Body (Levels 1–4).
BTEC.
What you should bring (if possible):
Smart phone/tablet with charger.
Headphones.
Laptop.
Clothes and footwear that you can move in.
Exclusive offer for UAL Awarding Body approved centres
Book your place(s) more than 2 weeks before the course start date and we'll pay for travel to London for up to three members of staff per centre. Simply drop us an email once you've booked and we'll arrange train travel for you: ual.cpd@arts.ac.uk.
Availability for the courses are on a first come, first served basis.
Booking
Date to be confirmed
Time: 10am - 4pm
Venue: Westminster Kingsway College
Price: £99
To express interest please email ual.cpd@arts.ac.uk
If you would like to be added to the waiting list for a sold-out event, please email ual.cpd@arts.ac.uk
About the facilitator
Find out about our facilitators.
Stacie Lee Bennett-Worth
Stacie is a dance artist, filmmaker and PhD candidate researching creative digital technology for performing arts education at De Montfort University. In 2016 she was appointed as research associate on the Leverhulme Trust-funded project 'Physical Actor Training: an online A-Z' at the University of Kent where she made a resource of over 70 films with actor trainers Paul Allain and Frank Camilleri which was published by Methuen Drama Bloomsbury in 2018. Stacie is an experienced artist, teacher and performer with a specific interest in screendance, digital performance and installation. Her work has been exhibited in a variety of contexts, including the Big Screen Southend (2018), The National Maritime Museum, Greenwich (2016), SifDans Festival (2015) and in 2019 she was commissioned alongside her collaborator choreographer Bethan Peters to develop two new works as part of the Seaside Photographed exhibition Turner Contemporary, Margate.
Stacie is a trustee at Jasmin Vardimon Education Company and a member of the HE advisory board at Digital Theatre+.
Need an invoice?
If you work for a UAL Awarding Body approved centre and require an invoice to be raised for your booking, please email ual.cpd@arts.ac.uk.