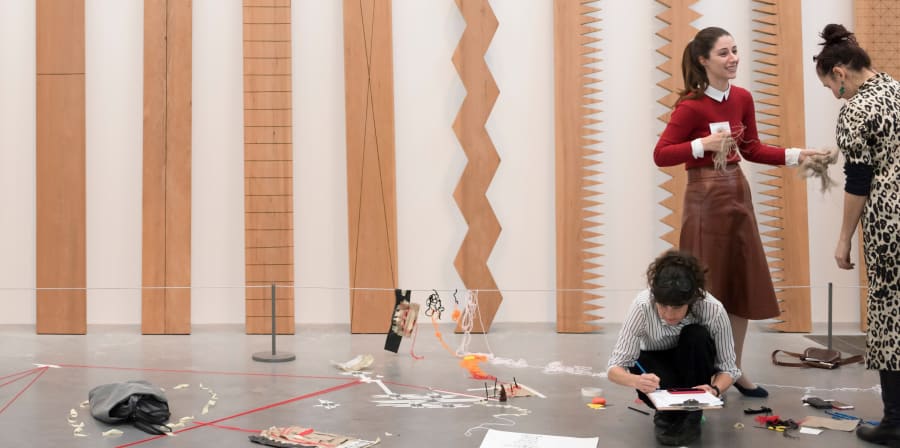 This development day will help you to make the most out of galleries and museums as an alternative learning environment. You will learn to develop your students' contextual and critical research skills through working with art, artists and ideas in the exciting context of the Tate.
UAL and Tate collaborate to deliver this one day of continuing professional development for teachers and creative educators. You will explore a diverse, innovative and inventive range of creative approaches designed to support your students' progression. The session will be led by a practicing artist and education facilitator, who will promote a dialogue between art practice and teaching.
You will explore Tate's renowned collection through a variety of practical activities. The day will start by exploring the value of practice-based enquiry as a strategy for supporting the development of ideas and a meaningful learning experience for students. Strategies include; entertaining the possibilities of not-knowing, encountering the unexpected, testing, failing and finding out.
Inspired by time spent exploring the collection, the group will then come together to discuss the possibilities, opportunities and challenges presented when using the gallery as an alternative learning environment, with a focus on assessment processes.
Throughout the day, you will be encouraged to reflect on your own learning and critically consider how your teaching can support and measure the success of your students learning.
The ideas, thinking and activities from the day will be collated into a digital resource for participants to use, draw upon and develop back in the classroom.
Learning outcomes
Understanding of how to make the most of the gallery as an alternative learning environment.
Insight into how specific assessment requirements around the development of students critical research skills can be met.
Activities designed to promote a deeper understanding of how artists practice.
Ways to apply the exploration of artworks and artist practice within the gallery to support student learning.
Strategies to improve student engagement by embracing the unexpected, experimentation and discovery.
How to reflect on your own learning, apply your findings in your teaching, and measure impact.
Who should attend?
Ideal for those who teach creative arts qualifications at the following levels:
GCSE
AS Level
A Level
UAL Awarding Body (Levels 1–4)
BTEC.
Exclusive offer for UAL Awarding Body approved centres
Book your place(s) more than 2 weeks before the course start date and we'll pay for travel to London for up to three members of staff per centre. Simply drop us an email once you've booked and we'll arrange train travel for you: ual.cpd@arts.ac.uk
Availability for the courses are on a first come, first served basis.
Booking
Date to be confirmed
Time: 10.30am - 5.00pm
Venue: Tate Modern
Price: £99
To express interest please email ual.cpd@arts.ac.uk
If you would like to be added to the waiting list for a sold out event, please email ual.cpd@arts.ac.uk
About the facilitators
Find out about our facilitators. November's session will be run by Bill Leslie and Amanda Jenkins.
Bill Leslie
Bill Leslie is an artist, researcher, workshop leader and teacher. His work explores the relationships between sculpture, film, performance, and uses play, improvisation and material exploration as ways to create thoughtful relationships between people, art works, materials and technology.
He has created exhibitions and participatory projects with arts institutions, universities and schools across the UK. He is Co-director of Leap Then Look, a new organisation founded with artist Lucy Cran aimed at developing innovative workshops and collaborative projects with people of all ages and abilities. He recently completed a PhD in Fine Art Practice at Kingston School of Art titled 'What Happens When Sculptures are Made to be Filmed?'
Amanda Jenkins
Amanda Jenkins trained in Illustration and Graphic Design at Brighton Polytechnic and St. Martins College of Art and practised in this field professionally before going into full time arts education.
She has taught art and design in a number of contexts including several London secondary schools/sixth form colleges, the Victoria and Albert Museum, and a secondary school in South India, and was an Edexcel A level moderator for several years. She joined University of Arts London as Foundation Pathway Leader for Communication in 2007 and has worked for UALab since its launch as an External/Senior Moderator for levels 2-4 Art & Design & Creative framework qualifications. She completed an MA in Art and Design in Education at the Institute of Education, London (2010), where she continued to explore her research interests in drawing practice and pedagogy and museum/object based learning. She became the first Programme Director of the new Camberwell/Chelsea/Wimbledon (CCW) Progression Centre in 2011 where she led the delivery of one of UALab's largest Level 4 Foundation courses before taking up her current post as Associate Dean at Camberwell College of Art in 2013. She is a member of the UALab advisory committee, a member of the drawing-on-site research group Reportager (based at UWE), and a trustee of the Felix Topolski Archives.
Claire McCormack
Claire McCormack trained as a Printmaker at Grays School of Art, Aberdeen and studied Theatre design at Bristol Old Vic Theatre School.
She was a freelance designer for 10 years and worked for, amongst others: the BBC, Talkback Productions, Avalon, The Royal Opera House, National Theatre and ENO. She has taught art and design at Foundation and Undergraduate level. She is currently Programme Director on the Level 4 Foundation course at CCW, UAL - one of the biggest and most diverse FAD colleges in the country.
Need an invoice?
If you work for a UAL Awarding Body approved centre and require an invoice to be raised for your booking, please email ual.cpd@arts.ac.uk.