Museum as launch pad: From exhibition into the classroom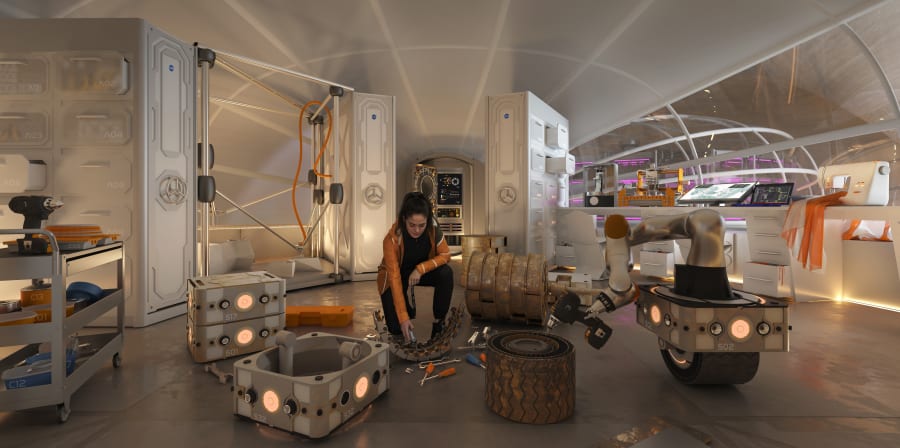 Co-created by UAL and the Design Museum, this CPD session aims to support educators in using the context, content and space of an exhibition to develop students' contextual, research and critical skills.
We will use the forthcoming Moving to Mars exhibition at the Design Museum as a starting point for a group discussion on approaches to unpacking an exhibition to inspire stimulating and current contexts for students' creative learning in the classroom.
Working in teams, you will explore Moving to Mars from a variety of different focus points ranging from user-centered design to materials, design process and inspiration. Using your findings, you will collaboratively create a series of learning activities for the classroom, such as project briefs, research and critical thinking tasks.
We will select one project brief for all groups to respond to, undergoing a mini design process from idea generation through to modelling and presenting a final outcome. Through this practical activity you will be encouraged to reflect on your own learning and to critically consider how your teaching can support and measure the success of your students' learning.
You will also have the unique opportunity to hear from the exhibition's curator Eleanor Watson who will join us for an informal Q&A.
This session will equip you with a toolkit that can be applied to any other exhibition context, as well as activities and thinking to use, draw upon and develop further in the classroom.
Learning outcomes
Understanding ways in which an exhibition may constitute a valuable learning environment, and the ways in which it may be unpacked to inform curriculum delivery in the classroom.
Generating, sharing and discussing ideas for devising learning activities drawn from exploration of the exhibition space and its content.
Exploring strategies to develop students' research and critical skills and how this may be evidenced to meet assessment criteria requirements.
Designing activities that stimulate students engagement with gallery/ exhibitions visits to support their contextual and theoretical knowledge.
How to reflect on your own experience of visiting exhibitions and learning and applying your findings in your teaching, and measure impact.
Who should attend?
Ideal for those who teach art and design qualifications at the following levels:
GCSE
AS Level
A Level
UAL Awarding Body (Levels 1–4)
BTEC
Booking
There are currently no dates available for this course. Please email ual.cpd@arts.ac.uk to register your interest for future dates.
Ana Vicente
Ana Vicente is a creative educator and an artist. She has over ten years' experience in art & design education working as senior lecturer, course leader and curriculum consultant, in different settings including Schools, Sixth Form Colleges and FE within HE. Ana works for the UAL Awarding body since 2014 as External Moderator and most recently as Senior External Moderator, on art & design and creative media qualifications.
Ana's art practice is multidisciplinary. She works both solo and as part of the collaborative duo lorie jo and ana, with whom she was the recipient of the Artsadmin BANNER Award 2018/19.
She holds an MA in Performance Making from Goldsmiths University of London, a BA in Fine Art from Faculty of Fine Art University of Lisbon and a Certificate in Education (Further Education) from Middlesex University.
Lea Jagendorf
Lea Jagendorf is a graphic designer and a design educator, with an MA in Visual Communication from the Royal College of Art and a PGCE from Goldsmiths University of London. Her work combines design practice with clients in the Arts, culture and non-profit sectors, and creating engaging and innovative ways of making design relevant and exciting for young people.
Lea develops and delivers workshops and CPD sessions for the Design Museum, Wellcome Collection, Fixperts, Bow Arts, the Creative Education Trust and more.
Need an invoice?
If you work for a UAL Awarding Body approved centre and require an invoice to be raised for your booking, please email ual.cpd@arts.ac.uk.