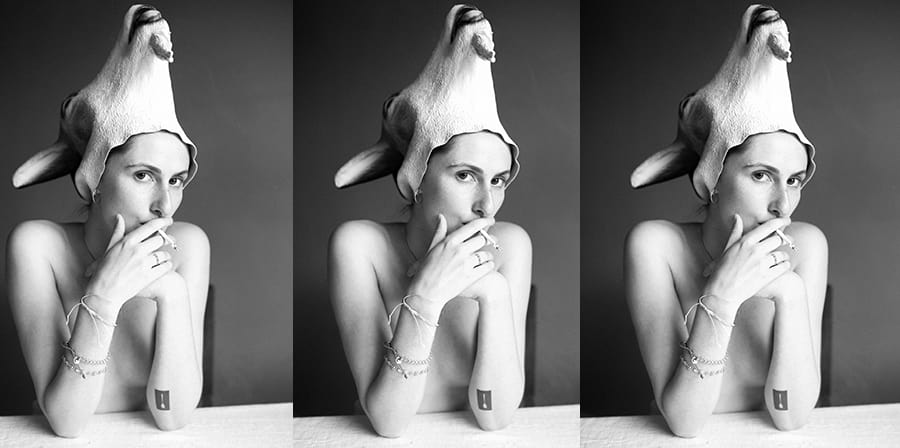 Sisi Savidge studied BA (Hons) Fine Art: Sculpture, graduating from Wimbledon in 2018. She has always had an interest in books and language, so in January 2019 she launched a new magazine, GOAT. We chatted to Sisi about her time at Wimbledon, to find out how the launch went, and what you can expect from the mag.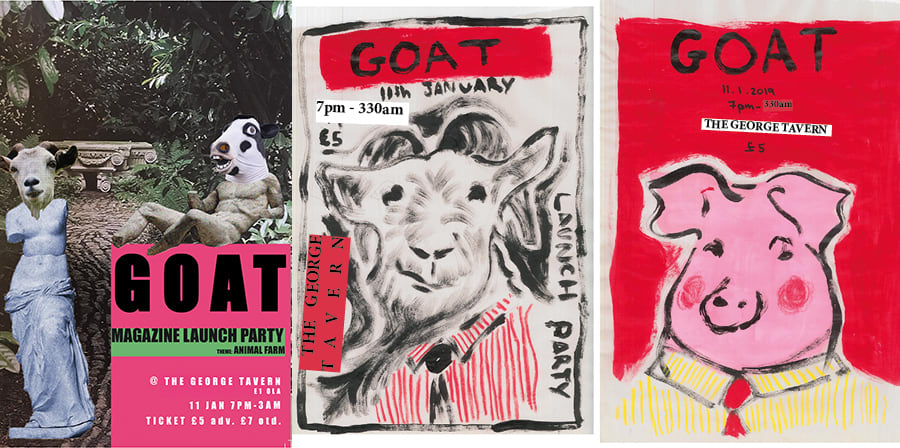 Why did you choose to study at Wimbledon?
I chose to study at Wimbledon because the size of the College and the course bred such an involved community, which helps to grow a personal and creative space - something I was looking for having just finished from my very small foundation course in Falmouth. We were really lucky with our course in that all of us became such close friends and discovered our work and our ideas together. There's something really rare about Wimbledon in that it is almost secluded and feels really far from the chaos and the grey of London. I spent quite a large part of my childhood in Wimbledon and so it felt quite comforting to return to a place I know well but with a different focus.
What was your favourite thing about Wimbledon/ your course?
On top of having a pretty hefty studio space with some hilarious and very talented humans, we were so fortunate to have such a cracking team of tutors who became so involved and really gave me the giggles. The energy that we gave each other made our course so much fun and I am so grateful for that. I think we all learned how to be really helpful human beings and work for and with each other which was a real motivator for me in starting the magazine. Towards the end of our course, we had some really interesting and useful workshops which kick-started my thought process about whether there is life after art school (???).
What is the name of the magazine and why did you decide to start it?
I started thinking about making GOAT magazine around the time I graduated and was getting freaked out at the idea of not having a constant bunch of artists to create with and talk about work with. I love to write and I have so many really talented friends who also love writing poetry, prose, essays etc. but don't totally feel like they have an outlet - particularly after we graduated. I also have friends scattered around the globe and thought it would be lovely to have this sort of living collective that has an actual constant and physical output that we can all contribute to. I wrote my dissertation on imbued object space and subject/object relations with particular focus on publications and books and so it's a really natural progression for me to now be working in print publications.
GOAT launched in January 2019, how did it go?
Our launch was a huge success, with about 5 LIVE BANDS (including soon-to-headline the Jazz Cafe, Babeheaven), DJs until very late, print copies (with special launch stuff inside) and with a huge indoor and outdoor space of ridiculousness all curated under a theme of George Orwell's ANIMAL FARM by two of our magazine members. Most of the music was performed by contributors (including Natalie Wildgoose's jazz 5-piece, Novena) and our DJs are also in-house which is brilliant.
What will be included in GOAT?
This first issue is titled "The Philosophy of Niche" which is a sort of shit and slightly esoteric pun that forewarns the reader of my millions of rubbish jokes. I asked my friends (there are 17 contributors including me) to write on something they consider to be their own personal niche, but one they have not yet accessed in their work/they think is 'other' from their work. We have some really amazing poems, stories, essays and physical work included inside - bread sculptures; photographs from all over the world; illustrations. My friend William Waterworth (@willwaterworth) is a fantastic photographer and we came up with the idea to shoot really glam and professional black and white portraits of all the artists inside. There is something quite a tongue in cheek about the slickness of certain parts of this project (something that exploded in the launch on 11 Jan) and an acknowledgement of who we are as individuals and as a team that Will's portraits capture.
You won't have any internal advertising in the magazine, why is this?
I vowed from the second I was first asked about internal advertising that there will be no adverts at any stage of this project. There are a few reasons for this - the most important being that we have created this printed magazine as a celebration of print, literature as an object and with each page a piece of work in itself and so including outsourced advertising totally defeats the point of what we are trying to do. Everything has been created 'in-house' and with a huge amount of focus and detail based around our modus operandi so advertising (which we are so bombarded with daily anyway) in this space of discovery is not something I am interested in. So many magazines now are 40% advertisements (understandably - print is f***ing expensive !) but we are doing something different and hopefully it will be a bit more timeless than mass-produced, 'fast' print so advertising is irrelevant and inconsistent with our works. We plan on making most of our publicity through our music nights and events, so this is something to get involved in and look out for!
Where can people get hold of GOAT?
We sold a lot of copies at our launch event on Friday 11th January (a completely sold out night of live music and DJs at The George Tavern 7pm-3am). We are now accepting orders via email or Instagram and will be setting up orders through our website and stockists. We will also progress selling the magazine in galleries around the UK and also through each contributor's website there will be an order option. Our Instagram is @goatmaggoatmag and has all info on how to contact us. (You can also email us at g0atm4g@gmail.com if you are un-insta-lled)
What do you have planned next?
We have some very exciting things coming up in 2019 year of the GOAT! —(it's actually the year of the pig but I am not waiting until 2027 to publish this). We have exciting collaborations with some other GOATs from the outside world getting involved in 2019 and also plans for a collaborative exhibition. It is also really exciting to be putting something out into the world at the start of the year because it means people (hopefully) will feel really excited and encouraged to get involved and submit thoughts/work/ideas to us for future issues and events.
Head over to Sisi's website to get your hands on ISSUE 1 of GOAT
GOAT Magazine has another night planned at The George Tavern, E1 0LA. Make sure to follow them on Instagram to find out more.