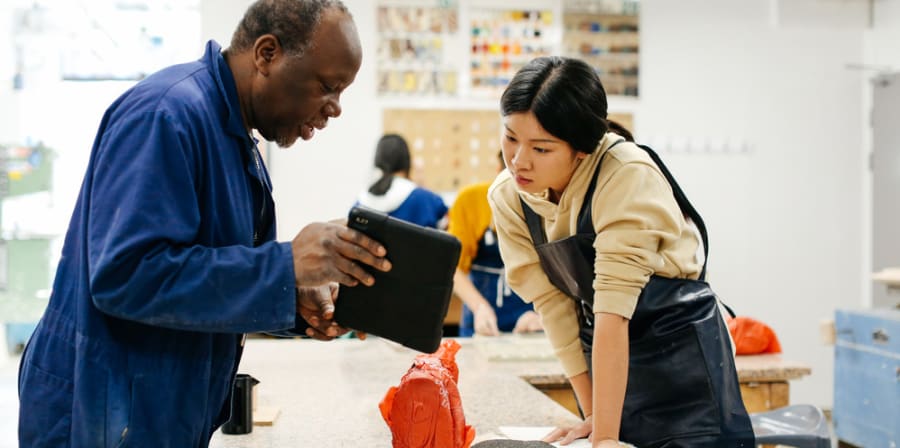 The UAL Teaching Scholars Awards are prestigious awards that celebrate teaching. They formally recognise colleagues who demonstrate a sustained commitment to excellence in teaching and learning.
Successful applicants receive funding and support over a two-year period to develop an aspect of their teaching practice that is designed to both impact on student learning, and benefit the teaching and learning community at UAL and beyond.
All successful Teaching Scholars join a network of peers who contribute to teaching and learning development at the University.
Current UAL Teaching Scholars
View the current UAL Teaching Scholars and UAL Senior Teaching Scholars.
Individual Teaching Scholar Award
This award encourages individuals who have made an outstanding contribution to teaching and learning to further their impact on student learning and extend their sphere of influence and academic leadership. Individual Teaching Scholars receive:
The title of UAL Teaching Scholar for two years
Project and development funding
A special responsibility allowance
Professional development support to become a Senior Fellow of the Higher Education Academy (HEA)
On completion of their award, UAL Teaching Scholars may be eligible to become UAL Senior Teaching Scholars indefinitely.
Individual Teaching Scholar applicants must meet all of the following criteria:
Have an active teaching and/or learning support role at UAL
Be employed on a minimum 0.4 FTE contract
Have 18 months of service at the University prior to application
Hold a PgCert in Academic Practice (or equivalent)
Be a Fellow of the HEA
Be fully supported by their line manager
Team Teaching Scholars Award
This new award recognises the importance and benefits of collaborative teaching at UAL. It encourages teams of three or more colleagues who have already worked together to enhance student learning to further develop their impact by designing and delivering a collective project. Team Teaching Scholars receive:
The title of Team Teaching Scholar for two years
Team project and development funding (to be spent by the team)
Individual professional development support to become an Associate, Fellow or Senior Fellow of the HEA
Team Teaching Scholar applications must meet all of the following criteria:
At least one member of the team must:
Be nominated team lead/key contact
Hold a PgCert in Academic Practice (or equivalent)
Be a Fellow of the HEA
All team members must:
Have an active teaching and/or learning support role at UAL (not necessarily on an academic contract)
Be employed on a minimum 0.4 FTE contract
Have 18-months service at the University prior to application
Be fully supported by their line manager