Two recent essays by Dr Anjalie Dalal-Clayton published this year build on her PhD and her later research work as part of the Black Artists and Modernism project - revealing the collections and exhibitions history of Black artists in England's North West.
Co-authored with Julie Sheldon, the first essay is published in a new book celebrating Bluecoat Liverpool: the city centre's oldest building and a unique and much-loved Liverpool institution known for its inclusive approach to the arts. With her co-author, Anjalie explores some of Bluecoat's most influential exhibitions between 1967 and 2005 - and the inclusive curatorial practices the centre championed. The second is a solo opinion piece Anjalie wrote for online culture magazine, The Double Negative, looking at issues of representation in UK art, based on learnings from her research on the collecting and exhibitionary practices of public art galleries in the North West.
In this article, Anjalie explains the background to these essays and shares some of the approaches she takes in her research.
My research on Black British exhibition histories
I undertook my PhD at Liverpool John Moores University in collaboration with Bluecoat Liverpool between 2010 and 2015. The research centred on Black British exhibition histories across the UK (but primarily in England) between the late 1970s and 2010.

The bulk of my thesis provided in-depth case studies of exhibitions that were staged in 2010, contextualised by a review of exhibitions and curatorial practices relating to Black artists in the UK public arts sector between the 1970s and 2000s. However, part of my research was to examine, and produce the first written history of, the Bluecoat's engagement with Black artists and Black curators during the same period. This involved research of the art centre's records held at Liverpool Records Office and a series of semi-structured interviews with the Bluecoat's Artistic Director, Bryan Biggs.
Conducting this research enabled me to develop a strong understanding of the various cultural policies created, and the history of exhibitions featuring work by Black artists staged, since the 1970s; both nationally and in the Merseyside/North West of England regions.
This regional history was brought into focus at a symposium I organised for the UAL and Middlesex University Black Artists and Modernism project, which took place at the Bluecoat in January 2016. It was titled 'The Work Between Us: Black Artists and Exhibitions Histories'. Three landmark exhibitions that had taken place in the North West were profiled during the symposium: Black Skin/Bluecoat (1985, Bluecoat); Trophies of Empire (1993, Bluecoat and other venues); and The Image Employed (1987, Cornerhouse, Manchester).
This was a first attempt to centre the North West in a Black British exhibition history and I was thrilled to be able to build on this through 2 subsequent pieces, which both came out this year in 2020.
Influential Bluecoat exhibitions, 1967-2005
The first is a co-authored essay on the history of exhibitions at Bluecoat between 1967 and 2005 published in the book Bluecoat, Liverpool: The UK's First Arts Centre. In it, Julie Sheldon and I put forward a typology of exhibitions at Bluecoat - rather than attempting to offer a comprehensive survey, which could in itself be several books, given the Bluecoat's rich programme since 1907 - which also give the reader a sense of how the architecture of the Bluecoat building impacted display and curation.
My role in producing this essay was to discuss exhibitions featuring Black artists, and the curatorial models that evolved as part of them. So, for example, I discuss the exhibition Black Skin/Bluecoat, featuring works by Sonia Boyce, Eddie Chambers, Tam Joseph and Keith Piper. The show was a watershed moment in the arts centre's history for two reasons: one, because it introduced both Biggs and the Bluecoat's audiences to a practice described by certain artists at the time as 'Black Art' (produced by and for the Black community, for the purpose of raising Black consciousness); and two, because it was curated so that each artist could have their own room, distinguishing the exhibition from other concurrent shows which favoured the eventually problematic 'Black survey' model.
I also highlight in the essay the multi-venue programme 'The Trophies of Empire' which ran over several months between 1992 and 1993, taking place during the Columbus quincentenary. The programme, devised by Keith Piper, explored the legacies of Empire, but involved artists of a variety of ethnic backgrounds, including white British. Again, this was a departure from race-based models of curation that were by this time fairly entrenched in the public arts sector as a means for engaging with and displaying Black creativity. I used these, and other, examples to illustrate the curatorial ingenuity that developed at Bluecoat, thanks to a collaborative approach the centre developed with Black artists who had exhibited there.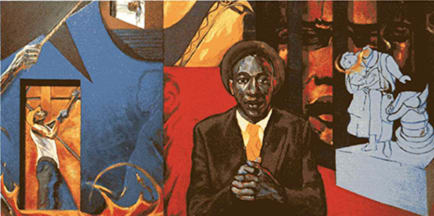 Black artists in public collections in the North West
Bluecoat was not the only arts venue in the North West to be relatively pioneering in its display and support of Black British artists during the 1980s and 1990s. One might say the whole region has played a significant role in supporting Black British artists, but one that is largely overlooked in narratives of Black British art history to date.
I was therefore excited to expose this little-known history of the region when I was approached by Liverpool-based online culture magazine The Double Negative earlier this year, to write a piece about black artists in public art collections in the North West.
In this article, I contrast the rich and important exhibitions history of the region - highlighting shows staged at Manchester Art Gallery, The Harris in Preston, Rochdale Art Gallery (now Touchstones Rochdale), and of course Bluecoat, to name only a few – with the relatively small number of artworks by Black artists that are held in its public collections, using collections data I gathered as part of my research for the Black Artists & Modernism project.
In the context of the recent re-ignition of the Black Lives Matter and Rhodes Must Fall movements, my article argues for more representative public art collections – collections that adequately reflect the communities they exist to serve – and moreover, for our public art institutions to make greater efforts to equitably display the works by Black artists that they already own.
Read the full article: Developing more representative art collections could not be more urgent": The Double Negative 14 October 2020.
Biography
Dr Anjalie Dalal-Clayton is an art historian, focussing on British artists of African and Asian descent. She is based at UAL Decolonising Arts Institute, where, as a Research Fellow, she is conducting research on museums, collecting and interpretation practices.
She is a Co-Investigator on the Tate-led project 'Provisional Semantics: Addressing the challenges of representing multiple perspectives within an evolving digitised national collection' (part of the Arts and Humanities Research Council's 'Towards a National Collection' programme), which focuses on how museums and heritage organisations can engage in decolonising practices to produce search terms, catalogue entries and interpretations fit for purpose for an evolving digitised national collection.
Prior to joining the Institute, she was a researcher on the UAL and Middlesex University 'Black Artists & Modernism' research project. Funded by the Arts and Humanities Research Council, and led by Prof. Sonia Boyce, the project sought to explore and make known the unique contributions that Britain's black artists have made to the development of modernism in the visual arts. In the project, Dalal-Clayton conducted monographic research of artists including Sonia Boyce, Keith Piper and Tam Joseph, and she also led the first nation-wide audit of works by black artists in UK public collections. The audit informed the BBC documentary 'Whoever Heard of a Black Artist?', which first aired in July 2018.