Portfolio, UAL's platform for students to network, collaborate and showcase their work, has been named an Honoree in the category Websites: Best User Experience in the 23rd Annual Webby Awards, which received nearly 13,000 entries from across the world.
Hailed as the "Internet's highest honor" by The New York Times, Webby Awards are presented by the International Academy of Digital Arts and Sciences (IADAS), the leading international awards organization honouring excellence on the Internet.
Portfolio was created by UAL's in-house developers and User Experience teams as part of UAL's digital transformation project, Online Estate Services Programme (OESP).
The platform allows students to upload their work, share and showcase it to the world. It also allows them to like other students work and contact other students on the channel to potentially work together on future projects. Students were involved in the project from the very beginning, giving feedback through a number of focus groups and user testing sessions.
Kelly Harrison, Head of Online Services at UAL said:
For Portfolio to get the accolade of 'Honoree' in Best User Experience at the Webby Awards is a tremendous achievement for UAL's Online Estate Services Programme (OESP) and Digital Team, particularly when you see some of the auspicious company in our category such as National Geographic and Starwars.com!

The Programme has been user led since its inception and this goes to show that having users involved throughout the development of a digital channel ultimately leads to success. I hope more UAL students create accounts, upload their work, connect with fellow students and see what a great user experience Portfolio really is. We will continue to develop the channel with user feedback to make it a truly excellent site.
Claire Graves, Executive Director of The Webby Awards said:
Honorees like UAL are setting the standard for innovation and creativity on the Internet. It is an incredible achievement to be selected among the best from the 13,000 entries we received this year."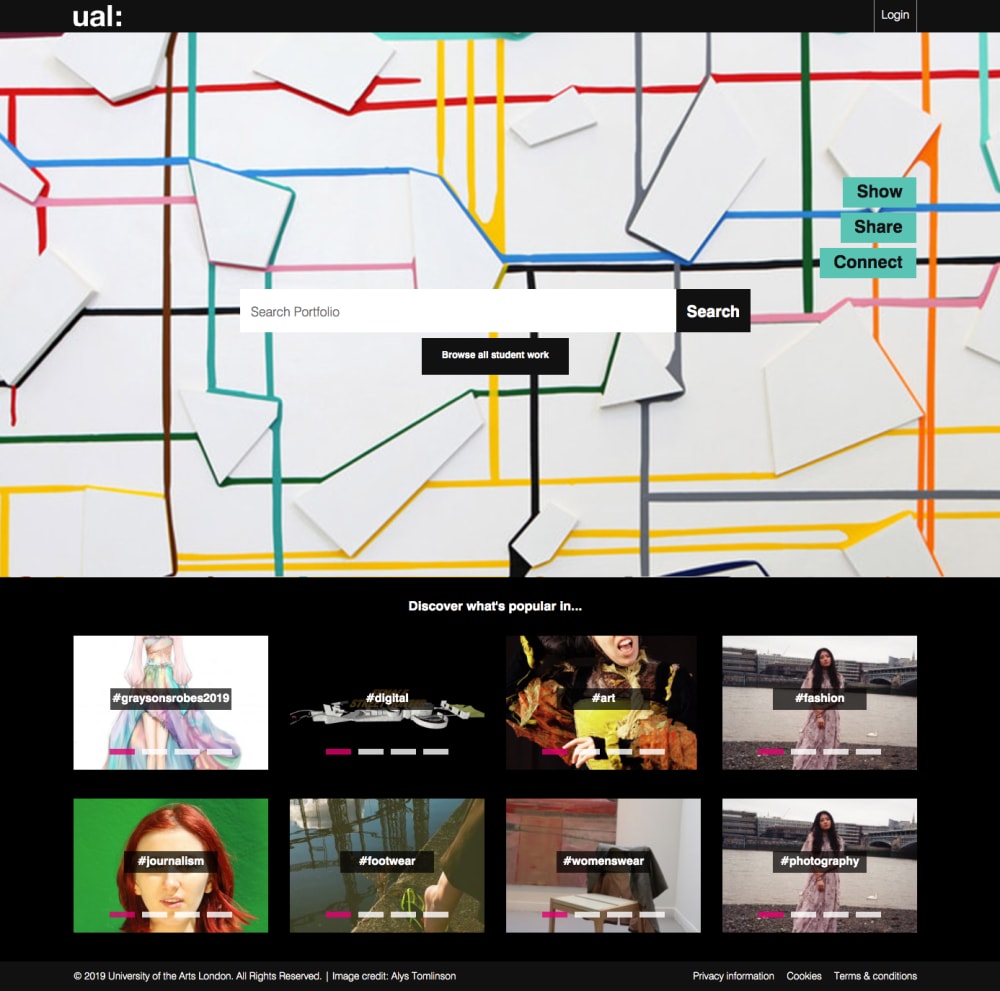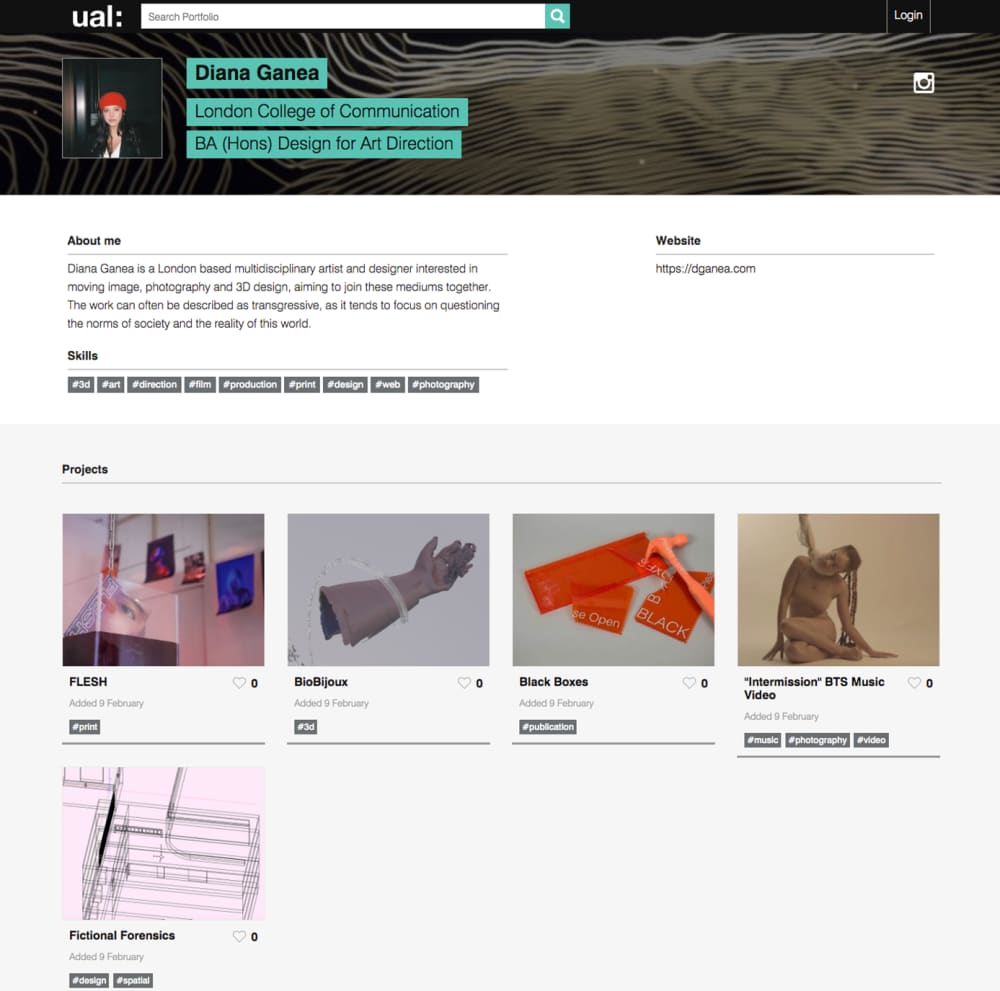 2019 nominees include Lyft, Will Smith, Fortnite, Lady Gaga, Chance the Rapper, Rupaul's Drag Race, and more. IADAS, which nominates and selects The Webby Award Winners, is comprised of Internet industry experts including the internet inventor Vint Cerf, Instagram's Head of Fashion Partnerships Eva Chen, Director of Harvard's Berkman Center for Internet & Society Susan P. Crawford, actor and activist Jesse Williams, GE CMO Linda Boff, Pod Save the People host and activist DeRay McKesson, Google's Head of Conversation Design Cathy Pearl, Fortnite Designer Eric Williamson, HBO Digital Chief Diane Tryneski, Los Angeles Laker Isaiah Thomas, and DDB Worldwide CEO Wendy Clark.
The Webby Awards is the leading international awards organization honoring excellence on the Internet, including Websites, Video, Advertising, Media & PR, Apps, Mobile, and Voice, Social, Podcasts, and Games.
The Webby Awards is presented by the International Academy of Digital Arts and Sciences (IADAS). Sponsors and Partners of The Webby Awards include: YouTube, WP Engine, EY, YouGov, Vitamin T, WNYC Studios, Fast Company, ESA, Product Hunt, and Social Media Week.