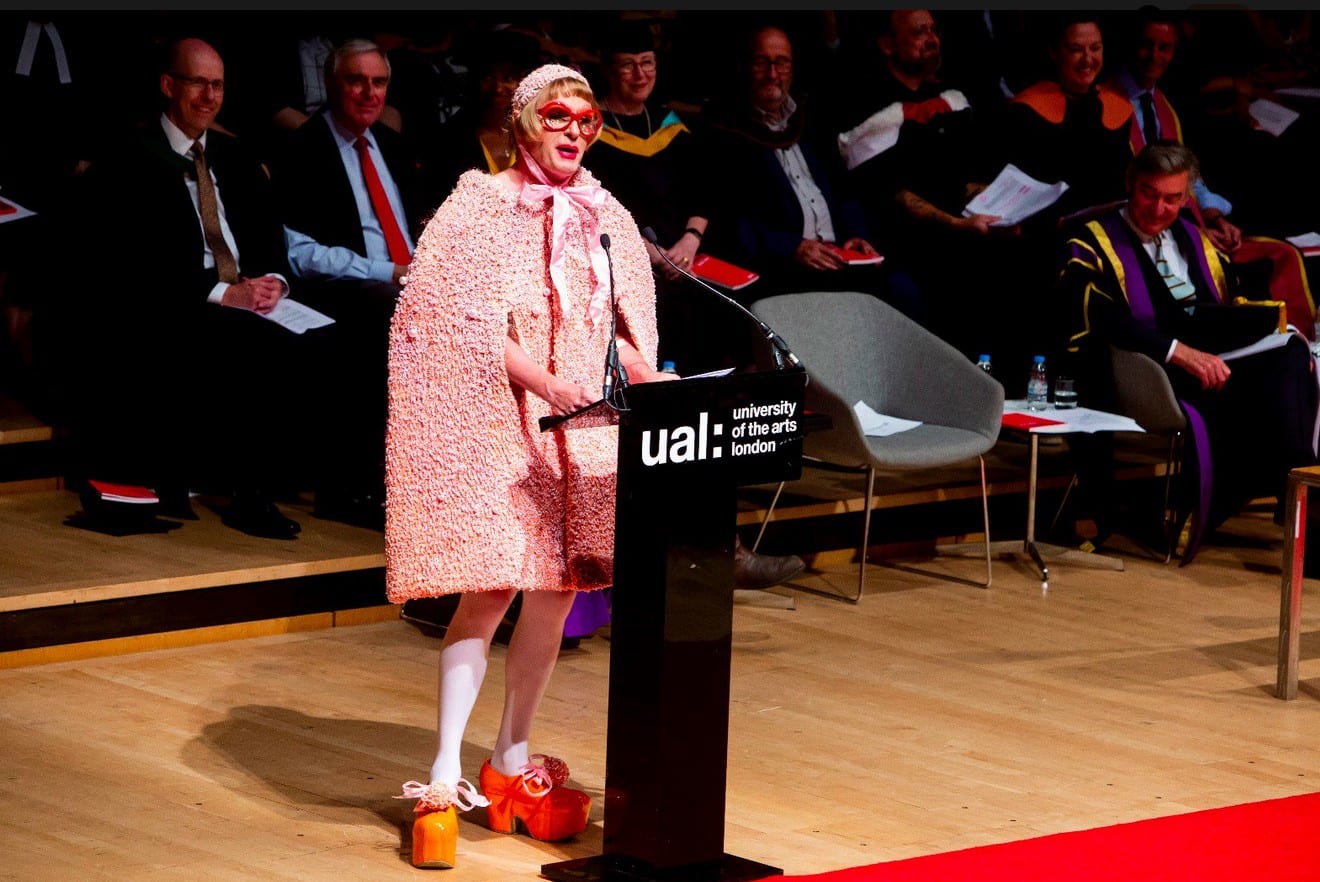 Turner-Prize winning artist, BAFTA-winning documentary maker, author and high-profile campaigner, Grayson Perry is to continue as Chancellor of UAL for another three years.
Grayson was officially announced Chancellor on 1 August 2015, following a longstanding relationship with the university. Grayson has served as UAL Governor and visiting lecturer, as well as being a vocal and active supporter of UAL, attending its annual final degree #UALSummerShows and wearing creations by Central Saint Martins fashion design students for over a decade.
As Chancellor, Grayson has imbued UAL with his trademark energy, giving voice to the importance of arts education and nurturing emerging talent across art, design, fashion, communication and performance.
Amongst many other notable highlights, Grayson has delivered tailored lectures across all of UAL's six Colleges; lent his expertise in making tutorials; judged UAL's annual artist showcase, Xhibit; promoted UAL's final degree summer shows; participated in UAL's annual Chancellor robes design competition; opened up his personal studio as a learning space to staff and students; and has promoted UAL's outreach programme, championing diversity and accessibility in the arts.
---
Grayson commented:
"I am extremely proud to continue my role as UAL Chancellor. I have been part of the UAL family for years and you just have to look at my wardrobe to see what I think of the talent of its students! UAL continues to be the world's biggest factory for trouble and I'm honoured to be part of it.

Accessing high quality education is critical to shaping an artist. You need to work hard, be nice – but also learn to make mistakes, and there's no better place to do this than at art school. I am thrilled that I will continue to be part of UAL students' journeys as they learn to use their skills to question the world around them and help change it for the better."
Nigel Carrington, Vice-Chancellor of UAL said:
"We are honoured that Grayson Perry is extending his term as our Chancellor. Grayson stands for what is best in contemporary art and at the same time has fun with it. He has been a wonderful ambassador for UAL during his first term of office and, just as importantly, a great friend to our students."
David Isaac, Chair of UAL said:
"Grayson always challenges convention and inspires dialogue on why the world needs creativity – the ethos that runs at the heart of UAL. I am proud to have the opportunity to work alongisde him to support the next generation of talent at UAL."
---
Grayson was awarded the Turner Prize in 2003, the first time it was given to a ceramic artist. He was elected a Royal Academician in 2012, and received a CBE in the Queen's Birthday Honours List in 2013. In 2015 he was awarded Trustee of the British Museum and received a RIBA Honorary Fellowship in 2016.
Amongst countless other achievements, Grayson was the coordinator of the Royal Academy's 250th Summer Exhibition, earlier this year. The Most Popular Art Exhibition Ever!, a major presentation of his work, was on view at Serpentine  Galleries, London, during the summer of 2017.
The making of The Vanity of Small Differences, Grayson's monumental suite of tapestries exploring the subject of taste in contemporary Britain – was documented in the first of Grayson's Channel 4 television series, All In the Best Possible Taste, a 2013 BAFTA Specialist Factual winner. Should we reference the more recent Rites of Passage, Channel 4?
Grayson scored his second BAFTA for the 2014 television series Who Are You?, about identity, which was followed by a solo presentation of works at London's National Portrait Gallery. The topic of masculinity was the focus of his next television series in 2016, All Man, which was followed with the related book, The Descent of Man. Grayson also delivered The Reith Lectures, BBC Radio 4's annual flagship talk series, in 2013.
Grayson's work is held in museum collections worldwide, including: The British Museum, London; Tate Collection, London; Bonnefanten Museum, Maastricht; Museum of Modern Art, New York; National Gallery of Victoria, Melbourne; Stedelijk Museum; Amsterdam; Victoria & Albert Museum, London and Yale Center for British Art, New Haven among many others.