CLOSED: Thread – Artist Residency and Cultural Centre, Senegal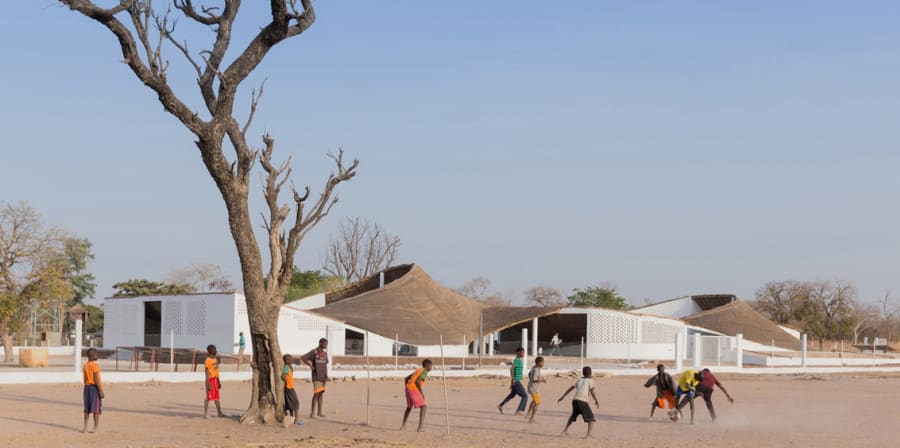 Application deadline has now passed
Residency duration: 4 weeks August 2019
Thread is a residency program and cultural center that allows local and international artists to live and work in Sinthian, a rural village in Tambacounda, the southeastern region of Senegal. The Albers Foundation constructed this remarkable building in 2015, and it houses two artists' dwellings, as well as ample indoor and outdoor studio space.
Thread's socio-cultural role is most pronounced in its function as an agricultural hub for Sinthian and the surrounding villages. Thread was designed to be a flexible and evolving public space, and the local population uses it in a variety of ways. It hosts celebrations, school performances, classes in language and health, village meetings, and an annual soccer tournament that draws thousands of people to Sinthian each fall.
The local and international artists invited to Thread tend to work both indoors and outdoors, and even in the surrounding fields or the village itself, depending on the nature of their work.
The artists we invite are able to focus on their own work while also interacting with the local community. The objectives of Thread are to afford artists an opportunity to work in exceptional conditions while giving people in the village and nearby region a chance to explore new forms of creativity. This is a project about connection and linkage between points, persons, places, or perspectives.
AER at Threads provides:
Four-week residency
One return flight ticket London-Dakar, Senegal
Food and Board
All travel within Senegal (from arrival to departure).
A modest materials budget (further funding can be discussed with the Director)
Curator's tutorials and feedback
Participation in an open studio exhibition
A grant of £500 on completion of the residency programme and submission of a final report
Each participant is responsible for arranging sufficient insurance coverage and visas when required: accident, liability and health insurance for travel abroad including evacuation, theft insurance for one's personal effects. The organiser is not liable for any costs or damages.