CLOSED: Residency at Mahler & LeWitt Studios, Spoleto, Italy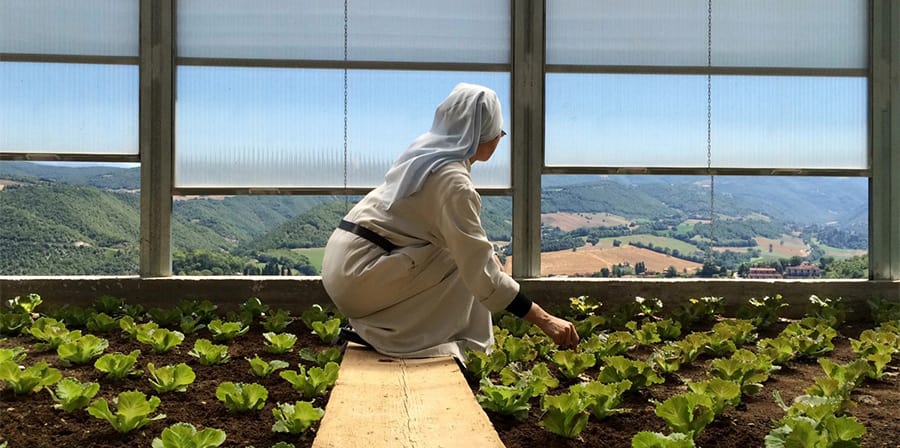 This deadline has now passed
Living and working in Spoleto
The Mahler & LeWitt Studios, sited in the old town of Spoleto, makes use of the former studios of stone sculptor Anna Mahler and conceptual artist Sol LeWitt, as well as a medieval tower known as the Torre Bonomo. Spoleto is an ancient hill-top town strategically situated on the foothills of the Appenines, at the head of a broad valley in Umbria, central Italy. The eastern branch of the Via Flaminia, an important Roman road, ran through its forum and an imposing aqueduct connects it to the hillside of Monteluco, providing water and access to the mountains of the Valnerina, which intermittently suffer seismic activity.
On the top of Monteluco is a sacred wood which has been protected since pagan times. At its entrance was found the 'Lex luci Spoletina', written in Old Latin and dating from the 3rd century BC, it is often described as the first Western environmental law. Patron Saint of the environment, St Francis, from nearby Assisi, lived in the connected monastery in 1218.
A brief history
Starting in the 1950s, Spoleto became known as a place for contemporary art; the composer Giancarlo Menotti founded the Festival dei Due Mondi, which continues today, and used the town's wealth of theatres and piazzas to host a summer festival for all the arts. The Spoletosfera, a geodesic dome built by Buckminster Fuller in 1967, stands near the medieval gates and at the train station Alexander Calder built his largest stabile Teodelapio - work by visiting artists was often characterised by its consideration of public space, as epitomised by Giovanni Carandente's famous 1962 exhibition 'Scultura nella Citta'.
Visual artists Lynn Chadwick, Henry Moore, Isamo Noguchi, Beverly Pepper, David Smith, Cy Twombly, and many others besides, were all in their own time absorbed by Spoleto.
About the residency
Mahler & LeWitt Studios residencies value personal space for creative reflection whilst also encouraging in-depth and dynamic working relationships to evolve between peers and an engagement with the region. A rich network of professionals - artists, gallerists, art historians and curators - in Umbria and internationally are brought together by the program. Each residency is facilitated in response to an individual's needs and interests and we encourage experimentation.
The Studios curator helps facilitate research as well as events or exhibitions, when appropriate, during the residencies. Further to this, informal weekly events are arranged. Each resident is provided with accommodation and 24 hour access to a studio. There are facilities for making ceramic as well as a range of tools for production.
A public presentation - The Mahler & LeWitt Studios residency program concentrates on the process of research and development. However, at the end of the session each resident is asked to present their work (in progress). Previous presentations have taken the form of exhibitions, conversations, screenings, performances or workshops.
Documentation - As part of the process of evaluating the residency and reflecting on their work in Spoleto, each resident is asked to develop a contribution to an end-of-year Mahler & LeWitt Studios publication, made available online and in print. Previous contributions have included interviews with the curator, texts, original artworks or a combination of all three.
AER at the Mahler & LeWitt Studios includes:
4-week residency (1 April - 28 April 2019)
Use of studio space and other facilities
Return flight to Perugia (cap of £180)
Accommodation with a private bedroom and access to kitchenette
Up to £400 for living expenses
Curator mentoring and feedback
Participation in an open studio event
Production budget (up to £500)
UAL grant of £500 on completion of the residency and final report
Download the Mahler & LeWitt Residents Guide 2018/19 (PDF 930KB)
The successful applicant is responsible for organising their own visas and travel and health insurance. All residents at the Mahler & LeWitt Studios are required to sign a waiver absolving the studios from responsibility of personal injury during the residencies.