Closed: Domaine de Boisbuchet: Design Architecture Nature, Lessac, France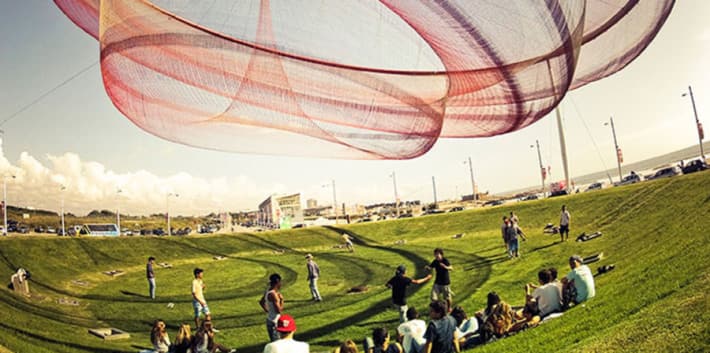 The application deadline has now passed
AER is offering a UAL graduate the opportunity to take part in an intensive 1 week workshop at the Domaine de Boisbuchet: Organic Solar Futures: Investigating Art + Energy Technologies led by Janet Echelman + Trevor Lee.
Domaine de Boisbuchet integrates innovative architecture and design into the splendid setting of a 19th century French country estate, offering a unique creative and collaborative environment for people of all cultures to share.
Boisbuchet's intensive workshop programmes invest deeply in cultures that respect the past and build for the future, at the same time stimulating research that promotes a more sustainable relationship between the natural and the man-made.
Date of residency: 19-25 August 2018
The workshop
As we move towards our renewable energy future, new technologies offer unlimited potential for integrating art and energy. The workshop will consider the transformative and creative possibilities of Organic Photovoltaics (OPV) thin film technologies. We will investigate scale, form, colour and transparency in the deployment of the energy absorbing thin film solar sheets. These micro-scaled installations in the landscape will integrate with their surroundings both visually and environmentally while providing movement during the day and self-illumination at night.
Find out more about Domaine de Boisbuchet
AER at Domaine de Boisbuchet includes:
One-week workshops
Free accommodation and catering
Use of a shared-studio space
One round trip to Poitiers, France up to £150
Curator / critique feedback
UAL grant of £500 on completion of the residency and final report
Please note the applicants are responsible for visa, health and travel insurances.