Closed: Associazione Culturale dello Scompiglio, Tuscany, Italy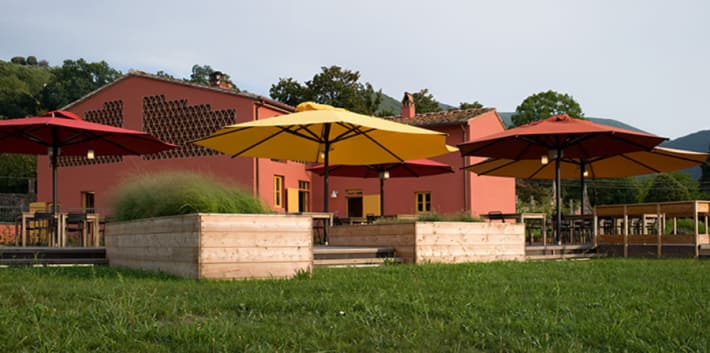 Applications now closed
Residency: 2 weeks in September 2017
Successful applicant announced:
Clara Boulard from the MRes Moving Image course at Central Saint Martins was selected for the AER 2017 Residency at the Associazione Culturale dello Scompiglio, Tuscany, Italy.
Read the reports from previous AER Residencies:
AER Residency reports on the Postgraduate Community blog
About AER
The Art for the Environment International Artist Residency Programme (AER) was launched in 2015 by UAL Research Centre for Sustainable Fashion and UAL Chair of Art and the Environment Professor Lucy Orta. AER provides UAL graduates with the exceptional opportunity to apply for a 2 to 4-week residency at one of our internationally renowned host institutions, to explore concerns that define the 21st century - biodiversity, environmental sustainability, social economy, and human rights.
AER 2017 Residency at Associazione Culturale dello Scompiglio
The Tenuta Dello Scompiglio is an area of 200 hectares situated in the Vorno hills, near Luca in the Tuscan region of Italy. Historically the estate was a self-sufficient farm, cultivating olives, vines and fruit.
In the last decades it has been abandoned and nature has regained the upper hand. The Progetto Dello Scompiglio residencies intend to re-establish a dialogue both with the present environment, with its natural and architectural elements, and with its history, seeking contemporary forms of interaction and responsibility, as well as relationships of interdependence, exchange and symbiosis, through the visual and performing arts.
Within this context, the resident will be invited to explore and reflect on the concept of life-cycles, from a social, anthropological, philosophical or environmental perspective, as part of a two-year programme launched by the Associazione Culturale dello Scompiglio in 2017.
The 2017 AER at Associazione Culturale dello Scompiglio provided:
Two-week residency
Free accommodation and self-catering
Use of work / studio space
Production budget up to £300
Round trip flight Lucca up to £180
Curator / critique feedback
UAL grant of £500 on completion of the residency and final report