Case Study: General English and UAL Taster Course
Published date
05 Feb 2019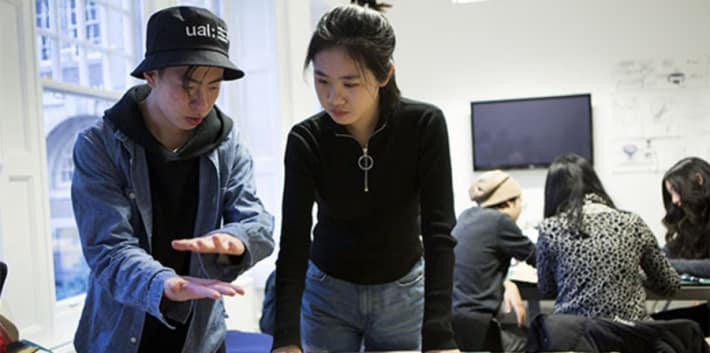 Groups of students from China's St Elite Art Centre visit the Language Centre twice a year for bespoke General English and UAL taster courses.
Students from St Elite Art Centre in Beijing have been enjoying the opportunity to combine English lessons at the Language Centre with a unique study experience at the UAL colleges over the years.
Some examples of UAL taster courses taken along with general English are:
Graphic Design – London College of Communication
Fashion Design – Central Saint Martins
Product Design – Chelsea College of Arts
Fashion Styling – London College of Fashion
One of our recent groups took Product Design at Chelsea College of Arts along with General English. Students worked individually and in groups to deconstruct an existing product, in this case, a toy, and then brainstorm to come up with user personas for which they designed and created unique toy and game prototypes.
"My English ability has improved significantly through the UAL Language Centre course. I like the professional teachers who gave us lessons, they are really lovely, kind and dedicated. The design course of UAL is more creative and artistic than the design course in our university."
- Language Centre student Yuxiao Tian
Students enjoyed their classes and many of them then decided to continue their learning journey at UAL, by taking a Short Course or applying for an undergraduate or postgraduate degree at the university.
If you are interested in discussing a similar programme for students at your university or institution, please contact us.
Any questions?
Email: lcmarketing@arts.ac.uk
Download a brochure