Every year, University of the Arts London (UAL) welcomes students from United Arab Emirates on to our degrees, short courses and Study Abroad programmes.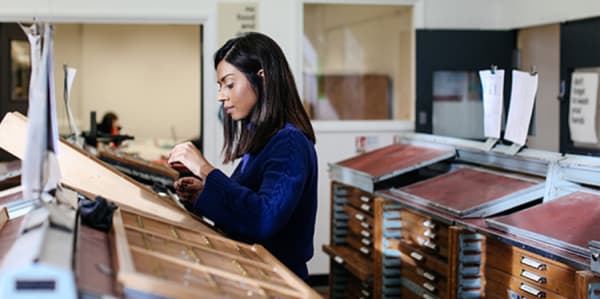 "London is a great city for art and culture"
Noha Salmeen, MA Graphic Branding and Identity, London College of Communication
Representatives in UAE
Agents can offer you support in your language through every stage of the application process, free of charge. Services include:
Providing information about UAL and its six Colleges
Advice about our courses and help with choosing the right programme for you
Advice on preparing your application and portfolio
Arranging interviews in UAE with one of our academic staff
Help with visa applications and travel to the UK (there may be a small charge for these services).
Your local British Council office can offer you advice about studying in the UK.
UAL works with the following agents in UAE:
ProEd
1609, Gold Crest Executive
Cluster 'C', JLT
Dubai, United Arab Emirates
Contact: Lauren Jackson
+971 4 554 8156
lauren@proedworld.com
www.proedworld.com
IQ Education Consultants
Suite M02, Mezzanine Floor
Al Zarooni Building, (Opposite ADCB Bank)
Al Rigga Road, Deira
P.O. Box 300759
Dubai, United Arab Emirates
Contact: Shanthi Ramachandran
+971 552167587
shanthi@iqeducationconsultants.com
www.iqeducationconsultants.com
International Placewell Consultants
Block 13
Office No F-18
Dubai Knowledge Park
P.O. Box 46875
Dubai, United Arab Emirates
Contact: Pujan Mittal
971043911179
dubai@unidirection.com
www.unidirection.com
Our academic staff visit UAE to give students an opportunity to meet us in person, find out about studying at UAL, learn about preparing a portfolio, and discuss their application.
For more information about any of these events, please contact the representative nearest to you (see 'Country Contacts').
Study UK Fair 2019 - Abu Dhabi & Dubai
Sunday 10 November 2019 to Monday 11 November 2019
What to expect
If you applied through one of our agents in UAE, you can choose to have a face-to-face interview with one of our academic staff, otherwise you can be interviewed by telephone or Skype. Students who apply without a representative to one of our Colleges will be interviewed by telephone or Skype.
For more information on our interview schedule, contact our representative nearest to you (see 'Country Contacts').
Offers at interview
Further education and undergraduate applications: If you are successful in the interview, you will receive an offer on the spot. If the interviewer cannot offer you a place on your first choice course, they will advise you on other suitable courses across UAL's six Colleges or recommend ways you can improve your work so that you can reapply at a later date.
Postgraduate applications: For some courses our interviewers can make offers on the spot; for other courses they will make a recommendation to the College you are applying to.