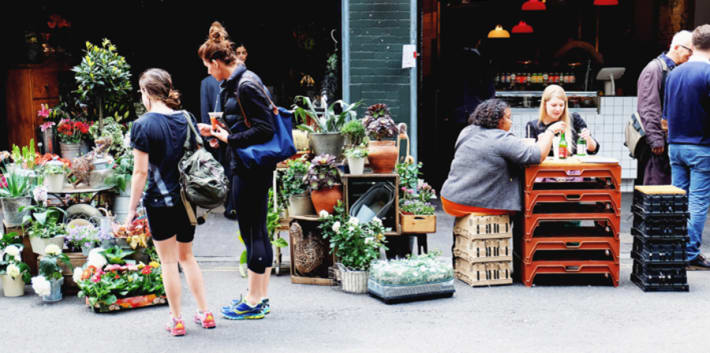 A global cultural and creative centre - London is at the heart of our 6 Colleges. We're aware that moving to London from outside of the UK can be an exciting yet daunting experience. This page will give you an idea of what it's like to live in London, along with some useful tips about daily life, to help you call this diverse and vibrant city home.
Living in halls of residence is a great way to meet new people, which is so important when you've just moved away from home. All international students at UAL are guaranteed a place in our accommodation for their first year of study, and we have something for everyone with 13 halls of residence spread across London.
Community
Life in the capital is all about making connections. Wherever you come from or whatever your background, you'll meet like-minded people. You'll already be part of a huge student community when you join UAL, but here are a few tips to help you settle in:
Students' Union
As soon as you arrive at UAL, you automatically become a member of Arts SU, the University's Students' Union. Arts SU has many societies that you can join, which are a great way to meet new people.
International Students House
International Students House (ISH) organises social and cultural events for international students in London, including free cinema on Sundays and trips around the UK. UAL is a member of ISH so all our students can join for free.
Homestay with a British family
HOST is a voluntary group that arranges for international students to stay with a British family free-of-charge for a day, a weekend or the Christmas holidays. This is a great way to learn more about the British way of life and to share your culture with your hosts.
Religion and faith
London is one of the most culturally diverse cities in the world and almost every faith is represented by a community group or organisation. UAL has a university chaplain who can provide support, whatever your belief. The chaplain can also help you find a place of worship or community group for your faith in London.
Things to do in London
London is one of the most innovative cities in the world, inspiring artists, designers and communicators from across the globe. There's always something new to experience and influence your creative journey at UAL - or simply just to have fun.
London guides
Many of London's world-famous art galleries, museums and exhibitions are free to visit and different events take place every night of the week. With so many things available, we've listed a few popular websites about all things London:
London for Free gives you the lowdown on all things free in London.
Time Out is an essential guide to what's on in London each week – from restaurants and bars, films and theatre, to music, art and more. The magazine version is also handed out across London every Tuesday.
The Evening Standard's Going Out guide features regular updates about London's latest events and exhibitions.
Student discount card
To help save you money when you're out and about, it may be worth buying an NUS extra student card. The card will give you access to thousands of discounts from stores, restaurants, bars and more across the UK. You can also upgrade your NUS extra card to an International Student Identity Card (ISIC) which gives you access to discounts across 120 countries worldwide.