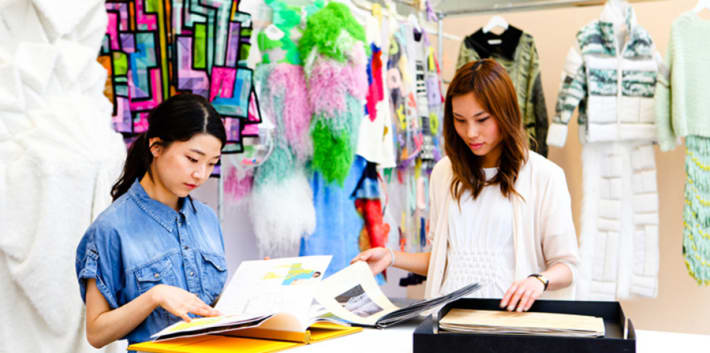 Our Colleges provide a range of full-time pre-degree courses designed to help you build on your existing knowledge, identify your particular area of interest and develop the skills, experience and portfolio of work needed to apply for an undergraduate course.
The application process varies depending on the course you've chosen and whether you're a Home/EU or international student (your tuition fee status).
Foundation diplomas in Art and Design
Open to applications from UK, EU and international students, this is a common route into practice-based undergraduate study at UAL.
Please note that Home/EU students can only apply for one of these two courses.
At the point of applying you'll be asked to say whether you'd like to apply in diagnostic or specialist mode (see the course pages for more information).
Performance courses
With a focus on practical skills and techniques, this course has a strong record of students gaining places on undergraduate courses at recognised drama schools.
International Pre Degree Courses
These courses are only open to international students. They include English language support and academic writing guidance.
Application information
How to apply
Home/EU students: Apply through the online application form on the course page.
International students: Apply through the online application form on the course page OR through an overseas representative in your country.
Read our application guidance for international students.
Top tips for applying:
Make sure you read all of the instructions on the course page carefully so that you don't miss any important information.
Check your spam folder regularly in case messages from us go into these folders.
When to apply (2020/21 entry)
Applications open for all of our pre-degree courses in October 2019. The deadlines are:


Foundation Diploma in Art and Design: You must apply by 1pm GMT on Friday 31 January 2020. If you meet this deadline you should receive an answer from us by 22 April 2020.
Foundation Studies in Performance, Central Saint Martins: We strongly recommend you apply before 30 April 2020. We cannot guarantee your application will be considered if received after this date.
International pre-degree courses at London College of Communication: Applications are considered throughout the year and until the course is full.
International pre-degree courses at London College of Fashion: You must apply by 1pm GMT on Friday 31 January 2020.
What you'll need to provide
Entry requirements vary from course to course so make sure you check the 'How to apply' section on your course page. However, for most of these courses you will need the following as part of your application:


Academic and/or personal reference/s (this is not required for the Foundation Diploma in Art and Design)
A 500-word personal statement. This is really important as it's your opportunity to tell us about your relevant skills and experience and explain why you've chosen this course.
A portfolio of work (which you'll be asked for by email after you apply, usually within 2 weeks of submitting your application).
Scanned copies of your qualifications: If you apply for the Foundation Diploma in Art and Design and we make you an offer, you'll need to provide us with scanned copies of your qualifications via your UAL Portal by 19 August 2020.
What happens after you apply?
After you've applied, you'll receive a confirmation email with your login details for the UAL Portal, which is where you may be asked to book an interview or provide additional information. Please make sure you keep an eye on your emails and even your spam folder for messages from us through our UAL Portal or UCAS Track.

Once we've reviewed and assessed your application, we'll contact you via UCAS Track or the UAL Portal to let you know whether your application has been successful.