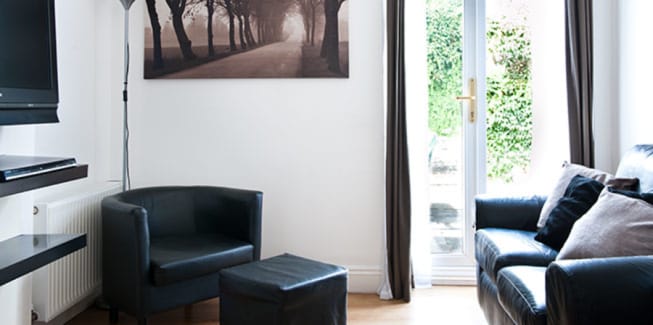 A house share is an independent living experience, giving you the opportunity to live with other students in a shared house in travel fare Zone 2 of London.
You will be sleeping in either a single or shared room. Shared rooms are only available for students who are travelling together. House share is ideal for students aged 18 or over who prefer a more sociable option. Please note that it is a British Council requirement that students who are under 18 must stay in a homestay which we will book for them.
This accommodation is provided by Hosts International, an independent agency registered with the British Council.
Houses
The house share properties vary in size, and between 5 and 10 students can stay in each house. Each house has a shared lounge, which has a TV and DVD player as well as wireless internet access.
The kitchens are fully equipped with a washing machine, cooker, microwave, fridge as well as all necessary utensils (pots, pans, toaster, etc). Some houses include a garden or outdoor patio space.
Rooms
The bedrooms are fully furnished with beds, bed linen, storage area and a study desk. Rooms are either single or shared (shared rooms are only available for 2 people travelling together). However, shared rooms will no longer be available for booking in 2019.
The houses are cleaned by contract cleaners on a weekly basis and regular spot checks are carried out to ensure the home is well maintained.
Location
All houses are located within the Docklands area of London, which includes Canada Water and Surrey Quays. This is in easy reach of central London by bus, train and tube. You can reach the Language Centre in 35 minutes.
The houses are in easy reach of supermarkets, parks and leisure centres. Many of the houses are close to the River Thames.
Please note
We advise you to book approximately 4 weeks in advance, although at quieter times we can provide accommodation at shorter notice.
House share rooms must be booked for a Sunday arrival and a Sunday departure. Check in is 2pm and check out is 10pm.
House share is self-catering only, and rooms are dependent on availability.
Our house share options only include single occupancy single rooms or studios, and shared room options will no longer be available for booking.
2019 fees
Weekly rates for house share (minimum age 18)
Single room: £224
Single room with private bathroom (limited availability): £259
Studio (with kitchenette and private bathroom): £276
2020 fees
Weekly rates for house share (minimum age 18)
Single room: £230
Single room with private bathroom (limited availability): £265
Studio (with kitchenette and private bathroom): £282