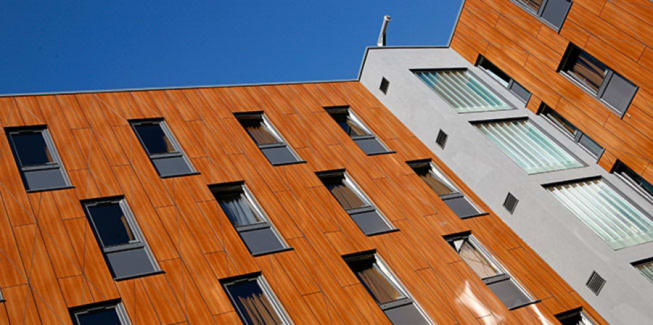 Halls of residence options available throughout the year or summer only.
Summer halls of residence
During July and August, accommodation at UAL's halls of residence Sketch House, Will Wyatt Court and Don Gratton House is available to Language Centre students who are over 18 years old.
Please note, halls of residence as an accommodation option are not available to students who are under 18 years old. Students who are under 18 must stay in homestay accommodation which we will arrange for them, in accordance with British Council requirements.
How to book
Visit the Summer Accommodation page and book directly with the University's Accommodation Services department.
Language Centre students are entitled to a discount rate. Enter the promotion code 'LANGUAGE' when booking your room. Please note, this rate is only for students studying English language courses at the Language Centre.
Other providers
Please note that you must book these other options directly with the accommodation provider - the Language Centre cannot book them for you. The minimum age is 18 for all of these options.*
UCL halls of residence
From June to September (inclusive) you can stay at the UCL halls of residence. Some of the halls are within walking distance of the Language Centre, and all of them are in zone 1.
LSE halls of residence
Available from July to September. LSE has 8 different residence blocks located in central London. Roseberry Hall and Passfield Hall are very close to the Language Centre and the High Holborn accommodation is even on the same street.
Available year-round
London Nest
This should be booked directly with London Nest. Residences have a variety of room options: singles or twins, shared or en suite bathroom, self-catering or meals provided. They are mainly situated between Zone 1 - 3. If you quote 'LANG001' when booking on www.londonnest.com, you can receive £25 off the booking fee.