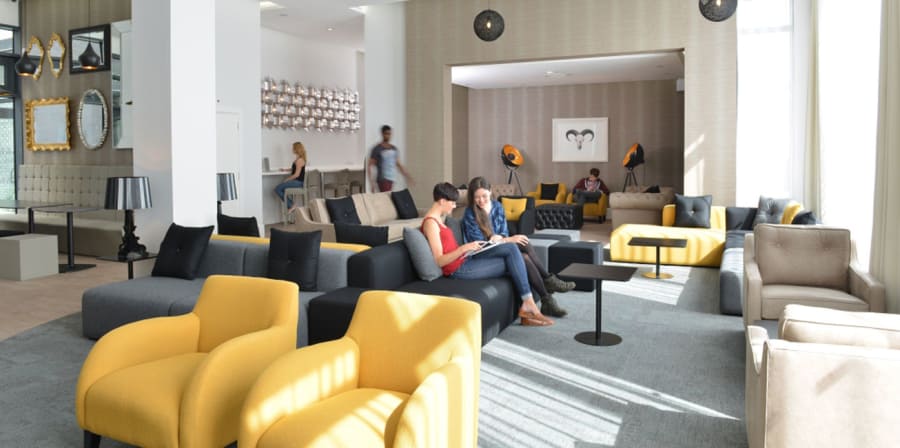 UAL's halls of residence offer great value summer accommodation in a variety of central London locations.
As a Short Course or Study Abroad student, you are entitled to a discount of £2 to £4 per night on published rates. To claim this discount, please enter the discount code provided in your joining instructions when you book your accommodation. If you do not have a discount code, please contact the Short Course team at your College or the Study Abroad team.
If you are a term-time Study Abroad student looking for accommodation in UAL halls, you'll need to book through our Study Abroad page.
Information for under 18s
UAL's newest hall of residence, Sketch House, is now available for under 18s to book during the summer vacation.
Book your room online and enter the code youth into the promotion code box.
You must return your completed and signed parent/guardian declaration form to
summer.accommodation@arts.ac.uk before your stay. The form is available to download from the terms and conditions you must accept at the time of booking.
About our halls
Sketch House is a new development in the heart of Finsbury Park, a short walk from an array of cafes, bakeries and bars, including the famous Park Theatre cafe bar. Finsbury Park tube is adjacent to the hall, offering easy access on the Victoria Line to our Colleges:
Camberwell College of Arts: 54 minute tube trip
Central Saint Martins: 18 minute tube trip
Chelsea College of Arts: 26 minute tube trip
London College of Communication: 30 minute tube trip
London College of Fashion (John Prince's St site): 18 minute tube trip
Wimbledon College of Arts: 55 minute tube trip
Cordwainers Court is located in Hackney, East London, just one minute from the London College of Fashion Mare Street campus and also close to the Golden Lane site. It is a cosmopolitan area, with plenty of supermarkets and local shops. Journey times to our Colleges are as follows:
Camberwell College of Arts: 65 minute tube trip
Central Saint Martins: 35 minute tube trip
Chelsea College of Arts: 44 minute tube trip
London College of Communication: 34 minute tube trip
London College of Fashion (John Prince's Street site): 34 minute tube trip
Wimbledon College of Arts: 70 minute tube trip
Don Gratton House is located in Whitechapel, close to Brick Lane and its vibrant Sunday market and galleries. Aldgate East tube station is a five-minute walk away and journey times to Colleges are as follows:
Camberwell College of Arts: 41 minute tube trip
Central Saint Martins: 31 minute tube trip
Chelsea College of Arts: 40 minute tube trip
London College of Communication: 30 minute tube trip
London College of Fashion (John Prince's St site): 30 minute tube trip
Wimbledon College of Arts: 60 minute tube trip
Will Wyatt Court is situated close to Hoxton Square, with its galleries, restaurants and bars. Old Street tube station is a ten-minute walk away, offering easy access to Central London and the following Colleges:
Camberwell College of Arts: 48 minute tube trip
Central Saint Martins: 28 minute tube trip
Chelsea College of Arts: 39 minute tube trip
London College of Communication: 26 minute tube trip
London College of Fashion (John Prince's St site): 30 minute tube trip
Wimbledon College of Arts: 67 minute tube trip