Big Welcome events programme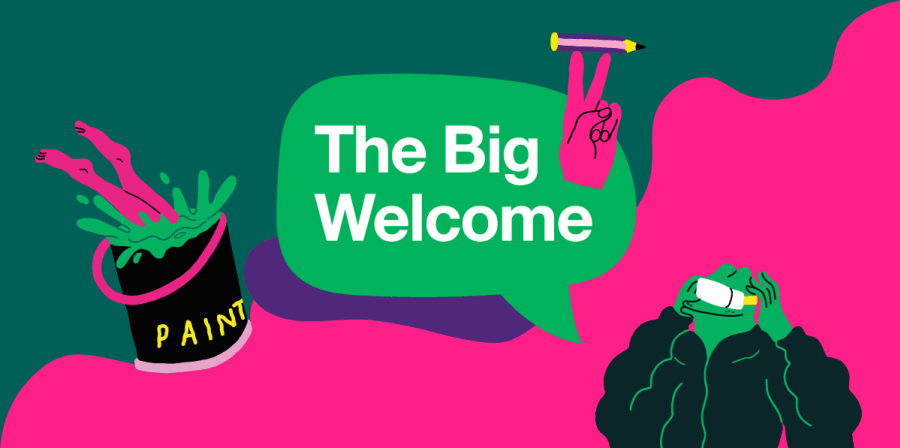 Brought to you by UAL and Arts SU, our events programme is here to introduce you to UAL student life and London life. Check out the huge variety of events on offer, and be sure to book early to reserve your space.
Click through the links for full information and venue details. For some events booking fees may apply.
Monday 23 September
Mixer at Tamesis Dock | 5pm - 8pm | FREE | Tamesis Dock, SE1 7TP
Book
Wimbledon Pub Quiz | 6.30pm - 7.30pm | FREE | Leather Bottle, SW19 3NW
Book
Tuesday 24 September
Post-Grad Community: MA Mixer | 10.15am - 1.30pm | FREE | Serpentine Sackler Gallery, W2 2AR
Book
Private View: Alia Hamaoui solo show | 6pm - 8pm | FREE | Camberwell, Peckham Road, SE5 8UF
More info
The Lion King Musical Theatre Trip | 6.30pm - 10.30pm | £35 | Lyceum Theatre, WC2E 7RQ
Book
Drag Bingo Night | 7pm - 10pm | FREE | Concrete, E1 6JJ
Book
Wednesday 25 September
Central Saint Martins: Welcome Day | 1pm - 5pm | FREE | CSM, King's Cross, N1C 4AA
More info
London College of Communication: Welcome Day | 1pm - late | FREE | LCC, SE1 6SB
More info
Harry Potter Muggles Walking Tour | 6pm - 8.30pm | £15 | 6 More London Place, London Bridge, SE1 2DA
Book
Arts does the Yonce Experience | 10pm - 3am | £5 - £8 | XOYO, EC2A 4AP
Book
Thursday 26 September
Talkshow - So What You Sayin' | 4pm - 6pm | FREE | Darkroom Bar
Book
Friday 27 September
Silent Disco | 7pm - 10pm | £5 | Sketch House, N4 3JP
Book
Saturday 28 September
London Street Art Tour | 2pm - 4pm | £10 | Shoreditch Grind, EC1V 9NR
Book
Tuesday 1 October
Rocky Horror Picture Show (dress up version) | 6.30pm - 8.30pm | FREE | Chelsea, SW1P 4JU
Book
Wednesday 2 October
Thames Boat Party | 7.30pm - 11.30pm | £19.14 - £24.44 | Festival Pier, SE1 8XZ
Book
Wednesday 9 October
UAL Part-Time Job Fair | 12pm - 4pm | FREE | CSM, King's Cross, N1C 4AA
Book