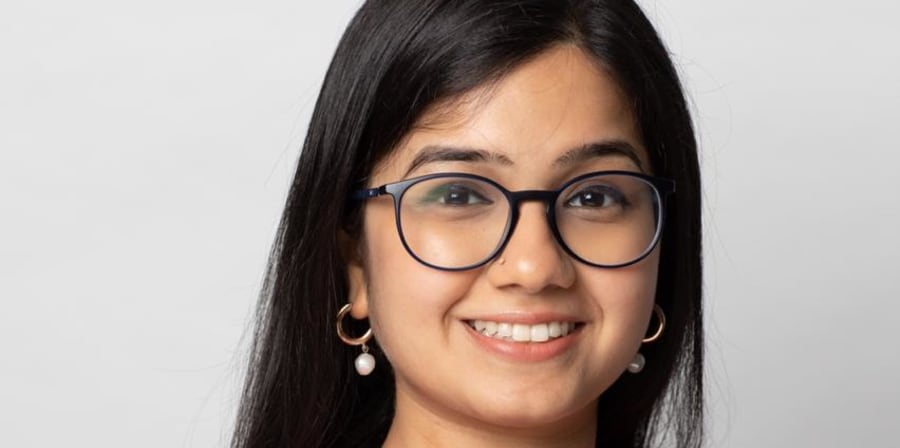 Featured Arts Temp: Ananya Agarwalla - Supporting prospective international students through their recruitment journey
We caught up with BA Spatial Design student Ananya, who's been working closely with the UAL student marketing and recruitment team to share her experiences with prospective students. This is a great way for temps to share their experiences of UAL with prospective students and their parents, so they have a better understanding of the University before they join us.
Hey there Ananya, could you tell us a little about the work you do with student recruitment?
So I've been talking to prospective students at fairs about my experiences at UAL and answering any questions they have. That was really nice because when I was younger, I would also go to these sorts of fairs. Being able to relate to what they're going through and understand their concerns is really valuable; I could offer advice and answer their questions, whatever they may be, because I used to be one of them.
And then the second thing I was a part of was with the platform Unibuddy, which is an online messaging service for prospective students to speak to current ones.I really wish this was something available to me when I was in their position as you can speak to students very informally, and really get an idea of what life at UAL is like.
Yeah, that sounds really useful - there's only so much you can learn from the university's website.
Yes, exactly. I was speaking to an Indian girl who asked me which laptop was best for her course, which Indian grocery stores to go to, whether she should bring a rice cooker from home. All sorts of things and just general fears like moving away from family to a new country.
I think I was able to calm some of their worries because I'd been in the same situation as them. It was great to hear good responses from them because I knew I was doing something right!
Would you say that it changed your perception of applying for University?
Absolutely, especially with the portfolio side of things. Through these sessions you learn what UAL expects and how to present it. Bits and pieces from Google will only go so far. When I talk to students now, I can brief them successfully because I've learned through the webinars what exactly UAL will expect from you as an applicant. So yeah, I think there's definitely been a lot of learning.
In Indian schools, art is unfortunately seen as unimportant and there is a lack of knowledge surrounding what is expected. Even little things like advising on layouts and using white space can really make a difference.
Is there anything specific that stands out from the students you've spoken to?
Mostly nothing significant — it's the little bits and pieces that you won't get from a website or open day that really puts them at ease. As an Indian student myself they were able to ask me every day questions such as about Indian grocery stores and how we can celebrate festivals. I could let them know first hand what I did and make the whole process seem less daunting.
Although, I did meet an Indian family at an open day once which later turned into a dinner invitation! Funnily enough I ran into them on Oxford Street later that very day and they told me they took some of the suggestions into account and now could make a more informed decision about the university and which foundation course to apply for. We exchanged details in case they ever had any other questions, and asked me to join them for dinner when I was in Mumbai.
Thanks for sharing your stories with us, it's great to hear how working for Arts Temps creates such a broad range of experiences and expertise.