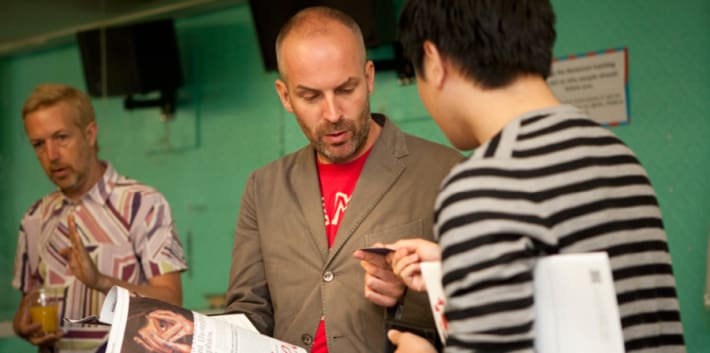 Job hunting is the process of actively seeking out new employment. There are lots of ways to find jobs. You can use job sites, recruitment agencies, social media or speculatively sending your CV directly to organisations you would like to work for.
Job sites
Jobs sites, also known as jobs boards, list jobs vacancies. They are usually up to date and allow you to apply for positions directly through them. Some job sites ask you to create an account and then store your CV and cover letter to make it easier to apply for jobs again in future. Some jobs sites list a wide range of jobs, whilst others specialise in specific subject areas. Download the PDF on this page featuring a comprehensive list of specialist Jobs boards for a range of subject areas related to the creative industries.
Recruitment agencies
There are many recruitment agencies specialising in creative industries, including media, fashion and digital.
Look at their websites and get a feel for the kind of opportunities they advertise.
Research which agencies would be a good match for your experience and goals.
Then contact them directly.
If you are the right fit, agencies will keep you on their books and contact you with appropriate opportunities.
Using social media to find jobs
LinkedIn, Twitter, Facebook, Google+ and Instagram are social media channels frequently used by employers to promote job vacancies. Larger employers often have dedicated Twitter handles for job vacancies.
Using social media can help you in your job search. Companies often tweet or Facebook about upcoming job opportunities and recruitment open days. So follow those organisations you are interested in working for to keep up to date about job vacancies.
It is important to remember that using social media in a professional capacity to raise your profile means you need to present an engaging and professional persona.
Think about your profile details and make sure they communicate who you are and what kind of work you are looking for.
Make sure your profile picture is appropriate.
'Follow' and 'like' the relevant companies and engage with them in a professional way.
Social media can also help you with long-term career goals by enabling you to:
Network, promote yourself and connect with individuals and organisations.
Learn about specific industry developments and types of vacancies available in select organisations.
Proactively target and connect with people and companies you would like to work with in future.
Promote yourself and enhance your online profile with samples of work, images and links to your portfolio.
I've tried everything
"I've applied for dozens of jobs and have got nowhere"
Many creative organisations have tight budgets and can't afford to advertise in national press or on job sites. Make sure all your local contacts know you are looking for a job.
"I don't have any contacts in my field"
Look at company websites and people in your (social media) networks. Then contact individuals who might be able to help you, even if it's just a few words of advice.
University tutors may be able to provide useful insider contacts in your field and will want to help you get into the industry.
"I don't have the confidence to approach people I don't know"
Think about why this is and what support you need to boost your confidence.
Visit our guide to making a good impression.
Job seeking if you are disabled
A positive starting point would be to reflect on your skills, interests, values and motivations. Then think about and discuss with friends and people around you what kind of work you would ideally like to do. Once you have identified your long term ambitions then consider the potential barriers you may experience as a disabled person finding work. Try to work out different ways you might engage with these.
For all job applicants it's important to focus on what you can do, with or without support. There are many organisations providing support for disabled people and there are many employers who value a diverse workforce. View a list of support organisations and information or PDF download document on this page.
Applying for opportunities
It's against the law for employers to discriminate against disabled people. Employers should not ask applicants about issues relating to their health and/or impairment until a job offer has been made.
Employers have a legal obligation to make reasonable adjustments to the recruitment process. Employers also have a legal obligation to make reasonable adjustments to the workplace to ensure disabled employees are not disadvantaged at work. It is helpful, therefore, to let an employer or potential employer know if you require reasonable adjustments and to explain what would be most helpful to you.
It can be difficult to decide about if, when, and how to disclose a condition or impairment. You do not need to disclose that you are disabled if you do not think it is relevant to the role, or that you are likely to need any adjustments. However, if you do not declare that you are disabled before starting work and later find that it impacts on your ability to do the job then an employer might not be found to have been at fault.
Disclosing that you are disabled during the application process enables the employer to make adjustments from the start. If you are not subsequently offered the job, it is important to get feedback from the employer. This will enable you to determine whether your disclosure has had an impact on the outcome of your application.
You can disclose that you are disabled at any stage of the application process; for example, on your CV, if you are invited to interview, during the interview or after being offered a job. The choice is yours, but it will probably depend on the nature of your specific circumstances.
Things to consider before disclosing that you are disabled
Disclosing that you are disabled may enable the employer to make adjustments to the recruitment process ensuring you are not disadvantaged in relation to other applicants. They will also feel better prepared for example during the interview stage if they know about your access requirements in advance.
Many employers have equal opportunities policies and welcome applications from disabled people.
By disclosing that you are disabled, you are in more control about how this is understood and better able to increase trust with a potential employer.
In addition to adjustments that can be made by your employer, you may be able to get additional support such as equipment, travel and specialist aids from the Access To Work scheme.
Find out more about UAL's student disability service.
Job hunting: Learning guide
Job sites
Finding jobs advice
Disability support