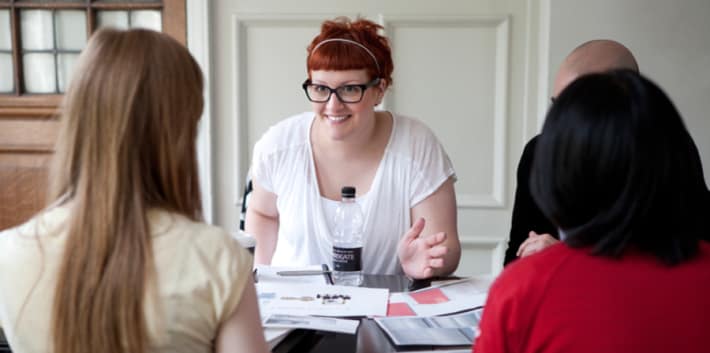 A portfolio is an important tool for promoting your work in the creative industries. You can create an online portfolio in the form of a website or a traditional hard print portfolio including examples of work and your own logo and branding.
A professionally designed portfolio can take you a long way so it's worth putting time and effort into creating a sample of your work that you can be proud of.
Creating a great offline portfolio
What to include
Your portfolio will depend on your key strengths and what type of work you are applying for. But there are a few things always worth considering:
Adapt your portfolio to match the requirements of the job you are applying for and include work that is likely to appeal to that particular employer.
Pick your best projects but make sure that they represent the breadth of your work.
It is better to have a few high quality pieces than to pad out your portfolio with work that is OK but not exceptional.
Use professional photos of your work if you have them.
If your work involves sketching include samples of your sketches to show how you have developed your ideas from concept through to the final product.
If you are using fabrics, include samples of the materials you intend to use for the final product.
How to display your work
Invest in a high quality portfolio that will look professional and will last. An A3 or A4 size is usually recommended as anything larger may be difficult to manage and transport.
Put your best work at the beginning of your portfolio. Think carefully about which piece of work to put last, as this might be what people remember most clearly.
Busy backgrounds can be distracting, so keep them neutral.
Creating a great online portfolio
Online portfolios are an important promotional tool for creative industries.
Structure
To begin with you may only need a site with three pages:
Home - This is the first page visitors will see when they arrive on your site so make it visual and descriptive by using images and intro text.
About - This is your chance to talk about yourself, your background and your experience so don't be afraid to promote yourself.
Contact - this should include your email address, mobile number and any relevant social media channels you are happy to be contacted on.
As your career develops, the content of your online portfolio will grow.
Background design
It is important for your work to stand out, so keep the background quite neutral.
Content
Images
Put your best work at the beginning. Use a small amount of quality content but make sure you show the breadth of your skills.
Text
Include titles and descriptions of work if appropriate. But keep them brief and meaningful.
Promoting your online portfolio
You can promote your work easily by sharing links to your online portfolio via email and social media.
Link your portfolio directly from emails and include it in your email signature, CV, cover letter, LinkedIn page or any other form of social media you use.
Add social media buttons on your online portfolio if you have social media accounts.
UAL's online showcasing platform, Portfolio, enables you to show your work across your course, share your creative knowledge and experience and connect by networking with peers from across all subject disciplines at UAL.
Portfolio platforms like The Dots and Cargo Collective allow you to follow designers and companies you admire. Don't forget to connect with UAL's The Dots profile.
Here are some examples of good online portfolios: