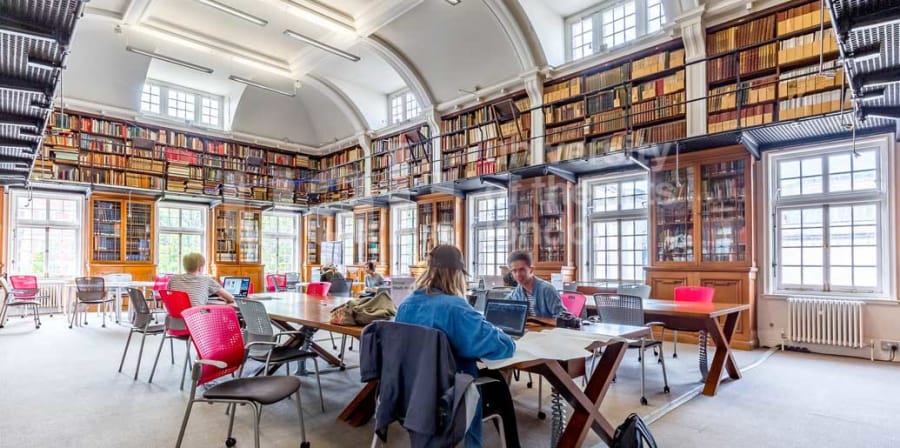 Our libraries are open to UAL alumni, members of the public and people with SCONUL access to other libraries. Learn more about visiting us and accessing our outstanding collections.
UAL alumni
We provide a range of services for our alumni including:
Reference access to all our libraries
Guides in large print and on coloured paper, on request
Induction loops
Height adjustable tables and chairs
Magnifiers
Access to photocopiers (you must comply with copyright legislation)
Fetching items from the shelves. If you have difficulty getting any items from the shelves, library staff can collect material for you. Please give us half a day notice, if you can, so we can make sure the material is ready for you.
Guest user on-campus access to a limited range of databases and e-journals.
We've also created an online guide, Alumni: Free or Open Access, Quality e-Resources with links to free or open access e-resources. Please note: there is no access to other IT facilities.
How to apply
You are eligible to apply for the UAL Alumni Library card if:
You have completed a UAL foundation, undergraduate or postgraduate course
If you are a former member of staff who was employed for a year or more at UAL
When you graduate from UAL you are automatically registered with the Alumni Association and given a unique 6-digit Alumni ID number.
If you aren't sure if you're registered, or don't know your 6-digit Alumni ID number, please fill out the Alumni Update Your Details form.
Once you have your alumni ID number, you can apply for access to UAL libraries by downloading the Alumni Registration Form 2018 (PDF 54KB).
How to visit
SCONUL access
The SCONUL scheme provides reciprocal access and borrowing rights for staff and students from Higher Education institutions in the UK and Ireland.
If you want to join the scheme please ask at your home library for further details.
Once you have joined the SCONUL scheme you can access UAL Libraries and borrow items if you are a:
member of staff
research student
part time student
distance learning student
placement student
taught postgraduate student
Full-time undergraduates are permitted reference access, but will not be able to borrow items.
The scheme does not include the use of IT facilities, but Eduroam is available in our Libraries, providing internet access to visitors from other participating institutions. There is also guest user on-campus access to a limited range of databases and e-journals.
How to visit
Please take your institutional ID card and your SCONUL access card or confirmation email to the library you are visiting. If you wish to borrow on your first visit you should contact us by phone in advance to make an appointment.
Central Saint Martins Library
Visitor access to Central Saint Martins Library is limited and we cannot guarantee access on any given date. If you wish to visit the Library you should email library.visits@csm.arts.ac.uk at least 48 hours in advance of the day you would like access, stating that you would like access via SCONUL and the date and time you would like to visit.
Once you have agreed the date for your visit, please take your institutional ID card and your SCONUL access card or confirmation email to the library. If you wish to borrow on your first visit you should indicate this when you email the library to arrange your visit.
Visitors
Members of the public are welcome to access references from all UAL libraries. You can make an appointment during our main opening hours. (This does not including overnight opening hours, 10pm - 9am at CSM). There is also guest user on-campus access to a limited range of databases and e-journals.
Please note: Central Saint Martins offers restricted access to its collections, allocating study places to alumni, SCONUL members and industry-based researchers only.
However, if you are unable to find resources anywhere other than Central Saint Martins and would like to visit, please email library.visits@csm.arts.ac.uk.
Copyright information
Use of photocopiers, scanners, slides and videotapes in the Library must be in accordance with the 1988 Copyright and Patent Act and any subsequent Copyright Acts. You are not be able to use University of the Arts London computer facilities or networked resources, including databases.
Photocopying for commercial purposes
The CLA Library Licence Scheme provides a simple way to make lawful photocopies of copyright materials for commercial purposes without seeking permission directly from the copyright owner in each case. Information on copy allowance and what works/publishers are excluded, can be obtained at the Library Information Desk. Each licence currently costs £14.40 (£12.00 + VAT).
Access to e-resources
All visitors to UAL libraries, whether alumni, SCONUL users or members of the public, are allowed to register for a temporary guest user network account that enables on-campus access to a limited range of databases and e-journals whose licences permit use by guests or 'walk-in' users.
Registration
Visitors will be presented with the Library Guest Access to Electronic Resources – Acceptable Use Policy and Registration Form, which they will be asked to sign and date in the presence of a member of library staff.
To save time when visiting, you are advised to read the acceptable use policy document and print out the registration form in advance.
During the registration process, library guests will be asked to provide an acceptable form of photo ID, such as:
Current signed passport
National Identity photo card
Current UK or EEA photo card driving license
SCONUL Access card & Home Institution card
These documents can be accepted as proof of address as long as they include your current address. If not, any of the following can be used as evidence of address, alongside the photo ID above:
Current UK or EEA paper driving licence (without photo)
Utility bill issued within the last 3 months
Local authority council tax bill for the current council tax year
Benefit book or original notification letter from Benefits Agency
Bank, Building Society or credit union statement of passbook
NHS medical card
Council or Housing Association rent card or tenancy agreement for the current year
Library guests are permitted to save downloaded content to a USB memory stick, which you are advised to bring with you.
We have been accredited with Customer Service Excellence.