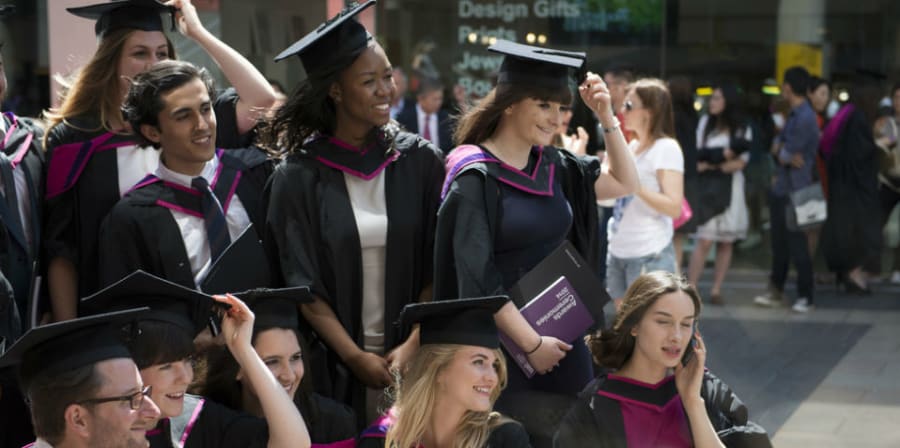 All graduates must wear Academic robes to cross the stage, so make sure you hire your robes as soon as possible.
Your robes, i.e your gown, hood and hat, must be hired or purchased from our official suppliers, Ede and Ravenscroft.
Top tips
Deadline for hiring a robe: 29 June 2019
Costs may vary but for your guidance:
Undergraduate - £45.00 online / £50 telephone
Postgraduate - £51.00 online / £56 telephone
Research - £58.00 online / £63 telephone
There's lots of helpful guidance on how to find your size on their site
On the day: bring your unique reference number (it's in your email). It'll help staff find your robe.
What's the dress code?
There's no dress code for you or your guests but the ceremony is a formal occasion so smart dress is usual. We do have some top tips for graduates:
A buttoned shirt/blouse is helpful for securing your hood in position
Bring some hair clips to secure your hat
There are quite a few steps going up to the stage so it's good to wear shoes you're comfortable walking in.
If you have any mobility issues, please contact the graduation team: graduation@arts.ac.uk for assistance.
Photos and DVDs
Guests can bring hand held cameras to the ceremony and use them from their seats
You can't bring any recording equipment such as video cameras
You can purchase a DVD of your graduation ceremony on the day or order it online. Find out more and order your copy at mygraduationfilm.com/shop
Getting pictures taken
Ede and Ravenscroft Photography Studios will be taking portraits and family group photos from 8:30am until an hour after the final ceremony finishes.
Avoid the queues and pre-order your photographs
You can still order on the day but you may have to wait a little
Taking a portrait and a family photo? Make sure everyone is there at the same time, ready to go – your pictures can't be taken at a different times.
Your photos will be posted to you 4-6 weeks after the ceremony.
If you have any more questions about photography please email: photography@edeandravenscroft.com or call: 01223 861 854.
Contact us
Looked through our guide but still not sure about something? Please contact: graduation@arts.ac.uk