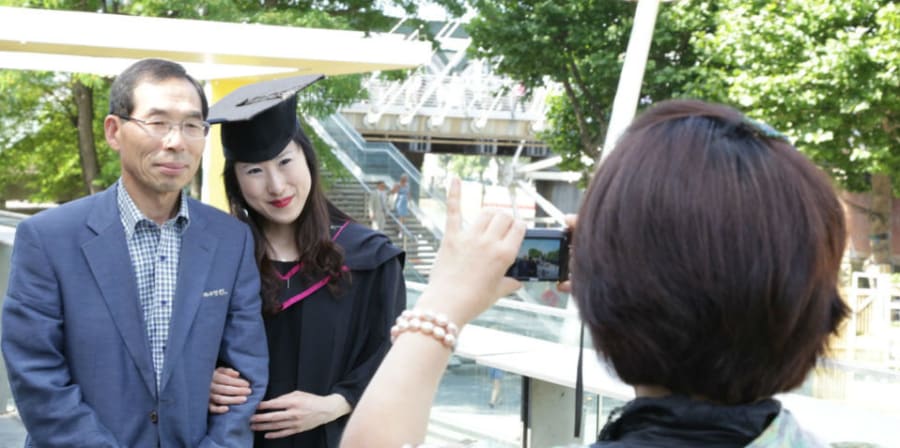 There'll be staff around to guide you through the day from arrival to the reception, but here are some details to help you know where to go and what to do.
What to do on the day
1. You should arrive about 1 hour 30 minutes to 2 hours before your ceremony so you have time to get ready (and relax)
2. When you arrive you'll be directed to the Registration Area to collect your tickets. Your guests can wait for you on the ground floor.
3. Then it's time to collect and put on your robe. Have your reference number ready - this will help staff find your robe. (Hair clips are also helpful)
4. Now you're free to join your guests and...
5. Take photos. Official photographers will be on site from: 8:30am until an hour after the ceremony
6. Agree on a meeting point with your guests so you can find each other after the ceremony!
7. The auditorium will open one hour before the ceremony for everyone to get seated. Everyone should be seated no later than 30 minutes before it starts. Have your ticket with you - this will help us seat you in the right place.
8. Be sure to leave any bags, coats and other belongings with your guests - graduates can't take these into the hall.
You can only take photos inside the ceremony with hand-held cameras (this includes phones). No recording equipment is allowed in the hall.
The Ceremony
Your graduation ceremony will last about 90 – 120 minutes including:
Speeches, honorary graduates and teaching awards
Graduates cross the stage, collecting their certificates and enjoying lots of loud cheering!
Then the procession, graduates and guests will leave the hall (in that order)
Academics and staff, then graduates and then guests will be directed out of the hall
We know it's exciting but please stay seated until our guides let you know it's time
The Reception
You'll be directed to a lovely area to enjoy a glass of prosecco (or a non-alcoholic drink of your choice) and some light refreshments.

Finally...
You can have more photos taken up to an hour after the ceremony and buy any merchandise
You must return your gowns to the robing area before you leave.
Congratulations again and have an amazing day!
Watch live
Missing a graduation ceremony? When it's time, watch on the graduation homepage
Getting to graduation
Graduation ceremonies are taking place at:
Royal Festival Hall, Southbank Centre
Belvedere Rd, London SE1 8XX
View Map or visit Transport for London to plan your journey.
Coming by car?
Royal Festival Hall is located within the Central London Congestion Charging Zone which operates from 07:00 to 18:00 Monday to Friday.
Check the Congestion Charging site for details of exemptions for disabled badge holders and certain classes of vehicles. Make sure you register your exemption at least a fortnight in advance.
Find out more about Parking at the Southbank Centre.
Hotels
Check out Visit London for more on finding a place to stay.
Contact us
Looked through our guide but still not sure about something? Please contact: graduation@arts.ac.uk