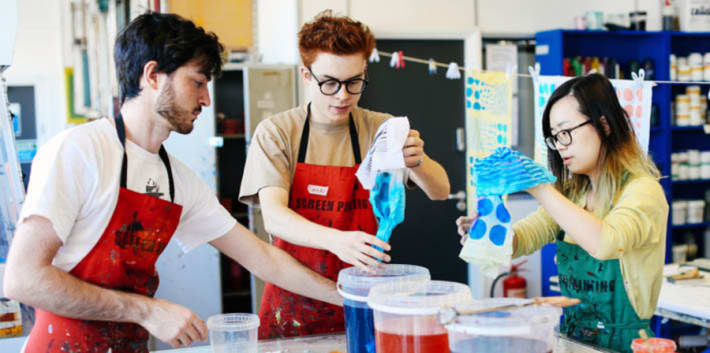 Student experience matters at UAL. In partnership with Arts SU, we've listened to your feedback and are improving university life together.
Making it Happen is our student engagement project that has seen several student-driven changes, small and large, happen all around UAL.
New students
The Big Welcome
This year's new students were the first to experience a coordinated welcome, including online guides with lots of useful info. Find out more about the Big Welcome.
Coordinated international orientation
For the first time events and an information guide were coordinated for international students. View the guide on the Arts SU website.
Student experience
Seven new societies
Arts SU has supported students to create seven new societies, bringing the total number to 53 including sports clubs. Find out more on the Arts SU website.
Commonplace
Share your tips, thoughts, recipes and more with other students on Commonplace, or post on the noticeboard. There's a monthly £50 prize for great content.
Free exhibition space for students
Arts SU has four free exhibition and project spaces for you to use in whatever way benefits you and your work. Find out more on the Arts SU website.
Conversation Club at LCC
The weekly Conversation Club aims to build community among international students but is open to all, with topics ranging from gender to films made in London. Contact Sarah MacDonald to find out more: s.macdonald@lcc.arts.ac.uk.
Wellbeing
Mental Health Action Plan
The Mental Health Action Plan was developed in partnership with Arts SU. An additional £250k has been invested in counselling and mental health support, including the introduction of mental health advisors in Halls of Residence, and a programme of nearly 20 wellbeing events have been delivered by Arts SU, with support from the university and Mental Health Services. Find out more on the Arts SU website.
Prevention of harassment and sexual violence
Arts SU and UAL worked together to improve our support around harassment and sexual violence, including offering consent training and information on ways to get help. Find out more on our website.
Costs and funding
20% reduction in print costs
As a result of student feedback, A3 and A4 print costs were reduced by 20% across all of our colleges.
Increased Student Initiative Fund at Camberwell, Chelsea and Wimbledon
Arts SU successfully campaigned to triple the amount of student initiative funding available to students at Camberwell, Chelsea and Wimbledon, taking it up to £1,250 for each college. Find out more and apply on the Arts SU website.
Reduced costs for Graduation Ceremony guest tickets
Guest tickets for the 2018 Graduation Ceremonies now cost £20 – a 30% reduction on 2017 prices. Find out more on the Graduation webpage.
Buildings and facilities
When we are open
In response to student requests, opening times for all colleges are now in one place alongside how to book technical resources.
Gender neutral toilets
Arts SU and the UAL Estates team worked together to make gender neutral toilets available at all of our sites. We are committed to being a place where gender diversity is expected and respected, and gender neutral toilets are a small step towards realising this goal.
24-hour Learning Zone at Camberwell
The Camberwell Learning Zone is open 24-hours-a-day for all UAL students, providing a flexible workspace that encourages creative thinking and collaborative working.
More lockers and a storage facility at LCC
Following feedback received by students, we introduced lockers and a student storage facility at LCC. The storage facility is next to the Kit Room on the second floor of the workshop block (W236A). Keys for lockers are also available for loan for a whole term.
Improved Digital Space acoustics at LCC
A collaborative spatial and acoustic design project improved acoustics within the Digital Space at LCC. The project was delivered by BA (Hons) Spatial Design students, technical staff and acoustic engineering MA students from London Southbank University.
The Student Hub at LCF
Students can have one-to-one meetings with the Careers and Enterprise team or use the space to set up their own meetings or forums. Facilities include Mac workstations, a portable photoshoot screen/studio, a screen for presentations with seating and a pod for confidential work-related conversations. You can check availability by emailing: lcfcareers@fashion.arts.ac.uk.
Library services
Extended library hours
UAL's library opening hours were extended following an Arts SU campaign. Available to all students, the library at CSM is open overnight Monday to Friday during term time, and all college libraries have extended their weekend opening hours.
Automatic renewal of library books
Library books on loan for one week and three weeks are now automatically renewed on their due date up to 10 times, helping students avoid fines and library debt.
Teaching and learning
Academic Support Online
Support is now available online for all students' learning and study practices, with more than 100 stimulating resources, easy workshop booking and links to many other sources of help and support. Visit the Academic Support Online website.
Digital Learning Lab at LCF Mare Street
Digital Learning Lab is a space for LCF staff and students to try new technologies and digital tools that may assist their teaching and learning. Resources include physical computing, e-textiles, creative coding, mixed/virtual reality and 3D printing.
New artist in residence scheme at Wimbledon
Wimbledon introduced a new artist in residence scheme, which has become an integral part of the painting studio space. It provides shared learning opportunities and the chance for students to see an artist at work, helping them see what their artistic careers may look like after graduating. Find out more on the Wimbledon blog.
Sustainability
100% green electricity
We've switched to 100% green electricity, taking us closer to achieving 100% green energy at UAL. Find out more on the UAL Environment and Sustainability website.